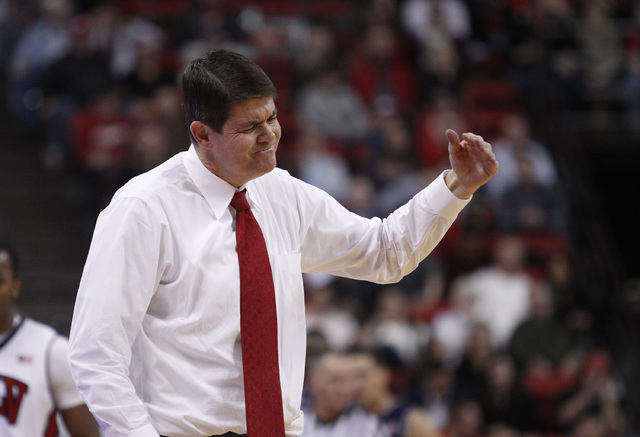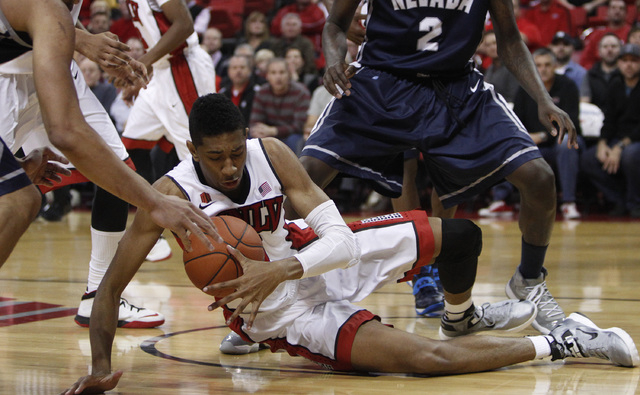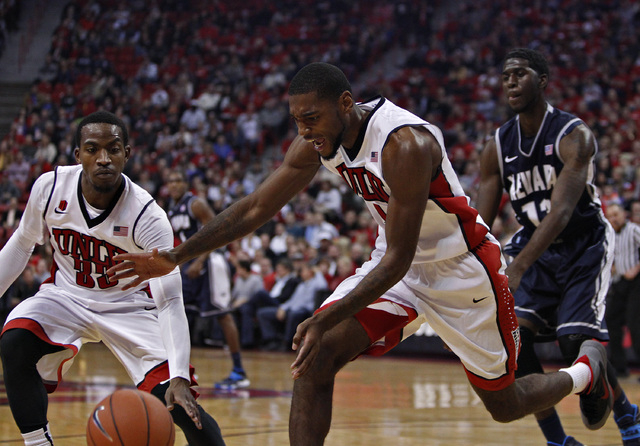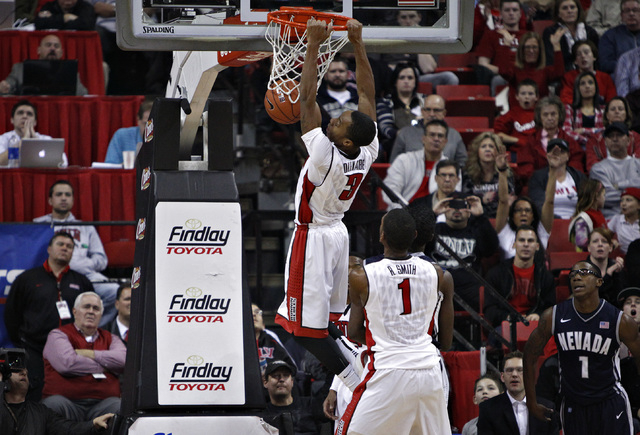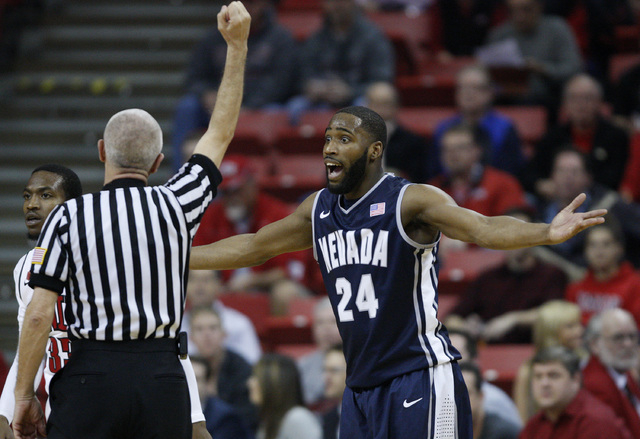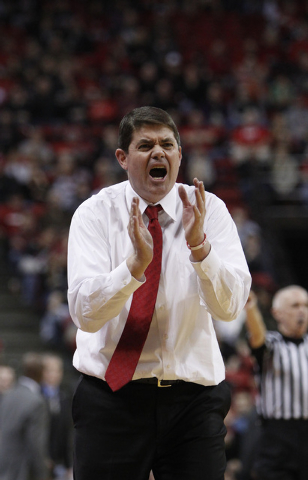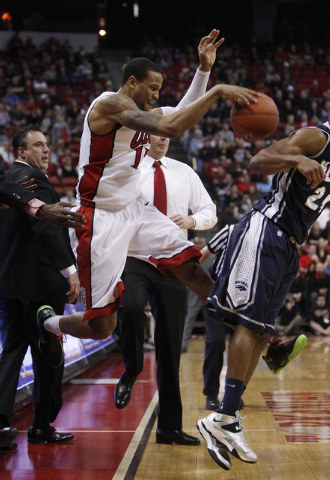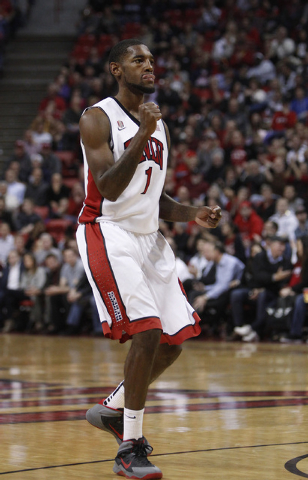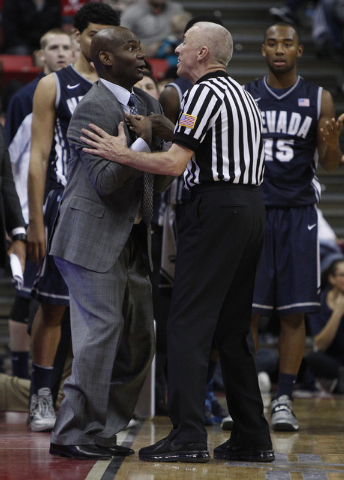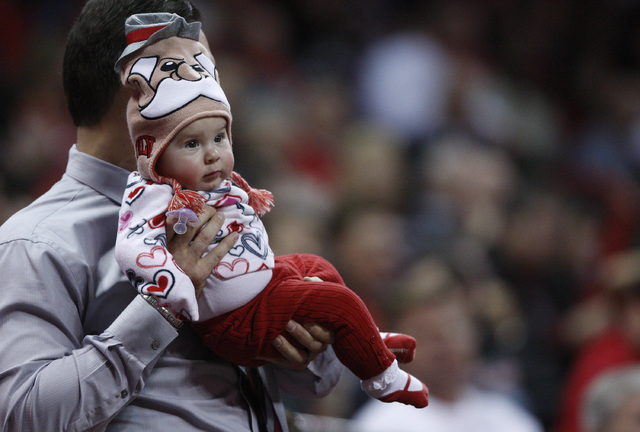 Soaring in and reaching high above the rim for an alley-oop pass, Deonte Burton threw down a thunderous dunk that reverberated from Las Vegas to Reno.
UNLV's dominant run against UNR was done.
"We finally got one against them on their home floor. This is a great win for us," Burton said. "This obviously had more meaning to it than other games because it's a rivalry game. Personally, I'm not going to lie, it's big for me."
Burton scored 29 points as the Wolf Pack stopped an eight-game series losing streak by rocking the Rebels 74-71 on Wednesday night at the Thomas &Mack Center.
The senior point guard came in as the leading scorer in the Mountain West, and UNR (8-8, 3-0) left town in sole possession of first place.
"This is going to be something people remember for awhile," said guard Michael Perez, who added 18 points in the Wolf Pack's first victory over UNLV since 2005.
Four days after getting upset by Air Force, the Rebels (10-6, 1-2) fell again on their home floor to another team picked to finish near the bottom of the league in the preseason poll.
Burton led a game-changing surge to open the second half, and his spectacular dunk with 5:05 left put UNR up 69-56. It also sent UNLV sinking to its lowest point in coach Dave Rice's three seasons.
"It's absolutely, without question, a significant bump in the road," said Rice, who called it a "critical crossroads" for his slumping team.
The Rebels looked lost at every turn, rendered clueless on both ends of the floor while getting no direction from the bench. It was a complete meltdown by the home team at the Thomas &Mack, where many fans in the crowd of 13,741 flocked for the exits after Burton's dunk.
"I was thinking they left too early," Burton said. "The game's never over, so I don't know why they were leaving."
Rice all but waved a white flag with 1:50 left and UNLV trailing by 10. Burton and the Wolf Pack dribbled the clock away while the Rebels fouled only once in the next 1½ minutes, trimming the deficit to eight with 20 seconds to go.
"I was surprised," Burton said. "I thought they were going to foul right away when we inbounded the ball."
The Rebels closed to within four with six seconds to go, but their rally came way too late, and UNR's Marqueze Coleman made two free throws to seal UNLV's fate.
"I thought we could still get some stops and get into our pressure and get some turnovers off the pressure," Rice said.
The Wolf Pack scored the first 11 points of the second half, beginning with a Perez dunk on a backdoor cut that caught the Rebels sleeping. AJ West's dunk, Cole Huff's 3-pointer and back-to-back drives by Burton for layups put UNR ahead 45-36 with 16:32 remaining.
"We came out and on the first play of the second half give up a backdoor layup, and that's unacceptable," Rice said. "There's no doubt we made defensive mistakes that we haven't made this season."
Bryce Dejean-Jones stopped the Rebels' bleeding with a reverse layup and three-point play. But Rice needed a tourniquet, and all he had were timeouts that didn't produce solutions. UNLV went into a 4-for-24 shooting slump after halftime while falling behind by 14.
Dejean-Jones scored 15 points for the Rebels, who shot 35 percent from the field. Junior forward Roscoe Smith finished with 13 points and 15 rebounds.
Behind Smith's nine points and 10 rebounds, UNLV led by 11 on the way to a 36-34 halftime edge. But the Rebels' defensive execution was absent. They allowed the Wolf Pack to score on 10 layups and eight dunks while shooting 29-for-65 (44.6 percent) from the field.
Burton said the plan was to "exploit mismatches," and he did that against Rebels guards Kendall Smith, Kevin Olekaibe and Dejean-Jones. Burton shot 12-for-20 from the field, making a pair of 3s, and 3-for-6 on free throws. He had five rebounds, three assists and no turnovers in 32 minutes.
"We wanted to change up and put different guys on him," said Rice, who benched junior guard Jelan Kendrick for showing up late to Tuesday's practice. "It's tough to double-team Burton because he has the ball in the middle of the floor and he's such a good passer.
"It's a very difficult setback. We're going to start training camp again. There's a lot of season to play."
Smith and forward Khem Birch (12 points, seven rebounds) combined for just six field goals despite UNLV's effort to go inside. Birch said he felt the team was "tired emotionally and physically" after the Air Force loss.
"We haven't lost to Reno in eight years. This is a tough one. I'm not blowing this under the rug," Smith said. "No finger pointing. Everyone is just upset about this one."
Contact reporter Matt Youmans at myoumans@reviewjournal.com or 702-387-2907. Follow him on Twitter: @mattyoumans247.