USA Basketball slates camp for Olympic hopefuls in Las Vegas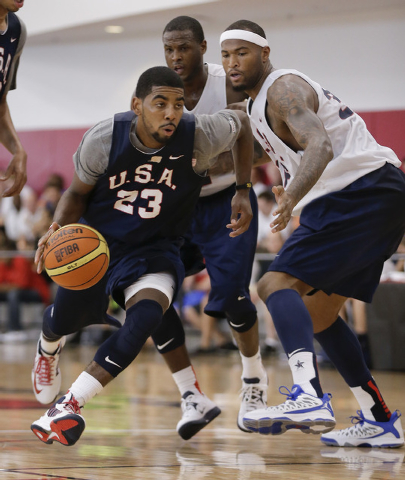 With a spot in the 2016 Summer Olympics at stake this summer, USA Basketball will begin its training camp in Las Vegas in preparation for the FIBA World Cup tournament in Spain.
The team will practice at UNLV's Mendenhall Center from July 28 to 31. The camp will conclude Aug. 1 with a Blue-White intrasquad game at the Thomas &Mack Center.
Las Vegas has been the home for the men's national team since 2006.
"Las Vegas sets the tone, and it sets the pace," USA Basketball chairman Jerry Colangelo said. "It always lays the foundation for what we do."
From Las Vegas, Team USA will head to Chicago from Aug. 14 to 16, concluding its stay with an exhibition game against Brazil at the United Center.
Then it's on to New York from Aug. 17 to 22, with exhibition games scheduled for Aug. 20 against the Dominican Republic and Aug. 22 against Puerto Rico at Madison Square Garden.
The exhibition tour wraps up in the Canary Islands from Aug. 24 to 26, with a game scheduled against Slovenia on Aug. 26.
Team USA, coached by Duke's Mike Krzyzewski, then will leave for Spain for the 24-team World Cup, which begins Aug. 30. The U.S. will play Finland, Turkey, New Zealand, the Dominican Republic and Ukraine in preliminary-round play. The gold-medal game is scheduled for Sept. 14 in Madrid, with the winner qualifying for the 2016 Summer Olympics in Rio de Janeiro.
"We're going to have a lot of outstanding players when we leave Las Vegas," Colangelo said. "We'll start with 27, 28, and we'll head to Chicago with 12 to 15, so what happens in Vegas is obviously going to be very important for us moving forward as we point toward Spain."
Colangelo said all 28 players who were named to the team in January are still committed to representing the United States. Among them are LeBron James, Kevin Durant, Carmelo Anthony, Chris Paul and Kevin Love.
"Obviously, things change over time," he said. "But right now, and it's still very, very early, we haven't had anybody pull out."
Tickets for the Blue-White game will go on sale June 5 at the Thomas &Mack box office and UNLVTickets.com.
Contact reporter Steve Carp at scarp@reviewjournal.com or 702-387-2913. Follow him on Twitter: @stevecarprj.