Western soccer star eyes scoring title, another trip to state
Updated October 17, 2018 - 8:18 pm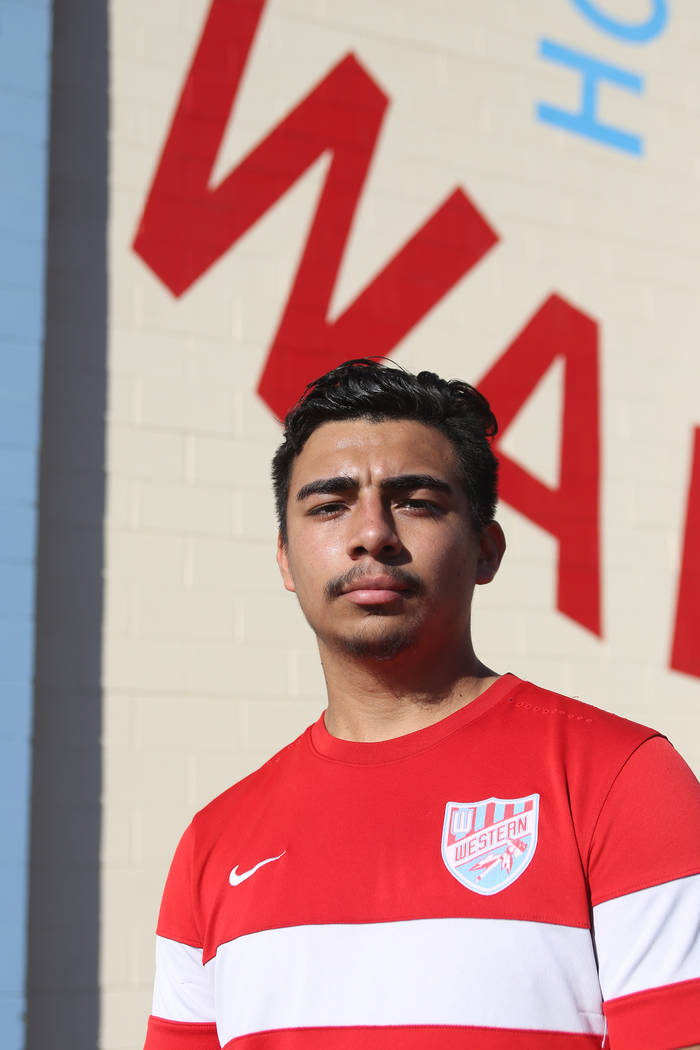 Western forward Juan Estrada set several goals before his senior soccer season.
Among them: scoring the most goals in Southern Nevada.
"That's what I'm trying to do," he said. "I'm always trying to stay up top."
Estrada, a sturdy striker, is leading the Las Vegas Valley with 39 goals. He also has 13 assists and has helped position the Warriors (13-3-3) to reach the Class 3A state tournament for the second time in three seasons.
He also says he's drawing interest from Division I and Division II collegiate programs, including UNLV.
And, no, he's not surprised by any of it.
"He's exactly the player we thought he was," Warriors coach Kory Pippin said. "Right now, there seems to be a little more sparkle in his eyes. A little more desire. … He just powers through people. He's kind of a bully up there."
Estrada started playing as a midfielder at age 9. But his penchant for scoring pulled him forward, and he started developing his dribbling and finishing as he readied for high school.
He debuted for the Warriors as a sophomore in 2016, scoring 15 goals while helping the program qualify for its first Class 3A state tournament. He scored 25 goals as a junior last season, fifth among local players.
"It just feels amazing, scoring a goal for Western," he said. "All 11 players, they help, from the back to the front, all the way to the goalie. Knowing they're giving you the ball to score and you're also helping them to score, it's just a good feeling."
Estrada scored six goals against Adelson School this season and has guided Western to victories over Class 4A programs Arbor View and Bishop Gorman. He scored three Wednesday in a 14-0 victory over Somerset-Losee.
Teammate and captain Gustavo Sanchez said Estrada is "just unstoppable." He's rarely played a full game in league play, as the Warriors are pounding Class 3A teams via the eight-goal mercy rule.
"It's just goal after goal after goal," Sanchez said. "There's different times where our opponent can't even catch up to us or even touch the ball."
Estrada plays year-round and competes alongside most of the area's top players with his club team, Downtown Las Vegas. He used to play with former Coronado star John Lynam, who scored 55 goals last season, and is set to play the upcoming club season alongside Cougars star Alfredo Diaz, who is second in the state in scoring.
Naturally, Estrada wants to eclipse Lynam's mark and remain ahead of Diaz. But a state championship would be the first in program history and is his main focus.
"I feel really good about the seniors we have because they're not somebody who just observed (in 2016)," Pippin said. "Everybody was in the game playing. I think having them know how hard it is to get there and how close we were … it's good to have seniors who are your emotional leaders."
Contact reporter Sam Gordon at sgordon@reviewjournal.com. Follow @BySamGordon on Twitter.