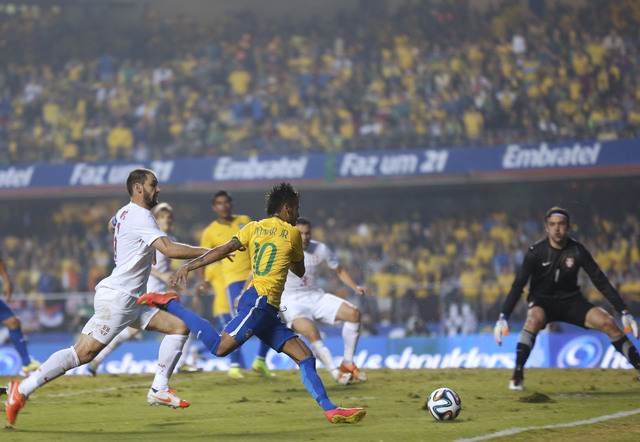 The 2014 World Cup opens Thursday with host Brazil playing Croatia in Sao Paulo.
During the first two weeks, every team will play three games within its group. When round-robin play concludes, the top two teams in each group move on to a knock-out, win-or-go-home competition starting June 28.
The winner will raise the gold trophy July 13 in Rio de Janiero.
Here's a look at the groups (with FIFA world rankings and odds to win the World Cup listed for each team):
GROUP A
Playing in front of its own fans, Brazil is expected to easily advance, leaving Croatia, Mexico and Cameroon fighting for the other spot in the second round.
■ BRAZIL (10 world ranking, 5-2 odds) — Brazil is one of the favorites to go all the way to the final so it's no surprise that few expect the hosts to face difficulties in the group stage.
The five-time champions have reached the second round every time since 1970, and after escaping some more traditional opponents in the draw, it should be able to avoid a major surprise in its group this time. Brazil has a winning record against all of its first-round opponents.
The squad led by Neymar and coach Luiz Felipe Scolari has won 13 of its last 14 matches.
Boosted by its boisterous fans and confident following the Confederations Cup victory last year, Brazil will be looking to do better than it did at the last two World Cups, when it was eliminated in the quarterfinals.
■ MEXICO (20, 100-1) — After barely qualifying, Mexico hopes to finally get past the second round in Brazil. The Latin Americans were eliminated in the round of 16 in the last five World Cups, by Argentina the last two times. At least this time there is no chance the Mexicans will play their nemesis right away, as the Argentines are in a different side of the bracket.
Mexico has reached the quarterfinals only twice, at home in 1970 and 1986.
Javier "Chicharito" Hernandez is Mexico's biggest star, but his place as a starter in Brazil is not guaranteed because of his lack of minutes at Manchester United.
El Tri will be hampered by late injuries to midfielders Juan Carlos Medina and Luis Montes, who broke his right leg in a match against Ecuador.
■ CAMEROON (51, 1,000-1) — After reconsidering a decision to retire, Samuel Eto'o will be back at the World Cup carrying Cameroon's hopes of a surprising performance in Brazil.
The 33-year-old striker has been playing well with Chelsea, and his experience of three World Cups will be key for the Indomitable Lions, who had some help qualifying after a loss to Togo was overturned because of an ineligible player.
Cameroon hasn't advanced past the group stage since 1990, when it became the first African team to reach the quarterfinals.
■ CROATIA (16, 150-1) — Croatia, back at the World Cup after not qualifying in 2010, already knows it won't be at full strength for the difficult opener against Brazil.
Coach Niko Kovac won't have forward Mario Mandzukic, who was red-carded in a decisive qualifier against Iceland. The suspension carried over from qualifying, so he will have to sit out against the hosts. Kovac also knows he will be without defender Josip Simunic, who was banned for 10 games by FIFA for leading fans in a pro-Nazi chant after the Iceland match in Zagreb.
Midfielder Niko Kranjcar was ruled out of the World Cup with a hamstring injury that will sideline him for up to six weeks.
GROUP B
Spain's bid to repeat as champion has the unenviable task of beginning in a World Cup group with the Netherlands, Chile and Australia. With Brazil a potential opponent in the round of 16, no team can afford a poor start in Group B.
■ SPAIN (1, 13-2) — Spain has not lost a step as it vies to win a fourth straight major tournament with a core squad that is likely playing its final World Cup.
Spain's schedule is perhaps the toughest, as it follows up its match against the Netherlands by playing Chile on June 18 at the Maracana Stadium in Rio de Janeiro.
"We'll have to be ready from Day One," coach Vicente del Bosque said after the draw. "With this selection of rivals, we cannot afford to let our concentration slip one bit. The Netherlands will demand our best."
Spain finishes group play against Australia, where anything but a victory would be a shock.
■ NETHERLANDS (9, 25-1) — Now led by coach Louis van Gaal, the Netherlands is always a contender but goes into the World Cup on the heels of flopping at Euro 2012.
The Dutch went unbeaten in World Cup qualifying, winning nine of their 10 games after Bert van Marwijk's exit following the poor performance in Poland and Ukraine.
Van Gaal, who will be replaced by Guus Hiddink after the tournament, has rebuilt the team to play more attractive attacking football.
Robin van Persie and Arjen Robben continue to spark the Oranje, but Van Persie must seize the opportunity after the Manchester United striker has scored only once at the last two major tournaments, the 2010 World Cup and Euro 2012.
■ CHILE (15, 50-1) — Chile is stronger and more dangerous than four years ago, when it also met Spain in group play before being eliminated by Brazil in the last 16.
This time, the South Americans are lurking, waiting to take advantage of any slip-up by either Spain or the Netherlands.
Juventus midfielder Arturo Vidal and Barcelona forward Alexis Sanchez will be the key players for Chile, which has steadied under coach Jorge Sampaoli since he took over two years ago.
■ AUSTRALIA (59, 1,000-1) — All three group contenders know victory against Australia will be crucial to advancing. Australia is well aware, too.
"All of the pressure is on our rivals, they are under pressure to win, and we're not going to make it easy for them," coach Ange Postecoglou said. "We know it's very difficult for us to advance. Hopefully we can surprise them."
Australia won one of its group games in South Africa four years ago, but will find it difficult to repeat that feat with an inexperienced squad that is being groomed for the 2018 World Cup in Russia.
GROUP C
Group C has a favorite, Colombia, though injury knocked out its star player. If the South Americans can overcome that, that leaves Greece, Japan and Ivory Coast to fight for the group's other spot.
■ COLOMBIA (4, 30-1) — After the draw in December, Colombia was made an early favorite to advance from Group C. But that was before Colombia striker Radamel Falcao damaged ligaments in his left knee in a French Cup game against an amateur team.
The "Coffee Growers" from Colombia rolled through qualifying, even routing Uruguay 4-0 on their way to earning 30 points from 16 matches.
Under Argentine coach Pekerman, Colombia has blossomed, rising from 35th in the world rankings to the top five and its first World Cup in 16 years.
■ GREECE (12, 250-1) — Greece coach Fernando Santos will step down after the World Cup, but says he's glad to help lift the country's spirits after it endured four years of severe financial crisis.
"The Greeks have been so warm to me, so welcoming. It feels great to give them some joy and hope that things will get better," the Portuguese coach said.
Santos has stuck with striker Kostas Mitroglou despite his troubled move to Premier League club Fulham but had to drop defender Kyriakos Papadopoulos, who has missed matches at Schalke for 13 months due to a knee injury.
Captain Giorgos Karagounis remains motivator-in-chief at age 37, playing in eight qualifiers and both playoffs to reach a record 132 appearances for the national team.
■ JAPAN (48, 150-1) — Japan will be looking for Keisuke Honda to provide a spark in Brazil, but the bleach-haired forward has had an unsettling time at AC Milan since joining this year from CSKA Moscow.
Honda scored an injury-time penalty against Australia to make Japan the first team to qualify for this year's tournament, leading coach Alberto Zaccheroni to promise that his team was ready to "surprise the world."
But Japan's euphoria was tempered by a friendly against Cyprus, in which the hosts only prevailed with a 1-0 win.
"Winning by one goal is definitely not enough," Manchester United midfielder Shinji Kagawa said. "We must train hard to improve."
■ IVORY COAST (17, 150-1) — Didier Drogba remains at the center of Ivory Coast's hopes, despite turning 36 last month.
The Ivorians qualified comfortably under French coach Sabri Lamouchi, and were further relieved to avoid a tough draw this time around.
They faced Argentina and the Netherlands in 2006, and Brazil and Portugal at the last World Cup — finishing third both times. If Ivory Coast makes it through this year, there will be no let-up in the round of 16 with the team likely to face a former World Cup winner in either Italy, England or Uruguay.
"That's what I want, for the Elephants to take on tough opponents," Lamouchi said. "We want to raise our standards, our concentration, our determination. … We are raising our game."
GROUP D
With three former champions in Italy, England and Uruguay, plus unpredictable Costa Rica, Group D could be the World Cup's toughest.
No other group has more than one past champion in it, while Italy (1934, 1938, 1982, 2006), Uruguay (1930, 1950) and England (1966) have won a combined seven titles. Uruguay and Italy alone combined to win the first four World Cups from 1930 to 1950.
■ ITALY (7, 20-1) — Italy's intentions will likely depend on the wavering ways of talented forward Mario Balotelli, whose mood swings often get him into trouble both on and off the field.
But Balotelli averages about a goal every two matches in Serie A and with the national team, and nobody seems to have a better handle on him than Italy coach Cesare Prandelli. If the Azzurri are going to match host Brazil with their record-tying fifth title, Balotelli will have to both behave and perform at his best.
■ URUGUAY (6, 25-1) — Few teams can match Uruguay's strength at forward, with Luis Suarez and Edinson Cavani leading the way and veteran Diego Forlan a strong substitute.
Suarez has been one of the main reasons behind Liverpool's resurgence in the English Premier League, and Cavani has been a scoring machine with Napoli and Paris Saint-Germain in recent seasons. Forlan was named the best player of the 2010 World Cup and shared the tournament scoring lead with five goals, although he'll be 35 for this year's edition and joined Japanese club Cerezo Osaka in February, signaling that his top-level career may be finished.
■ ENGLAND (13, 30-1) — When Football Association chairman Greg Dyke responded to the December draw with a throat-slitting action that was caught on camera, it summed up England's fears.
The worry in football's home country is that England won't even advance from such a tough group. England hasn't gotten past the quarterfinals in its last four World Cups, and star player Wayne Rooney failed to score in the last two tournaments. Making matters worse, Rooney is coming off a difficult season with Manchester United.
■ COSTA RICA (31, 1,000-1) — Costa Rica would like nothing more than to repeat its surprise effort from its World Cup debut in 1990, when it beat Sweden and Scotland to reach the knockout round under experienced coach Bora Milutinovic.
The key to this squad is its defense, as evidenced by conceding only seven goals in 10 matches of the final qualifying phase.
PSV Eindhoven forward Bryan Ruiz is the team's creative spark and perhaps its best-known player after his spell at Premier League club Fulham.
GROUP E
France will head to the World Cup as the favorite in Group E despite strong competition from a well-organized Switzerland. Ecuador and Honduras are unlikely to challenge for group supremacy. Winning the group is crucial, however, to avoid a likely meeting with Argentina in the second round.
■ FRANCE (19, 25-1) — France coach Didier Deschamps is reluctant to talk up his team's chances at the World Cup because he still thinks his players lack consistency.
The traumatic exit from the last World Cup — where the players went on strike and failed to even win a game — is still etched in their memories.
"What's a successful World Cup? It's hard to answer, but you know just as well as me what a failed World Cup is," said Deschamps, who was captain when France won the 1998 World Cup and the 2000 European Championship. "We can't count ourselves among the favorites because there are teams who have more experience, whose results over the past four or five years are much better than ours."
The way France qualified through the playoffs sums up the inconsistency. France trailed Ukraine 2-0 after a pitiful performance in the first leg in Kiev, only to turn the situation around in spectacular style with a 3-0 win.
"We have a competitive team capable of doing great things but also capable of alternating with much less good things," Deschamps said. "We'll find out the truth in our first match."
■ SWITZERLAND (8, 100-1) — Switzerland coach Ottmar Hitzfeld is happy for France to have the pressure of being group favorite.
The Swiss and French will meet June 20 in Salvador in a match that is likely to decide the Group E winner — and possibly avoiding Argentina in the second round.
"We have a mature team now. I can say that it's become 'adult,' it's grown up. We had a superb qualifying campaign, we didn't lose a single game and we've developed a great team spirit," Hitzfeld told RMC radio. "I hope to beat France so that we can finish first. But beating France will be an enormous surprise because, for me, France remains the group favorite."
So was European champion Spain, however, when it faced Switzerland in their opening group game at the last World Cup. With Hitzfeld in charge, Switzerland won 1-0 — Spain's last defeat in a tournament.
■ ECUADOR (23, 150-1) — Ecuador could well line up with two Valencias on the field.
Ecuador's best-known player is Manchester United winger Antonio Valencia. But the less illustrious Enner Valencia — who is no relation — has made a late push for a starting place in the team two years after his first call up.
He contributed a goal and an assist, as well as winning a penalty, as Ecuador came back from 3-0 down to beat Australia 4-3 in a friendly last month.
"I'm not sure if I was expecting it," Enner Valencia said. "I need to keep focusing on my job, though, which is to perform well for the benefit of the team. That's the only way I'm going to earn a place at the World Cup."
He has shown his goal touch at club level, too, scoring 10 times in 14 league games for Mexican side Pachuca.
■ HONDURAS (41, 1,000-1) — After missing the last World Cup because of injury, Honduras striker Carlos Costly should finally get to emulate his father.
Allan Costly was part of the Honduran team that made history by qualifying for its first World Cup in 1982. A tough-tackling, rugged center back, he made 41 international appearances, scoring twice, and was the mainstay in defense.
Carlos, 31, is better at the other end of the field, scoring 30 goals in 68 international appearances. He would have played four years ago in South Africa if not for injury.
"He was eager to follow my achievements in playing at a World Cup, but unfortunately that problem at the last minute prevented him from doing so," Allan Costly said. "I tell him to keep giving everything, but that if he wants to emulate me he should be careful and avoid hefty challenges."
GROUP F
Barring a major upset at the World Cup, Argentina will finish at the top of Group F and let the other three teams compete for second place.
■ ARGENTINA (3, 4-1) — Lionel Messi, Gonzalo Higuain, Angel Di Maria and Sergio Aguero — Argentina coach Alejandro Sabella has more attacking talent than he can fit into the lineup.
By comparison, the defense doesn't look quite as impressive.
Still, concerns about Argentina's vulnerability in the back ought not be exaggerated. The team conceded only 15 goals in 16 qualifying matches.
■ NIGERIA (36, 250-1) — This is Nigeria's fifth World Cup and the fourth time it has been put in the same group as Argentina.
The South Americans have won each encounter so far by a single goal, including a 1-0 victory in 2010. Argentina also came out ahead when the two nations met in the 2008 Olympic final.
■ BOSNIA-HERZEGOVINA (21, 150-1) — Of the 32 countries in the tournament, only Bosnia is making its first World Cup appearance.
Coach Safet Susic has seen World Cup action, though. As a player he participated in the 1982 and 1990 tournaments for Yugoslavia.
Manchester City striker Edin Dzeko accounted for one-third of Bosnia's 30 goals in qualifying. Only Robin van Persie of the Netherlands scored more goals in the European qualifying groups with 11.
■ IRAN (45, 1,000-1) — Iran isn't likely to rattle its opponents with technical brilliance, but watch out for set pieces. Of the 30 goals the Iranians scored in qualifying, nine came on corner kicks or free kicks.
GROUP G
Germany will have two of its former coaches trying to prevent it from winning Group G at the World Cup. By adding Berti Vogts to his United States coaching staff, Jurgen Klinsmann now has the last coach to win a title with Germany by his side.
Also, Cristiano Ronaldo and his teammates may experience some "home" feeling when Portugal returns to its former colony. And half-brothers Kevin-Prince Boateng and Jerome Boateng will renew their World Cup rivalry on opposing sides when Ghana takes on Germany.
■ GERMANY (2, 5-1) — Germany is always among the highest-ranked teams in the world but the last of its three World Cup titles came in 1990 and the last at a major tournament was the 1996 European Championship.
Germany has a winning record against all three group opponents — the United States (six wins, three losses), Portugal (nine wins, five draws, three losses) and Ghana (two wins).
Germany has beaten Portugal in their last three meetings, twice at European Championships and in the match for third place at the 2006 World Cup. The Germans beat Ghana in their group match at the 2010 World Cup and also defeated the United States in the quarterfinals of the 2002 tournament.
■ GHANA (37, 150-1) — Ghana reached the quarterfinals four years ago — beating the United States in the process. Ghana also knocked out the Americans in its only other World Cup appearance in 2006.
The Boateng brothers are likely to face each other again, just as they did four years ago when Germany edged Ghana 1-0 in South Africa.
Raised by different mothers in Germany, the brothers play in the Bundesliga. Jerome is a defender at Bayern Munich and Kevin-Prince an attacking midfielder with Schalke.
■ UNITED STATES (13, 100-1) — By bringing Berti Vogts into his staff, Jurgen Klinsmann has recruited the coach who guided Germany to its last major title at Euro 1996, when Klinsmann still played for Germany.
But that's not all.
It can be said only slightly jokingly that the United States will start as many Germans against Germany as its opponent. Starting a trend that began when Klinsmann's coaching predecessor, Bob Bradley, persuaded Nuremberg defender Timmy Chandler and Schalke midfielder Jermaine Jones to play for the U.S. team, Klinsmann has successfully recruited German-Americans Fabian Johnson, Daniel Williams, Alfredo Morales, Terrence Boyd and Julian Green.
Johnson started for Germany against England in the 2009 European Under-21 Championship final, and Green played for Germany in three qualifiers for the 2014 European Under-19 Championship.
■ PORTUGAL (4, 25-1) — Portugal may not be much beyond Cristiano Ronaldo, but sometimes he is enough.
The winner of the Ballon d'Or as the best player in the world, Ronaldo scored all four goals in two matches that allowed Portugal to advance over Sweden in the World Cup playoffs. He even earned the applause of Zlatan Ibrahimovic, Sweden's equally egocentric star. Add in Ronaldo's record scoring in the Champions League and Portugal has a big weapon in the attack.
The problem is that he's returning from an injury.
Portugal also should be feeling more at home in Brazil than its opponents. Portuguese explorers were the first Europeans to set foot in Brazil and Portugal ran Brazil as a colony. The two countries share the language, and Portugal should have plenty of local supporters.
GROUP H
With Belgium, Russia, South Korea and Algeria, don't expect too much pre-World Cup hype from Group H.
But don't kiss it off as irrelevant. With Belgium players Vincent Kompany and Eden Hazard and Russia coach Fabio Capello, the group shouldn't be disregarded.
■ RUSSIA (19, 80-1) — Russia will organize the next World Cup, has financial clout and has attracted some of the best coaches in the world to rekindle the glory days of its 1960 European Nations Cup success, when the Soviet Union won the inaugural continental competition.
Dutch coaches Guus Hiddink and Dick Advocaat came and went, both stopping short of the full international recognition Russia craved. Somehow, a nation of 142 million people with a long football tradition finds it incredibly tough to be a contender.
Now it is up to Fabio Capello.
The Italian coach got Russia to Brazil by winning a group which included Portugal, and that has given him enough confidence to keep his eye on the second round.
■ BELGIUM (11, 20-1) — Belgium coach Marc Wilmots is also already looking beyond the first round.
The Red Devils might still be too young to reap the rewards of their talent, but there will be no waiting once they get to Brazil.
Perhaps the most exciting player of the group is Eden Hazard. The playmaker has seen his stock rise during a standout season with Chelsea, and an easy first-round group can do wonders for a player looking for recognition on the biggest stage.
Belgium starts out against Algeria and a solid performance against a team which likely will throw everything back in defense could quickly turn Hazard into a big name, with momentum going his way.
■ ALGERIA (22, 2,000-1) — Four years ago, Algeria held England to a scoreless draw but still went out in the group stage. Looking further back, 1982 should provide even more inspiration.
Algeria beat West Germany in its opening World Cup game, but a controversial result later in the round contrived to eliminate the north Africans. The bitterness of that experience remains, and every Algerian fan knows the team is still out for revenge.
■ SOUTH KOREA (57, 300-1) — South Korea has qualified for the last eight World Cups, and it has a reminder of its glory days in coach Hong Myung-Bo, who was a star for the South Korean squad that made an impressive run to the semifinals of the 2002 World Cup.
But this young squad struggled in qualifying and just squeaked past Uzbekistan to make it to Brazil. Its top players are Son Heung-min, who plays for Bayer Leverkusen, and Park Chu Young, of Arsenal.
THE ASSOCIATED PRESS