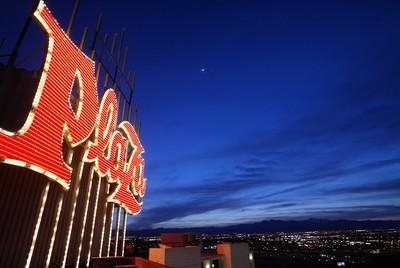 Downtown Las Vegas soon will be a lot cooler. Literally.
The Wranglers have agreed to terms with the Plaza to build a new 3,500-seat facility there that will serve as their hockey home, starting in the 2014-15 ECHL season.
Team president Billy Johnson said Friday the Wranglers have agreed to a five-year lease with a five-year option for an extension.
The permanent structure — which has yet to be named and will feature weatherproof fabric walls — will be constructed on the fifth-floor pool deck that connects the Plaza's two hotel towers.
The locker rooms will be incorporated into one of the towers at the Plaza, which Johnson said was a good match for the Wranglers.
"Philosophically, we have the same goals. They really understand what we're trying to do in the community, and we understand what they're trying to do in their property," Johnson said. "They want to take advantage of what we have to offer them, to bring fans downtown.
"It's really enjoying a renaissance right now. It's going to be a blast to be a pro sports team in that area."
Jonathan Jossel, managing director of the Tamares Group, parent company of the Plaza, said in a statement: "The Wranglers have been a prized sports team in Southern Nevada for many years, drawing loyal fans from throughout the valley. We can't imagine our community without them, and so we're pleased that we can play a role in keeping them in Las Vegas by providing them with a home at the Plaza.
"We believe that this partnership will be good for the Wranglers, good for the fans and good for downtown. We are looking forward to working with the Wranglers and their management and to providing more detailed information in the coming weeks and months."
Johnson, who said construction will start "as soon as possible" on the facility being built specifically for hockey, declined to discuss details regarding construction costs — other than they'll be "in the millions" — and which party will incur them.
He said there probably will be a parking fee and a slight increase in ticket prices.
"We're going to look at ticket pricing, and we're going to create a plan that has the least amount of impact as possible," Johnson said. "I'm real confident our fans won't have that big of a change at all. We wouldn't be doing anything that would price our fans out."
Despite being mired in their worst season in 11 years in Las Vegas, the Wranglers (11-30-6, 28 points) are averaging 4,686 fans this season at the 7,773-seat Orleans Arena — the only home they've had.
While Johnson said the capacity for the new facility could end up being more than 3,500, Las Vegas probably will have the smallest venue in the league — behind the Elmira (N.Y.) Jackals, who play their home games at 3,784-seat First Arena.
Not that that's necessarily a bad thing.
"It's going to be a great environment," Johnson said. "It's gonna rock."
Every other venue in the 21-team ECHL features more than 5,000 seats, the minimum number league commissioner Brian McKenna has said teams typically need to stay financially viable.
But Johnson said the Wranglers' deal with the Plaza will give them control of the facility, allowing them to generate nonhockey revenue through concerts and other events — such as open public skating during the holidays — to make it a viable solution.
"We're getting into the venue business," he said. "Ideally, you'd like to have (at least 5,000) seats, but what's more important than that is that you have a business plan that's viable, and this works."
Johnson, who has spearheaded such promotions as "Dick Cheney Hunting Vest Night" and the annual midnight games, said the deal at the Plaza also will give the team freedom to pursue sponsors and promotions that were previously off limits.
"This allows us to do things we never did before," he said. "It's going to dust off the imagination.
"It's a longer-term solution, it's a permanent home, and we'll get control we haven't had before."
The Wranglers were notified by Boyd Gaming in early December that their Orleans Arena lease would not be renewed after this season.
Despite Las Vegas' 4-0 home loss to Western Conference-leading Ontario (32-12-5, 69) on Friday before 4,289, several Wranglers' jersey-wearing, season-ticket holders were thrilled to learn the team had found a new home.
"It's in Vegas," Ed Moss said. "That's all that matters."
Said Larry Chapman: "It's awesome. It's good to hear we've got a home. Downtown's turning into a really nice area, and parking shouldn't be an issue. There's enough casinos down there to find a good spot."
Others weren't so sure.
"I'll see how it goes with the parking," Chris Bingham said. "If it isn't bad, I'll come back."
Contact reporter Todd Dewey at tdewey@reviewjournal.com or 702-383-0354. Follow him on Twitter: @tdewey33.