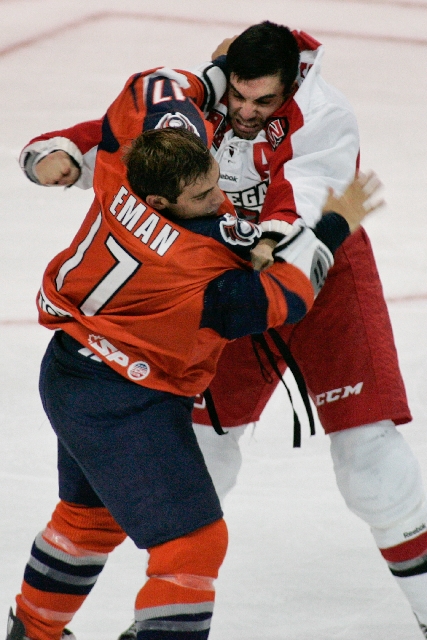 One of the most prolific fighters in ECHL history, Wranglers enforcer Adam Huxley knows all about "the code," an unwritten set of rules that professional hockey's tough guys are expected to adhere to.
Near the top of the list is the rule that states fighters should only fight other fighters.
"You don't go after guys who don't fight and have never fought. It's a mismatch, and you can hurt them badly," Huxley said. "For me to take advantage of that, it would be an unfair fight.
"In hockey, you're trying to advance physically on teams, but at the same time, there is a level of respect."
As such, the 29-year-old Huxley — who has compiled at least 200 penalty minutes, the equivalent of 40 fighting majors, in six of his nine ECHL seasons — scouts each opponent and pores over penalty minute statistics to identify enforcers.
"You know who's going to fight and who's not," he said.
When two tough guys tangle, they typically have a healthy respect for each other and have been known to get beers together afterward.
"It's a hard job, and I've got respect for anybody who's willing to do it," Huxley said. "It doesn't get the recognition it deserves.
"You're doing something nobody wants to do, nobody recognizes you for it other than your teammates, and it's a painful thing to do."
Part of the code is trying never to deliberately injure an opponent, so eye gouging, biting and other forms of dirty fighting are deemed unacceptable — unless, of course, one of those acts is perpetrated against you. Then it's game on.
"Some guy gouged my eye when I was playing against Bakersfield," Huxley said. "He blatantly did it, so I just turned around and popped him right in the eye with my thumb. Literally, it's eye for an eye."
Other code breakers include sucker punching, failing to stop fighting when an opponent's jersey is over his head and hitting someone when he's down or going down.
"The rule of thumb is you never hit a guy when he's on the ice or on his knees," Huxley said. "It happens time to time in a heated rivalry, but it's common courtesy: Once you're done, you're done."
Huxley will allow an opponent to get up if he has slipped on the ice during a decent bout and will stop fighting if he has landed a virtual knockout blow.
On the other gloveless hand, if two tough guys dance around for a while without putting on a sufficient show for the crowd, a rematch is probably imminent. When this happened to Huxley during a recent game at Orleans Arena, he and his opponent resumed their fight as soon as they left the penalty box.
"It's a pride thing. It was embarrassing. If we're gonna fight, then we're gonna fight," he said. "I said (to my opponent), 'Hey, when we get out of here, you wanna go? He said, 'Yeah, let's do it.' So we did."
One of the worst violations of the code is to "turtle," which is challenging someone to a fight and then backing down, leaving the other player to serve a two-minute instigator penalty.
"If that's another fighter doing that, that's embarrassing," Huxley said. "It's happened a few times in my career, but I've never done that personally.
"If you want to do that, then fine, I'll go run your best player if you're gonna be a coward."
Proper etiquette also calls for each player to remove the same equipment before a fight, especially helmets, which can cause injuries.
"If a guy takes his helmet off, you should take your helmet off. That would be the dirtiest thing in the book if you kept your helmet on," Huxley said. "You're trying to show who's tougher. If I take my helmet off and he doesn't, he's pretty much showing he has no heart."
At 6 feet 1 inch and 190 pounds, Huxley is smaller than the prototypical tough guy and often gives up several inches and up to 50 pounds in a fight. But he's still considered a heavyweight for his advanced skills.
He has trained for many years with the Diaz brothers, Nick and Nate — professional mixed martial artists who took Huxley under their wing when he played in Stockton, Calif. — and takes his role seriously, even watching past fights of potential foes before each game.
"Fighting, to me, is an art," he said. "I study it. I train heavily to do it.
"I train MMA. I do a lot of boxing. I live the life."
As for rules of engagement, Huxley said there are three main reasons he fights: to defend his teammates, to create momentum and to help himself.
"If I'm trying out for a team and me and a guy are the exact same player, but I'm willing to stick up for my teammates, then I'm gonna get that job," he said.
Coming to the defense of a teammate can be spontaneous — such as when someone gets hit from behind or your goalie gets run over — or premeditated, such as a fight at the start of a game that serves as retribution for liberties taken in a previous meeting.
A fight at the beginning of a game or period also can send a message to the other team that you're not going to back down and can get your team or crowd into the game as well.
"If we're down by two goals and I go out and fight and all of a sudden the game turns around, it's an energy thing," Huxley said. "It adds a physical and mental edge."
There also are times to refrain from fighting, such as when your team is trying to protect a lead or when you're in the playoffs.
While "the code" lives on, the era of the one-dimensional hockey goon — or "meatball" or "meathead," as Huxley calls a player who can fight but can't play — is over.
"The new age fighter has to contribute in some other way," said Huxley, who has three goals and 10 points this season for Las Vegas and played eight games for Bridgeport of the American Hockey League.
"He can hit and skate, but is tough as nails and can fight."
He also should respect the code.
Contact reporter Todd Dewey at tdewey@reviewjournal.com or 702-383-0354.