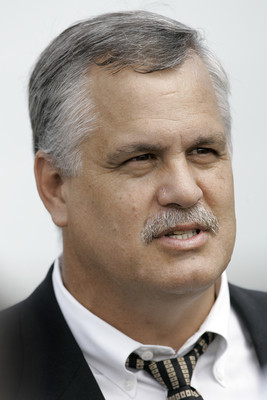 It's almost October, a time when the New York Yankees always settle in under the intense spotlight of the baseball playoffs, and Derek Jeter steps up to deliver a clutch hit to spark a late-inning rally.
And, of course, October is when Alex Rodriguez steps in and strikes out, grounds out or pops out to kill a rally. But A-Rod can relax now because the Yankees' 13-year playoff run has ended.
Brian Cashman, general manager of the Yankees since February 1998, must decide whether he wants to return. Cashman's contract is expiring, but the Steinbrenner brothers, Hank and Hal, want him back.
"The Yankees will face a crossroads in the next month," said ESPN The Magazine's Buster Olney, who wrote two in-depth pieces on Cashman's future and the failures of the Yankees' farm system.
Olney explained how the Yankees' fall from grace stemmed from years of poor drafts, as win-at-all-costs owner George Steinbrenner steered his ship into an iceberg.
Olney made the following points about the Yankees' drafts of 1997 to 2005:
— The Yankees produced a total of 10 position players who have appeared in a major league game; that is the fewest of any team in the major leagues, according to the Elias Sports Bureau.
— The 10 position players drafted by the Yankees had accounted for a total of 888 career at-bats as of Sept. 9, which means that not only have the Yankees generated few major league position players, but they have produced no stars and just a handful of journeymen. The draftees of the Toronto Blue Jays from the same time frame, by comparison, have combined for 27,427 big league at-bats.
— The Yankees drafted and developed 20 pitchers, which is tied for the 12th most among the 30 teams. But those 20 pitchers selected by the Yankees have amassed 1,852 2/3 innings in the majors — the fewest innings for any group of pitchers drafted by any team. The Oakland Athletics' draftees rank first, at 9,686 innings, according to Elias.
• MILLEN'S MESS — Matt Millen became a villain in Detroit because his general incompetence turned the Lions into an NFL laughingstock. He finally was fired Wednesday as president and general manager of the Lions, who went 31-84 in Millen's seven-plus years.
Rob Parker of The Detroit News put the lion's share of the blame on Millen and also called out quarterback Jon Kitna and coach Rod Marinelli.
Parker: "Kitna has a lot of heart and talks a big game. But his mouth can't cash the checks that it writes. Marinelli has been a bust as a head coach. He looks, sounds and acts like a football coach. But he can't coach. Millen is the worst general manager in pro sports history."
• CHANNEL HUNTING — The Washington Post's Norman Chad offered observations about "the widening world of sports television":
"When I was 9, I watched sports on TV because I wanted to. Now at 49, I watch sports on TV because I'm an idiot."
"I know it's un-American, but when I tune in to a hunting show, I root for the deer."
COMPILED BY MATT YOUMANS REVIEW-JOURNAL