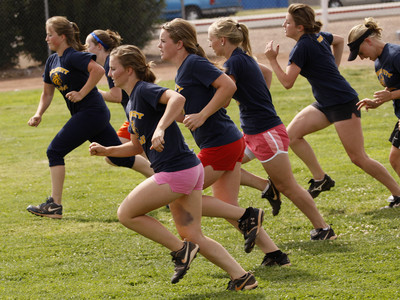 With 11 returning players and three touted freshmen to start the season, Boulder City softball coach Bruce Reid expected his team to be atop the Class 3A Southern League.
But a 19-2 overall record, a 16-game winning streak and a team ERA of 0.96?
"I expected us to be 6-0 in league, to be honest with you," Reid said. "The rest of it? No."
Yet that's where the Eagles stand, only one year removed from a 16-19 campaign.
Boulder City hasn't lost since a 2-1 defeat against Legacy on March 14. Since then, the Eagles have outscored opponents 148-18.
"We expected to be kind of good, but not this good," said junior catcher Paxton Fleming, who leads the Eagles with a .639 batting average. "For as hard as we work, we earned to be 19-2."
Reid knew he would have four standout juniors in Fleming, center fielder Britty Patt, third baseman Melissa Stewart and pitcher Dylan Scott.
But it's a trio of freshmen that has enabled Boulder City to entertain thoughts of a first state title since 1999.
Karlee Koopman (10-2, 0.74 ERA) has pitched four shutouts, and Alison Rants (.556) and Taylor McKeever (.491) are two of seven players batting north of .400.
Reid, a Boulder City assistant from 1995 until becoming head coach in 2003, said these Eagles are "probably a little better" than the 1999 team.
"This is a better hitting club overall," he said. "Paxton doing .639 right now is just amazing at this time of year. You expect sometimes early to get a good jump on that, but she's maintained that."
Fleming also leads the Eagles in hits (39), stolen bases (17), RBIs (31) and on-base percentage (.706). In 21 games behind the plate, she has allowed one passed ball.
"My opinion is, she's the best catcher in the state," Reid said. "There's no doubt in my mind.
"She doesn't have the structure of some of the other players, but she has the mechanics, the strength and everything else. Mentally, she's very tough."
That's key for Reid, who said the one area his team — with just one senior — must improve upon most to win a state title is mental toughness.
Reid said nothing has been more crucial to the turnaround from fourth place in league play last season than the bond formed between power pitcher Koopman and finesse pitcher Scott (8-0, 1.39 ERA).
"That's a fabulous duo," Reid said. "In softball, the dominating pitcher wants to be in the circle the whole time, but they've accepted their 50-50 roles, and it really doesn't seem to matter who I put out there first."
Koopman agreed, pointing out that the two pitchers' contrasting styles keep opponents off balance.
"We get along so well," she said. "We're not trying to compete against each other. It's a little tough for teams when we have a doubleheader."
The 16-game winning streak has carried on for so long, Fleming has lost track.
"Someone just brought it up to me the other day, and I hadn't realized that we'd won so many in a row," she said. "I didn't realize it at all."
The success has not surprised Koopman.
"I expected it because we've got so much talent," she said. "I expect to go all the way."
The Eagles' seven state title years are painted on a wall facing BRAVO Field, serving as a constant reminder of this being the 10th anniversary of their last championship.
And while Fleming can't think of a better way to celebrate than with another title, she's already dreading the end of the season.
"I don't want it to end," she said. "I was putting everything down on my calendar, and it's almost over, and I don't want it to end."
Contact reporter Tristan Aird at taird@reviewjournal.com or 702-387-5203.
In-depth high school sports coverage