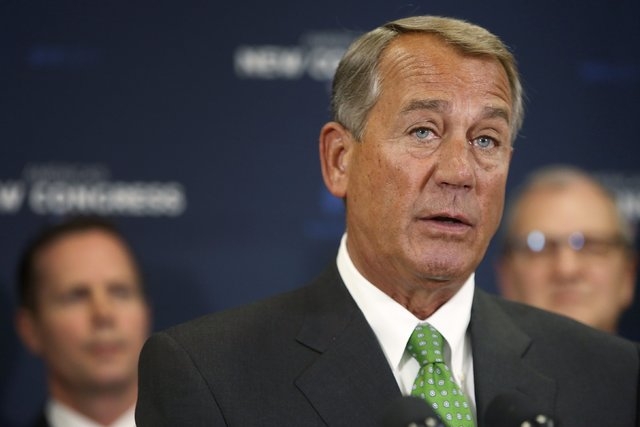 It looks like the moderate speaker survived a potential revolt from the conservative wing of the Republican caucus and will keep the gavel for the coming session.
It was touch and go for a second; he had a couple of rivals who thought nothing of challenging him publicly, saying his leadership wouldn't produce the conservative results voters demanded. The changing dynamics of the caucus — more Republicans were elected than they'd seen in decades — made the outcome a little less certain.
And the racial problems didn't help: Having a guy in leadership who'd uttered words that appeal to openly racist people never helps things, especially when the beleaguered leaders just want to focus on legislation.
November's election wasn't the end of the civil war that's riven the Republican soul since the days of Barry Goldwater, however. Instead, it's just the beginning, as the coming session is going to be fraught with the drama of three parties — Democrats, Republicans and conservative Republicans — struggling over legislation.
Yes, the Nevada Legislature is going to be something to watch in 2015.
What, who'd you think I was talking about?
The fact is, you can be forgiven if you expected this to be a column about poor House Speaker John Boehner, R-Ohio, who was re-elected on Tuesday with 216 votes, while 25 members of his caucus supported other candidates. (Nevada Republicans Joe Heck, Mark Amodei and newbie Cresent Hardy all voted for Boehner.)
According to The Washington Post, that's the biggest leadership vote defection in at least 100 years.
The similarities between the national House Republicans and their Nevada Assembly counterparts are eerie, and they go beyond just a battle for the top job.
For example, a moderate leader losing his post: House Majority Leader Eric Cantor suffered a surprise defeat in a Republican primary, losing to college professor David Brat. Here in Nevada, moderate Republican minority leader Pat Hickey, R-Reno, kept his seat despite a conservative primary challenge, but lost his leadership position in the GOP caucus.
Republicans won control of 246 House seats in the November elections, the most they've had since Harry Truman was in the White House. Here in Nevada, Republicans won control of the Assembly for the first time since Ronald Reagan was president.
In Washington, D.C., Rep. Steve Scalise, R-La., the House majority whip, ran into trouble when it was revealed he'd addressed a convention of the European-American Unity and Rights Organization, founded by Ku Klux Klan leader David Duke. Scalise denied he shared the group's views and is trying to weather the scandal.
Here in Nevada, Assembly Majority Whip Jim Wheeler once told a group of constituents that he'd reluctantly vote to bring back slavery if his constituents wanted it. And the No. 3 man in leadership — Assistant Majority Leader Ira Hansen — was forced to step down as Assembly speaker after a series of racist, sexist and homophobic columns he'd written for the Sparks Tribune newspaper were reported by the Reno News & Review's Dennis Myers.
But at least Boehner was spared the spectacle of Assemblywoman Michele Fiore, R-Las Vegas, whom Assembly Speaker John Hambrick removed from her posts as majority leader and chairwoman of taxation after political commentator Jon Ralston reported Fiore faced more than $1 million in IRS tax liens. (Fiore unsuccessfully took to talk radio to defend herself, but only made the matter worse. And although she's claimed publicly Hambrick lacked the authority to demote her, it appears the action will stick.)
Imagine if former Rep. Michele Bachmann, R-Minn., had run for and won an election as Boehner's No. 2, and was constantly warring with him over control of the chamber, and you're close to understanding the drama that's unfolded to this point between Fiore and Hambrick.
Close, but not exact, since the brash, gun-toting, Brooklyn-raised former actress Fiore really has no national equivalent. She's unique to Nevada.
Steve Sebelius is a Las Vegas Review-Journal political columnist who blogs at SlashPolitics.com. Follow him on Twitter (@SteveSebelius) or reach him at 702-387-5276 or ssebelius@reviewjournal.com.