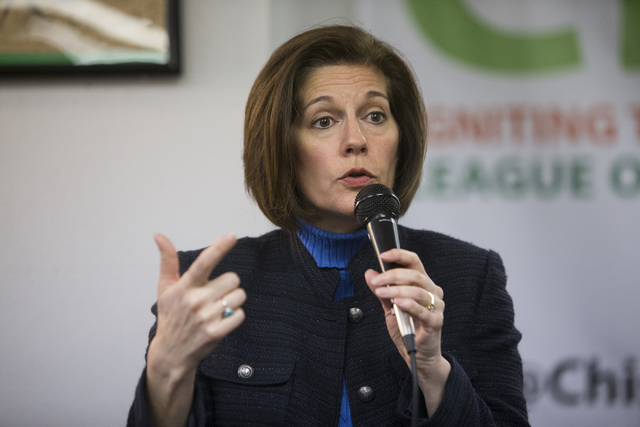 Don't do it, Democrats!
As the April 28 deadline to fund the government approaches, Senate Minority Leader Chuck Schumer and four other prominent Democratic senators have signed a letter that hints darkly at a government shutdown.
Schumer's letter urges Republicans to avoid "poison pills" in budget legislation, such as defunding Planned Parenthood. And he takes issue with spending money on President Donald Trump's promised border wall with Mexico.
"Given these and other concerns, we believe it would be inappropriate to insist on the inclusion of such funding in a must-pass appropriations bill that is needed for the Republican majority in control of the Congress to avert a government shutdown so early in President Trump's administration," Schumer wrote. If the Republicans ignore his suggestions, Schumer said in a news release, "they will be shutting down the government and delivering a severe blow to our economy."
Republicans need 60 votes in the Senate to proceed to a final budget vote. In the House, conservative Republican opposition to spending means that Democratic votes might be needed to pass budget bills, too.
So U.S. Sen. Catherine Cortez Masto and Reps. Dina Titus, Ruben Kihuen and Jacky Rosen will soon have a choice to make. And they should make the right choice, which to err on the side of keeping the government running.
Schumer isn't wrong: Defunding Planned Parenthood, which uses most of its money to provide much-needed health care, is stupid and unnecessary. Building a wall on the Mexican border is proving to be ridiculously expensive. A huge boost in military spending at the price of cuts elsewhere in the government is an example of misplaced priorities.
But shutting down the government over budget disputes? That's anathema to the Constitution and the notion of America, which was born out of disagreements and compromise.
Plus, government shutdowns are usually the work of anti-government Republicans.
Is there anything more ridiculous than the party that believes in the possibility of government doing good things threatening the party that believes government is the problem with shutting down the government? If ever there was a case in which Republicans are willing to shoot the hostage, this is it.
Schumer's letter says Democrats are willing to negotiate over funding, although he's taking some things off the table. But Democrats should continue to negotiate to get the best deal possible, consistent with their goals.
They should also realize — as bitter a pill as it is to swallow — that elections have consequences. Trump won (in the Electoral College, thanks to swing states such as Wisconsin, Pennsylvania and Michigan). That means he gets to set the agenda, no matter how objectionable that is to Democrats.
Democrats should try to persuade their Republican colleagues (and the voters who installed them) that the GOP's spending priorities are ineffective, unnecessary or wasteful. They should point out viable alternatives when they exist (say, agreeing to hire more Border Patrol and immigration agents, but fighting Trump's big, beautiful wall).
But Democrats must not threaten or participate in a government shutdown. That represents a repudiation of the Constitution and political nihilism. That was true every time Republicans did it, and it will be equally true if Democrats — who vehemently denounced the tactic during past GOP shutdowns — stage one of their own.
Former Sen. Harry Reid was once quoted as saying "There's nothing in the world that says you have to be consistent." But there is. If Democrats abandon their constitutional role in this crisis, they lose any moral authority to object if Republicans do the same in the future.
Steve Sebelius is a Review-Journal political columnist. Follow him on Twitter (@SteveSebelius) or reach him at 702-387-5276 or SSebelius@reviewjournal.com.