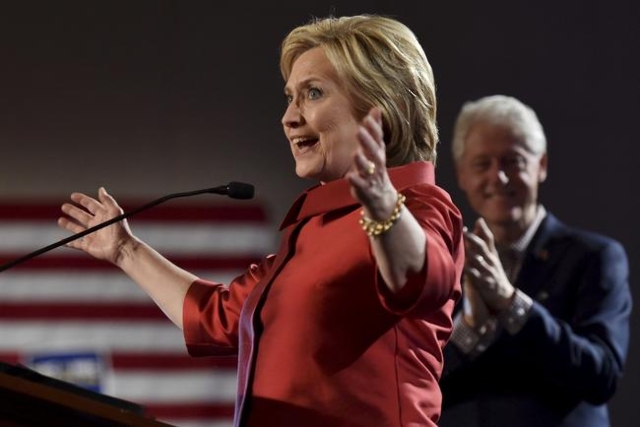 Nevada loves Hillary Clinton.
And in 2016, Nevada loved her a little bit more than it did the last time she ran in a competitive Democratic race for the presidency.
Eight years ago, Clinton beat then-U.S. Sen. Barack Obama 50 percent to 45 percent, with John Edwards capturing about 4 percent. (Thanks to a quirk in the delegate math, Obama won an additional delegate.)
This year, Clinton beat Vermont U.S. Sen. Bernie Sanders in another close race, a hard-fought contest that rewarded Clinton's organization, fundraising ability and sheer campaign tenacity.
Turnout for the contest was about 80,000 voters, well short of the 118,000 voters who showed up to caucus in 2008. That's one of the reasons Sanders fell short — even his stump speech contains a line about Democrats doing well when voter turnout is high.
Clinton also won among older voters, with Sanders dominating among the young. Unfortunately for him, two-thirds of Nevada caucus-goers were 45 years old or older, according to the Associated Press's entrance poll. Black voters were solidly for Clinton, with whites and heavily contested Latinos split more evenly, the AP reported.
But Clinton had much more time to organize in Nevada, and some experienced pros handling that organization. Her campaign launched her in April 2015, and was led by 2008 veteran Emmy Ruiz. (Clinton's general campaign manager, Robby Mook, was in charge of her 2008 effort in Nevada.)
Sanders didn't give away the race, however: He made up for lost time and opened offices all around Nevada, even in rural areas where a liberal, Jewish, Democratic socialist from Vermont is more curiosity than candidate. And he filled hotel ballrooms and soccer fields with cheering crowds.
On the night before the caucus, Clinton stood for an hour before students in the Del Sol High School band room, answering some surprisingly tough questions before meeting the press armed only with a bottle of water and throat lozenges. (She'd been fighting a cold that became apparent the night before during a live town hall broadcast by MSNBC and Telemundo.)
Clinton's victory speech was short, stumpy but undergird by real emotion; she worked hard to fend of a surprisingly strong challenge from Sanders in Nevada that, as recently as a few weeks ago, looked like a Clinton blowout. Nevada was always Clinton's firewall, and it kept her from feeling the Bern after her distant second-place finish in New Hampshire. She tailored her Las Vegas remarks at her opponent, but only mentioned him by name once.
"Americans are right to be angry, but we're also hungry for real solutions," Clinton said in her speech to a packed ballroom at Caesars Palace. She promised to lead an America where every person can go as far as their hard work could take them.
Over at the Henderson pavilion, Sanders politely disagreed, using his own stump speech to remind Americans that they're laboring in a rigged economy where most new income goes to the top, even as workers work harder but don't see wages rise.
Sanders — his face half in shadow as the rays of the setting sun illuminated the pavilion — reminded the crowd that real progress would never happen so long as the country was in the grips of a corrupt campaign finance system that undermines American democracy by allowing billionaires and super PACs to buy elections. (Sound familiar?, he didn't add.)
But Sanders put a bit of spin on his second-place finish, declaring "the wind is at our backs, we have the momentum" going forward to the Super Tuesday states. His campaign, he said, is on the verge of one of the great political upsets in history.
But if anything, Sanders faces significant headwinds going into South Carolina, where minority voters are expected to come out strongly for Clinton. After that, it's the delegate-rich Super Tuesday contests, which includes some states where Sanders could be competitive, including Massachusetts, Colorado and his home state of Vermont. But Clinton will be competing for the big prizes of Texas, Georgia and her home state of Arkansas.
Nevada saw plenty of both candidates during the run-up to the caucus, perhaps the last time the state will play that role. (Nevada Sen. Harry Reid, the father of the early caucus, is retiring, and calls for switching back to a primary ring loud with every four-year cycle.) The chaos, long lines and inconvenience is a trade off: We get to have an early say in who gets to be president, and the candidates visit frequently to court us. Losing that would be too bad for a political state that's just starting to get the hang of this caucus thing.
— Steve Sebelius is a Las Vegas Review-Journal political columnist and co-host of the show "PoliticsNOW," airing at 5:30 p.m. Sundays on 8NewsNow. Follow him on Twitter (@SteveSebelius) or reach him at 702-387-5276 or ssebelius@reviewjournal.com.