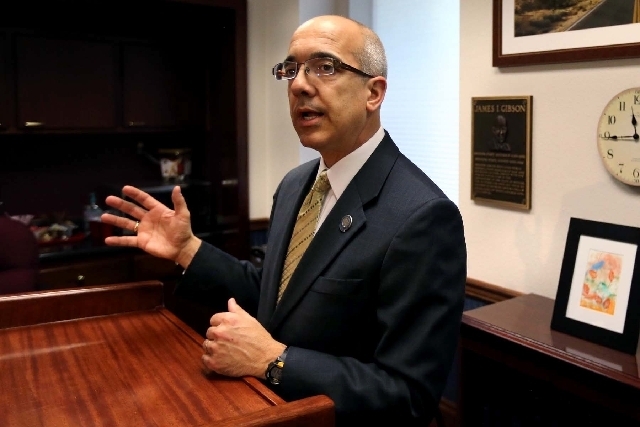 Where have all the Democrats gone?
That's the question some of my media colleagues have been asking since nearly all Democratic lawmakers went radio silent on the issue of The Education Initiative, a 2 percent business margins tax proposed by the Nevada State Education Association. And when a Democrat can be found to answer questions about the issue, the answers mostly range from the benign to the banal.
My personal favorite? This Profiles in A Lack of Courage gem from state Senate Majority Leader Mo Denis, as told to the Las Vegas Sun's Andrew Doughman: "We're kind of taking a wait-and-see on the information. The details are what we have to look at. We really need to dig down and see what it would do," Denis said. Oh, really? Then why didn't he "dig down" during the 2013 Legislature, when The Education Initiative was properly before lawmakers, who instead ignored it without a single hearing?
As a result of their cowardice, Democrats are taking a rhetorical beating. And they deserve it.
But political timidity is hardly rare; in fact, more often than not, it's the rule rather than the exception. In this case, there's a much larger and sadder truth.
Let's play this forward: Democrats — like their allies in Big Labor, save for the teachers union — fail to support The Education Initiative. As a result, it fails at the polls in 2014. Republicans return to Carson City in 2015 with a new talking point in their quiver: The people voted and rejected a business tax, therefore, nobody wants one!
Democrats will resort to their usual play: Complaining about how schools are underfunded (they are), that we need more money to improve them (we do) and that Republicans should do it "for the children." This has never worked, and won't ever work. And if persuasion is off the table, there are but two remaining ways to raise the money Democrats themselves have said for years is needed for schools: by force, or by compromise.
Let's stipulate that Democrats don't have the stomach for the force option, which is a safe assumption. If they won't back The Education Initiative — the best chance the state has had in a decade to impose a long-recommended business tax — they won't have the intestinal fortitude to tell rural lawmakers that Clark County is getting exactly as much of the state budget as is justified by population. More's the pity, because rural Nevada residents who complain about taxes should be made to try living without the subsidy they get from Clark County taxpayers sometime.
What's left, then? Compromise. If Democrats really want to raise taxes in the wake of a failure of The Education Initiative, they will have to give up a lot. Construction-defect reform. Medical malpractice tort reform. Arbitration reforms. Public employee salary-and-benefit reforms. Public Employee Retirement System reforms. Prevailing wage laws. Maybe even the constitutionally guaranteed minimum wage. (This is something labor needs to think long and hard about, too.)
And what Democrats may get in return is guaranteed to be less than what's on the table right now with The Education Initiative. So, in the end, they will get less and give up more than if they simply supported the initiative today.
Of course, it's entirely possible that Democrats haven't yet grown tired of the Kabuki theater that is Carson City, of reading the same scripts with the same lines and coming to the same incremental denouement for state schools every single time. But I sure as hell am tired of it. And so is anybody else who's paying attention.
So, yes, the critics are right: By failing to take a stand, Democrats are showing their cowardice. But even worse than its fecklessness, the Democratic strategy is downright stupid.
Steve Sebelius is a Las Vegas Review-Journal political columnist and author of the blog SlashPolitics.com. Follow him on Twitter (@SteveSebelius) or reach him at (702) 387-5276 or ssebelius@reviewjournal.com.