5 things you might not know about the Huntridge Theater
October 2, 2015 - 9:38 am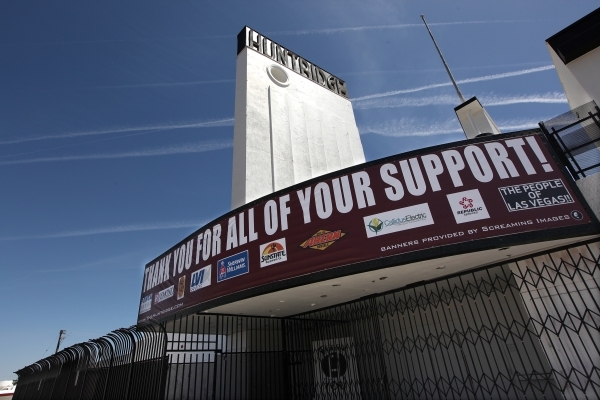 With the fate of the Huntridge Theater in central Las Vegas uncertain, many who live outside of the immediate neighborhood or out-of-state transplants may not recognize the significance of the registered historical place.
Whether you've just moved here, you've always resided in Henderson or you've just never heard of it, the Huntridge was an important staple in Las Vegas for decades.
The nearly 71-year-old theater, often used as a concert venue toward the end, hosted many punk rock shows into the 1990s, including a 1995 concert when the roof collapsed.
Here are five things you might not have known about the shuttered theater on East Charleston:
It's worth its historical recognition
The Huntridge Theater opened in October 1944 — when, at the time, Las Vegas had a population of about 15,000 and the Las Vegas Strip was just a few small casinos such as The El Rancho Vegas. Downtown, nearby the theater, had been thriving, with the opening of the El Cortez in 1941.
It was originally "owned" by actresses
Loretta Young, who went on four years later to win an Academy Award for "The Farmer's Daughter," and Irene Dunne, who was nominated five times, were on the list of operators under the Huntridge Theater Company. Lloyd and Edith Katz, from 1951 to 1978, were the ones who actually ran it as a theater.
There have been multiple efforts to save it
Since the theater was closed in the late 1990s, many groups and politicians have fought for its restoration and reopening. After a painting event a few years ago, local bands the Killers and Imagine Dragons were rumored to be the first the play the new theater — but that was never confirmed nor did it become a reality.
Crowdfunding, state grants and private funding have proved unsuccessful.
It was the first desegregated theater in Southern Nevada
It was also one of the first desegregated major businesses of any kind in town, with another notable addition being the Moulin Rouge Hotel in 1955, just a few blocks northwest of the theater. For decades, the theater was the only of its kind without segregation — Lloyd Katz refused while it was commonplace around the city.
"He desegregated his theaters here before he had to, which was indeed unusual in these parts," historian Michael Green told the Review-Journal in 2012.
It was named for the neighborhood
Not unlike the bar and the diner, the Huntridge Theater was named in the Huntridge neighborhood — a 2.5 square-mile area in central Las Vegas. The area was built a couple of years earlier for airmen stationed at what would become Nellis Air force Base.
Many recognize the neighborhood as one of Vegas' first-established, along with Scotch 80s and Paradise Palms.
Contact Kristen DeSilva at kdesilva@reviewjournal.com. Find her on Twitter: @kristendesilva