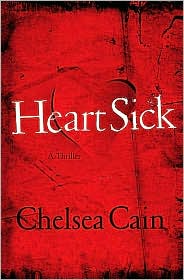 In "HeartSick," author Chelsea Cain introduces readers to a sadistic new villain, Gretchen Lowell, a beautiful serial killer who smells like lilacs and enjoys carving hearts into her victims' chests.
Archie Sheridan is a Portland detective who spends years tracking Gretchen, trying to prevent her from committing her next gruesome deed. Before he can catch her though, she catches him, and proceeds to torture him in a basement, driving nails into his ribs and forcing him to drink drain cleaner.
Archie's capture is just the backdrop of "HeartSick," which takes place after Gretchen releases Archie and turns herself in, a decision that leaves the detective overwhelmed with questions, questions that lead him to her prison cell in search of answers.
As Archie's life deteriorates because of a dependence on pain killers and his disturbing relationship with his tormentor, another series of murders shake Portland. Archie is called to head the task force put together to capture the latest sicko leaving a trail of bodies.
Cain paints a sympathetic portrait of the damaged detective, and the pleasure Gretchen takes in his pain will make readers' skin crawl.
"HeartSick," now available in paperback, is a thoroughly entertaining thriller for those with a strong enough stomach for all of the gore. And those who can't get enough of Gretchen Lowell won't have to wait long for the sequel. "Sweetheart" comes out in September.
I can't wait.