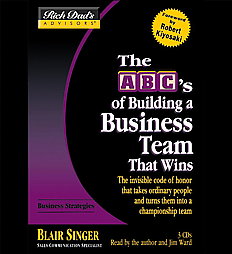 "The ABCs of Building a Business Team That Wins" by Blair Singer is another in the financial dynasty better known as the Rich Dad series. Most of the books have at least some good information, and this one is no different.
Once you get past the fact that Singer worked for the Ohio State football organization, he provides a few noteworthy items that will help you strengthen not only your team at work, but your family as well. Having a Code of Honor is a great starting point, but how you arrive there and how it's enforced are what actually strengthen the team.
Your Code of Honor can help streamline the hiring process as well. If the recruit doesn't like the Code of Honor, it's easy for him or her to back away from the job offer before anyone gets hurt.
The most striking part of the book speaks to accountability, an area sorely lacking in today's society. With personal and team or family accountability, the Code of Honor stays intact and the unit becomes stronger. Without accountability, it's just a bunch of words on a sheet of paper.
"Never go to bed angry" might be one item on your list, and for any good marriage, that's a starting point. Now, read the book and devise a code that will be the basis for all your future relationships.