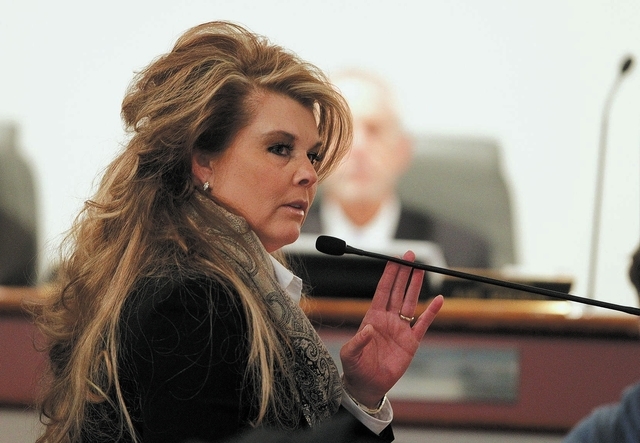 Consider how "The Jerry Springer Show" has lowered the bar for television programming, and you'll start to understand what Lisa Willardson is doing to the Nevada judiciary.
And she's not even a judge — not yet anyway, thank heavens.
The daft, disgraced ex-prosecutor had a bit of a coming out party last week during testimony before the Nevada Commission on Judicial Discipline. The panel is investigating suspended Family Court Judge Steven Jones over his relationship with Willardson while she was handling cases before him in late 2011. That relationship cost Willardson her job with the district attorney's office, and it could cost Jones his robe.
Willardson's turn on the witness stand was part "Real Housewives" testimonial and part high school bathroom gossip. She talked about an email in which she called Jones "freaking hot" and added that she "found Judge Jones extremely attractive, ridiculously intelligent, and he ran a good courtroom." The case included a legal dissection of a photo, taken under a table by another prosecutor, of Jones' crotch and his hand near Willardson's knee.
I was surprised she didn't begin a few sentences with, "Like, Ohmigod!"
Considering Jones was suspended because of his indictment on federal fraud charges, which allege he used his office to close deals as part of a $3 million investment scam, it would be something to see him removed from the bench for dating a groupie.
Indeed, Willardson is obsessed — not just with Jones, but with the judiciary in general.
In my Sept. 15 column, "Lifting Judicial Watch's curtain," I exposed Willardson as the anonymous purveyor of Nevada Judicial Watch, a Facebook page and Twitter account that purported to be a group of lawyers and judges sharing courtroom observations and rating jurists as a public service. The Facebook page had built a broad following, including many lawyers, judges and elected officials.
However, Willardson had a clear agenda in running the site: defending the indefensible Jones; attacking the Review-Journal and its biennial judicial performance evaluations, which she aimed to discredit to better promote her own judicial ratings; propping up allies of her and Jones; and crushing their enemies.
Willardson also struck an alliance with the disreputable Veterans in Politics International. That outfit allowed Nevada Judicial Watch to sponsor a meet-and-greet event with county judges and, in return, it considered allowing Willardson to sit on the Veterans in Politics panel that will interview and endorse judicial candidates in 2014.
Maybe Willardson was going to rate which candidates were "freaking hot."
Shortly after the column ran, the Facebook page disappeared and activity on the Twitter account stopped.
But like any desperate hanger-on, Willardson launched a new effort to satisfy her mania. First, she doubled down on her embarrassment, declaring on her personal Facebook page that she is the owner and editor of Nevada Judicial Watch LLC. Then she started a new Facebook page: Nevada Judicial Guardian.
"Nevada Judicial Guardian has replaced Nevada Judicial Watch … in light of concerns from our friends at Judicial Watch," the Nevada Judicial Watch Twitter account posted Nov. 5.
The Nevada Judicial Guardian Facebook page has the same banner artwork used by Nevada Judicial Watch. "Nevada Judicial Guardian advocates and seeks to ensure and inform the voting public that our judicial officers do not abuse the powers entrusted to them by the Nevada electorate," the page says.
Willardson as the guardian of judicial integrity? That's quite an audacious mission statement, considering the selfishness and complete lack of legal ethics displayed by both Jones and Willardson. Investigators found the two texted each other 34 times on Oct. 20, 2011, the day after their first lunch date. Yet she practiced before him into November. Both testified last week that they didn't consider themselves a couple until Thanksgiving, when they visited her family in Utah. But they had texted each other hundreds and hundreds of times before that trip, as well as seen each other socially.
Neither saw the obvious need to disclose the relationship. Jones should have recused himself from any case involving Willardson. Willardson should have told her boss, then-District Attorney David Roger, that she was pursuing a relationship with the judge. That's basic law school stuff. That's common sense.
Judicial guardian indeed.
One big difference between the new and old sites: Nevada Judicial Guardian is even more obvious about promoting Willardson and Jones.
It features a re-election ad for Jones, as well as this post from Thursday: "Nevada Judicial Guardian has been disappointed while observing the proceedings against the Honorable Steven E. Jones. This disappointment is in both proceedings and the reporting. Both are in desperate need of improvement." I'm guessing Willardson posted that comment after she was destroyed on cross-examination.
Additionally, the site has several photos of Willardson and information on her — wait for it — planned bid for a Family Court judgeship. She intends to run in Department L against incumbent Jennifer Elliot.
Oh, wouldn't Jones and Willardson be adorable on the bench together!
Sadly, the star-crossed lovers might never get the chance. The Nevada Commission on Judicial Discipline completed its weeklong hearing Friday and will deliberate in Reno this week before issuing a written decision on Jones' fate.
Whatever happens, this much is clear: Jones and Willardson have made their mark on the Nevada judiciary. They deserve each other.
Golenn Cook (gcook@reviewjournal.com) is the Las Vegas Review-Journal's senior editorial writer. Follow him on Twitter: @Glenn_CookNV. Listen to him Mondays at 4 p.m. on "Live and Local with Kevin Wall" on KXNT News Radio, 100.5 FM, 840 AM.