Artist's Martin Kreloff's work is 'Made in Las Vegas'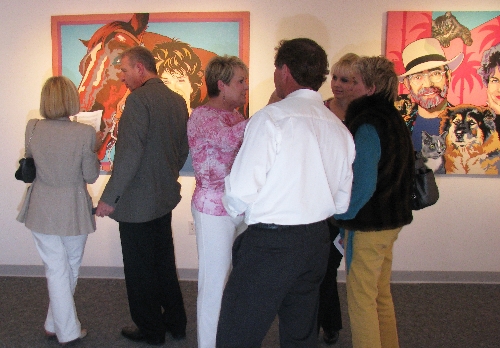 "Nothing pleases me more than the moment the client sees the finished painting," said Martin Kreloff, whose show "Made in Las Vegas" is on display at the Winchester Cultural Center, 3130 S. McLeod Drive. "That's almost always the best part of it all. There's the tears, there's the 'Oh my god.' That's the fun part."
Kreloff's work features various subject matter, but he said portraits are his mainstay. The works in "Made in Las Vegas" are portraits of friends, family and patrons. Since much of the work is commissioned, it has never been displayed together.
"It was pretty overwhelming to see it all together," Kreloff said. "None of them were designed to be shown with one another, and seeing how each one related to one another was wonderful."
Winchester Cultural Center gallery curator Wendy Kveck pointed out details to Kreloff, such as how the tie on the portrait of State Sen. David Parks was the same color as the lips on the painting beside it, a portrait of writer Cynthia Robins.
"Wendy Kveck is a real pro. She's absolutely wonderful," Kreloff said. "After we placed everything, she pulled out a chair and told me she wanted me to sit there and tell her how I felt about the show."
Kveck said the amount of work she puts into the arrangement of a show depends on what the artist wants. Typically it's a case of grouping the work by palette or subject matter and making the pieces work together.
A particular challenge of the Winchester Gallery is its long, curved wall.
"It's exciting when the artist decides to work with the wall," Kveck said. "In Martin's case we hung smaller, more intimate pieces there."
Many of those smaller works are done with colored pencil, a medium Kreloff hasn't worked with much since his childhood. He recently had hip replacement surgery, but for some time before the surgery standing was painful and difficult.
"I decided to work on more intimate pieces for a while," Kreloff said. "I was surprised by how much I enjoyed it. I was getting back in touch with my childhood."
Intimate is standard fare for Kreloff, who begins each portrait with a photo session, either in his studio or in the client's home.
"We take lots of different pictures in lots of different outfits, and I really get to know them," Kreloff said. "I've enjoyed it all my life, because most of my clients turn out to be my friends because the experience is so intimate."
Much of the other work is larger and features intense colors done with acrylics. Kreloff considers himself a hard- edge painter, with sharp delineation between color transitions. There is little if any blending in his work, creating a clean, graphic style, which takes a considerable amount of effort to achieve.
"Each color can have as many as nine or 10 coats of paint so I can get that opaque quality I'm looking for," Kreloff said.
Kreloff said he has been lucky to live in many interesting places over the years. He has lived in Las Vegas for the last 6 years, and all the work in the show was done here.
"I just love Las Vegas," Kreloff said. "I have such a great feeling out here. I love the dispiritedness of it all, the Mormons and the showgirls and the cactus and the artificial water. I think it's a fabulous place."
"Made in Las Vegas" is set to run through June 3. Kreloff is set to speak at an artist's talk at 1 p.m. May 4 in the Winchester Theater. For more information, call the center at 455-7340. For more information about the artist, visit martinkreloff.com.
Contact Sunrise and Whitney View reporter F. Andrew Taylor at ataylor@viewnews.com or 380-4532.