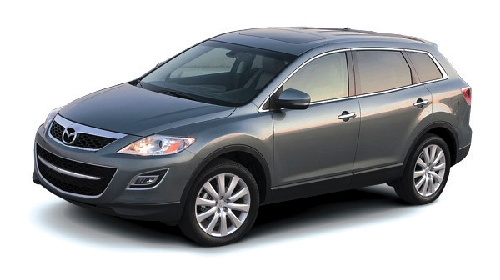 Once left for dead, the Dodge Durango has made a surprising comeback for 2011 after a two-year absence. Still, it faces an uncertain future as steadily rising fuel costs could derail its return before it really gets off the ground.
Chrysler has redesigned or reformulated most of its 2011 product lineup and nowhere is that more evident than in the Durango. The model was considered dead and buried by late 2008, but clearly Dodge had other plans.
They include building the big sport ute on a modified Jeep Grand Cherokee platform that is also being employed in the next-generation Mercedes-Benz M-Class.
Modifications include extending the distance between the front and rear wheels by 5 inches and the overall length by 10 inches, thus creating space for a third-row seat. Dimensionally, the new Durango is closely similar to the previous version, but is now much easier to enter and exit due to its considerably less trucklike ride height.
The redesign has resulted in the best-looking Durango since the brand's 1998-model-year arrival. A bold crosshair grille conveys a strong sense of Dodge-style attitude, while the views from the sides and rear are stylishly attractive in a way that the old Durango could only imagine. Dodge has also placed considerable effort on ensuring that the gaps between the various body panels have been reduced to an absolute minimum.
That goes double for the all-new carlike interior, with soft-touch dashboard and door panels, upgraded seats and a steering wheel with thumb-sized audio, cruise and communication controls that should be relatively easy to master.
Four of the Durango's five trim levels arrive with a 290-horsepower 3.6-liter V-6, rated at 16 mpg city and 23 mpg highway. The remaining R/T model uses a 360-horsepower 5.7-liter "Hemi" V-8 that deactivates half of its cylinders under cruise, coast and deceleration conditions, helping it achieve fuel economy rating of 14/20 mpg city/highway. The old V-8 Durango of similar weight achieved a 13/17 rating.
Each engine operates with a five-speed automatic transmission, however, word is that an all-new unit with as many as eight forward gears will come on stream later this year.
Towing capacities will give the Durango's competitors a run for their money, especially V-8 models that can pull up to 7,400 pounds worth of boat, horse or vacation trailer. On the other hand, V-6 units offer a 6,200-pound towing capacity, more than the old Durango's base 3.7-liter V-6 or optional 4.7-liter V-8.
Rear-wheel-drive is standard, but the all-wheel-drive option depends on engine choice. For V-6 models there's a permanently engaged system that automatically varies the torque between the front and rear wheels, depending on where it's needed. Selecting the AWD V-8 gets you a part-time unit with a two-speed transfer case for those times when maximum torque is needed, during severe off-roading and when heading up and down steep grades.
The base Durango Express comes with more than just the basics, including trizone climate control, three-row seating, fold-flat front passenger seat, tilt/telescoping steering wheel, 18-inch wheels and hill-start assist that keeps the Durango from rolling backward when stopped on an incline.
The remaining designations – Heat, R/T, Crew and Citadel – pile it on with leather seats (heated and power controlled in front), push-button ignition, 20-inch chrome wheels, touch-screen navigation and a trailer towing package, to name just a sampling.
At about $30,000 (including destination charges), the base Durango is roughly $1,500 more expensive than a 2009 edition, but very competitive with others in its class.
Certainly there will always be a need for the power and passenger capacity offered by the Dodge Durango. However it remains to be seen if a two-year absence will affect its ability to make friends among the changing New World Order of sport ute fanatics.