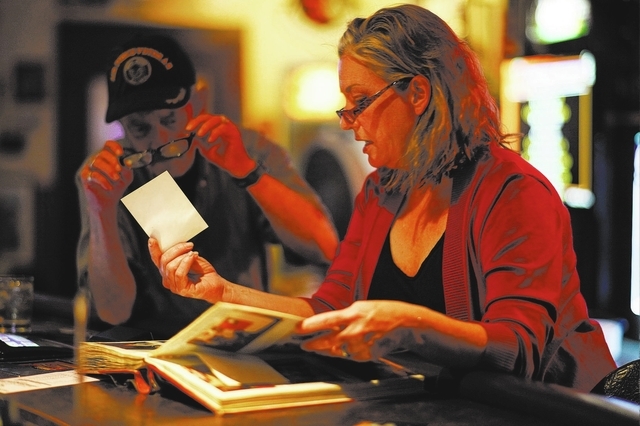 Jack's Place, 5067 E. Bonanza Road, is a small neighborhood bar that caters largely to an older ex-military crowd. The customers, who are mainly in their 50s and 60s, enjoy the soft oldies music that fills the air and the calm atmosphere of the bar.
Corinne Vaughn and Bruce Wagner, who have owned the venue for five years, said military veterans started coming in when Jack Regan, former owner and namesake of the bar, opened the place on April 1, 1980.
"Jack named the bar after himself," Wagner said. "I've been coming here since 1982. I knew Jack and his wife, Rosemary. Rosemary was very nice, but Jack kept to himself. He was a state senator. He didn't want to talk to anybody in here."
The owners speculate that Regan co-owned a bar in downtown Las Vegas, and after gaining enough experience, he decided to venture into his own business.
Vaughn added that since there were not many other bars in the neighborhood at that time, many military members from Nellis Air Force Base made the bar their preferred hangout.
Former military member John "Jack" McHugh decided to stop at the bar because of its name. He has been a patron at the venue for eight years.
"The first day that I came here, there were a bunch of military guys that made me feel right at home," McHugh said. "We all become like a second family."
Regan was born on Feb. 2, 1934, in Chicago. He graduated from Southern Illinois University and served the country as a member of the the United States Navy, according to a Nevada Legislature resolution on March 4, 1999, honoring the former senator.
Regan ventured into politics and served during three legislative sessions as an assemblyman from 1989 to 1993. He was elected to the Senate in 1994. He served as Senate minority whip during the 1995 and 1997 legislative sessions.
Regan held onto his deep military ties and became one of the major forces behind the establishment of a veterans' home in Southern Nevada.
After Regan died on Jan. 21, 1999, Rosemary continued operating the bar until she retired. Vaughn worked with Rosemary for 11 years before she made a business deal with Wagner.
"Bruce and I put together a deal," Vaughn said. "We wanted the bar to stay in the family. We wanted to let people know that the community would still live on. We left the name alone because it had a lot of history with it."
For safety reasons, the owners keep the door locked at all times. In order to enter the bar, customers have to be buzzed in.
"This is a very secure place," customer Cheryl Jones said. "The men here act like gentlemen. They walk ladies out to their cars and make sure that they're safe."
Vaughn added that the bar also has second- and third-generation customers, who are the children and grandchildren of some of the establishment's longtime customers.
Lonnie Ross has been going to the bar for 10 years. Ross said his mom used to work at the venue before she died, and he continues going because he feels her presence there.
"A lot of the people that have been coming here grew up at this bar," Ross said. "The people here are down-to-earth and honest. It has a hometown feel to it."
Vaughn said a lot of her customers have bonded due to the fact that they fought a war.
"I'd say that 30 to 50 percent of my crowd has had something to do with the military; some have even fought in Vietnam," she said. "They don't come in here to tell war stories. They don't want to talk about that. They just understand each other."
Jack's Place has been struggling financially since the recession of 2007. However, the owners continue operating the business because they want to provide their customers with a safe place to relax.
"We're on a wing and a prayer," Vaughn said. "This is an old-fashioned bar with old-fashioned ideas and old-fashioned customers. We just want to keep that sense of community alive."
Contact Sunrise/Whitney View reporter Sandy Lopez at slopez@viewnews.com or 702-383-4686.