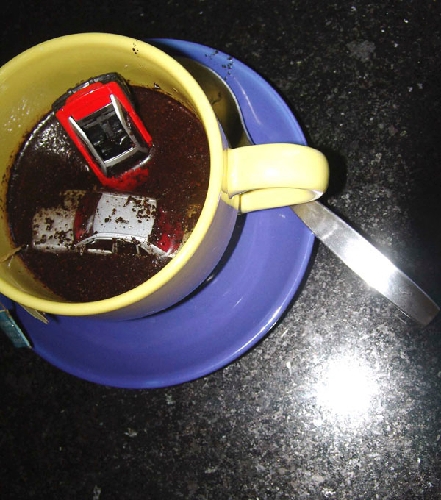 Hands up if you have ever driven home exhausted and weary-eyed after pulling an all-nighter. (I'm not going to ask why you were out all night.)
We're all spending more time working — and playing — harder and it's time usually deducted from what should be spent in bed resting. Trading in those 40 winks has turned us into a society of (intro dramatic music here) Drowsssssy Driverrrrrrrrs!
That term brought to you by the U.S. National Sleep Foundation, which reports that half of the drivers on the road have driven under the influence of sleep deprivation.
Look around you. If it's not you, it's the driver next to you, behind you or in front of you. (Suddenly, mass public transportation becomes much more appealing!)
What's the big deal, you ask? In a media release explaining the findings, Richard Gelula, executive director of the NSF, said driving while drowsy is no different than driving drunk.
"Sleepiness slows reaction time, decreases awareness and impairs judgment.
"Now we're finding that sleepy drivers are more tense and impatient, and may even be speeding up when they should really be stopping to rest."
Not buying it? The RealAge website decided to test the effects of sleep deprivation on driving.
In one experiment, participants who missed as little as three hours of sleep experienced the same magnitude of driving difficulties, such as an inability to maintain speed and road position, as drivers who were legally intoxicated. Wazzup with that?
If you can't remember the last few miles driven, you drift from lanes or hit a rumble strip, or if you have difficulty focusing or keeping your eyes open, pull over, join a 12-step program and admit it: You are a Drowsy Driver.
People driving long distances without rest breaks, people who drive when they would normally be asleep and people driving alone or on long, rural, boring roads increase their chances of being in a DD-related accident.
It's difficult to tack a number onto just how many traffic altercations occur as a result of drowsy driving. There isn't a standardized test like a Sleepalyzer, or something, to determine if a lack of sleep contributed to an accident … shoot, who WOULD pass it?
For those who need a number, the U.S. National Highway Traffic Safety Administration estimates that 1.5 percent of all crashes in the United States involve drowsiness/fatigue as a principal factor. A conservative estimate of yearly related fatalities is 4 percent of all traffic crash fatalities.
Wake up! Sorry my friends, but if you're seriously suffering from sleep withdrawal, all the double espressos at Starbucks aren't going to do the trick. Recent studies have shown that caffeine may actually contribute to sleepiness because when the buzz wears off, you feel even more tired than before you downed that mug(s) of extra-light roast.
Also, driving with the window open or cranking the stereo to stay alert, says sleep pattern scientist Kate Waynright, are "tricks" that shouldn't be relied upon.
So, what is the best strategy to cope with fatigue while on the road?
"Pull over in a safe place and take a short nap," says Gelula. While 22 percent of drivers report doing just that when they are sleepy on the road, the vast majority (63 percent) turn to caffeine for relief from fatigue."
If you're taking a trip: get a good night's sleep; plan to drive long trips with a companion who can keep an eye on the early warning signs of fatigue or switch with you when needed. Passengers should stay awake to talk to the driver and schedule regular stops, every two hours. (Starbucks optional.)
Among her numerous accomplishments, Courtney Hansen is the author of "Garage Girl's Guide to Everything You Need to Know About Your Car," the host of Spike TV's "Power Block," the former host of TLC's "Overhaulin'" program and a writer with Wheelbase Media and Auto Shift Weekly magazine. You can email her by logging on to www.wheelbase.ws and using the contact link.