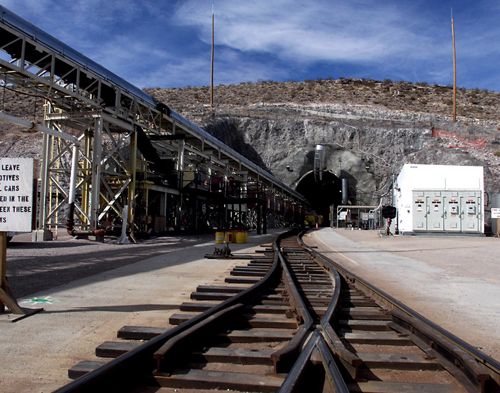 A partisan skirmish that was one of the newsier elements of a U.S. House hearing Wednesday on Yucca Mountain continues into a new day.
A senior Democrat, Rep. Henry Waxman of California, suggested in a letter this morning that Republicans are conducting a witchhunt in an investigation of the Obama administration's termination of the Nevada nuclear waste project.
Waxman fired back after Rep. John Shimkus, R-Ill., the subcommittee chairman leading the probe, accused him of potentially sabotaging it by referencing several emails that have been turned over to investigators by the Nuclear Regulatory Commission.
During Wednesday's hearing, Waxman brought up the emails to give NRC chairman Gregory Jaczko a chance to defend himself against accusations he had political motivations in his handling of the controversial issue that is before the commission.
"It was in no way a political action," Jaczko said.
Shimkus shortly afterwards convened an impromptu press conference in the hallway in which he called Waxman's actions "unconscionable."
Waxman defended his questioning after the hearing, saying it was fair and appropriate.
In his letter this morning, Waxman went further.
"Your objection to my questions appears to be based on a misunderstanding of your role as chairman," Waxman wrote. "As chairman, you have many powers. You get to call hearings and invite witnesses. But your authority does not extend to censoring the content of committee members' questions."
The NRC and the Department of Energy have produced "thousands of pages of documents" in response to the investigation, Waxman said.
"During review of these documents, my staff identified many documents that supported the actions of Chairman Jaczko," Waxman said, but Republicans don't appear as interested in those.
Rather, Waxman said it is Shimkus through a number of comments, who seems to have pre-judged the investigation by criticizing Jaczko and the Obama administration. The Republican has called the decision to shut down the Nevada project as "politics at its worst at its highest levels."
"As members of Congress, we have a duty to review the documents provided to the committee and to ask questions based on the documents," Waxman wrote. "That is the approach I took yesterday and will take in future hearings. What we should avoid doing is drawing conclusions about an investigation without first reviewing those documents, which is apparently what you have done."
"We don't intend to get into a back and forth with Congressman Waxman so we are just going to let it go," said Doug Bugger, deputy press secretary for Shimkus.