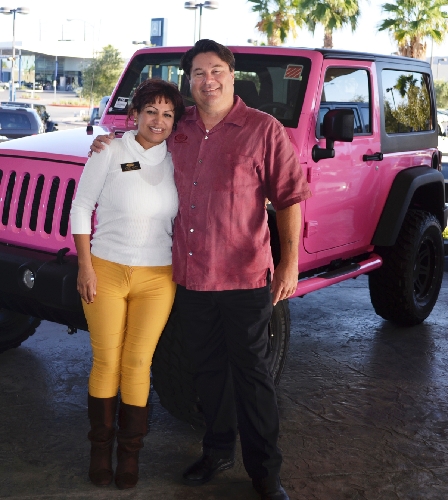 October is Breast Cancer Awareness Month and Chapman Chrysler Jeep is giving back to the community by raising money for breast cancer research for the American Cancer Society in the best way its knows how - selling cars.
A Total Elimination Vehicle Event is scheduled today through Tuesday. In addition to discounted prices on Chapman's vehicle inventory, one person could win his-and-her Jeep Wranglers. Through a special promotion, customers will receive individual codes at home or can register at a kiosk inside the dealership. The grand prize consists of two 2012 Jeep Wranglers or $100,000 in cash. In addition, prizes such as cash, an iPad, Target gift cards and a TV will be given away.
Chapman will donate $1 to the American Cancer Society's Making Strides Against Breast Cancer for every code and person registered. An additional $50 will be donated for each vehicle sold.
"We're excited about the opportunity to do what we do best, while benefitting a great organization and raising money to help women fight breast cancer," said Gary Brewer, general manager of Chapman Chrysler Jeep. "Many of the guys on our sales team have family members who have been affected by this disease. Chapman dealerships are family-owned and family-friendly, so this is their chance to give back in a big way for a cause that is so personal to so many."
Hours for the event are 10 a.m. to 8 p.m. today, 9 a.m. to 9 p.m. Saturday and 9 a.m. to 8 p.m. Monday and Tuesday.
Chapman Chrysler Jeep sells and services the complete line of Chrysler and Jeep vehicles from its location at Valley Automall in Henderson. It can be reached at 888-207-1687 or online at ChapmanChryslerJeep.com.
Chapman Dodge Chrysler Jeep Ram sells and services new and used vehicles at 3175 E. Sahara Ave. at Mojave Road. The dealership can be reached at 702-457-1061 or by visiting the www.VegasDCJ.com.
Chapman Value Center sells and services new and used vehicles. It is on Boulder Highway just south of Sahara Avenue. The dealership can be reached at 888-299-0170 and at www.Chapman
ValueCenter.com.
All dealerships are open for sales from 8 a.m. to 9 p.m. Monday through Saturday. Parts and service are open from 7 a.m. to 6 p.m. Monday through Friday and 8 a.m. to 2 p.m. Saturday.