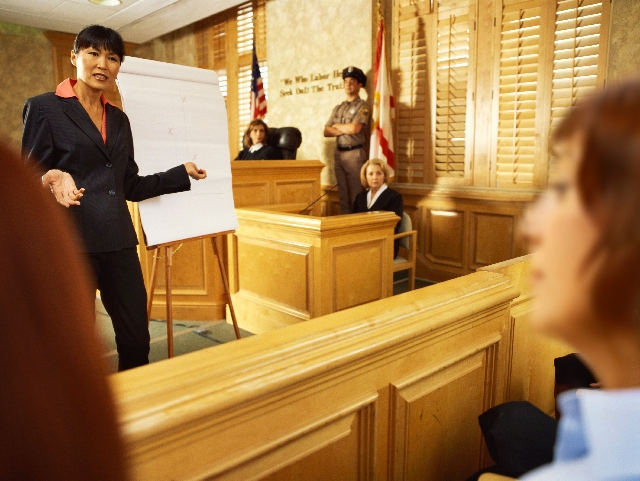 We hear about the big ones: large technology companies facing securities fraud, breast implant litigation, asbestos, Exxon Mobil and Enron. But there are plenty more class-action lawsuits in the works on both the state and federal level, many of which may not even be strong enough to get certified by a court. As consumers, we hear about others through our mailbox: a fitness club charging small fees without members knowing, faulty radiators in cars and plenty more.
Although they garner their share of headlines, class actions are imperfect by nature. Critics complain of frivolous suits that line the pockets of lawyers through multi million-dollar settlements, the plaintiff only getting pennies or a complimentary product that was once defective in return.
Lawyers point to some of the positives.
"While they (class-action suits) have their detractors it can be argued they've … prevented banks from charging scrupulous fees, cellphone companies from imposing waivers of jury rights. A great deal of change has been seen as a result of class actions," said Terry Coffing, a partner with law firm Marquis Aurbach and Coffing in Las Vegas.
Some history
Legal scholars trace the class-action's origins back to 12th-century England. According to a 2002 historical piece written by Alabama attorney Susan Spence and published by the American Bar Association, many early suits seemed to be disputes among churches. Some dealt with mergers and how to run operations and perhaps more important tithing, its distribution after mergers and in some cases the enforcement of tithing upon entities.
In one late 17th-century case, a church in dire financial straits sued a mining company for not tithing. For compensation, the church sought a 10th of a mine's lead-ore output. The church won, Spence said.
But through time, cases became more complex and involved different types of entities and issues. In the U.S. in 1966, class-action rules "took a giant evolutionary leap," Spence said, when the Supreme Court declared that a class-action judgment "binds" all members, even absent ones, in a suit. In 1974, rules were amended to assure all members of a class action, even those who have chosen to opt out, are to be given notice of the suit.
Little changed until in 2005 when federal jurisdiction over class actions was expanded in a law known as the Class Action Fairness Act. The changes were initiated largely by businesses and the American Tort Reform Association, saying abuses were being made with filings on the state level surging by more than 1,000 percent in the previous decade, according to a lawmaker in a Washington Post report on the bill's passage in February 2005.
Again, proponents of the bill alleged the biggest beneficiary of a class-action suit was the legal team that enjoyed a cut of the win, so to speak, not the consumer who was wronged.
Under the new law, suits of a minimal size (at least $5 million and at least 100 plaintiffs) involving parties in different states are seen by federal courts instead of state courts that some argue were more receptive to class-action suits. Ultimately, this has complicated the ability for class actions to be certified, said Thomas Main, a professor of law at UNLV's Boyd Law School .
"The Class Action Fairness Act of 2005 is the greatest indignity to the class action, for the most part making class action inaccessible to large swaths of people," he said. "For judicial management and ideological reasons, class action has been neutered as a meaningful way of enforcing the law."
Main said class actions are a collection of "negative value suits that are not independently viable," or those whose potential victory could yield a sum so small it likely will not cover the cost to represent them. Examples like this include allegations of alleged unnecessary fees from utilities or banks that may only be a dollar or two.
Even larger claims that might be, say $15,000, for an employment related issue, are often too small for one lawyer to take on, Main noted. By combining cases, there may not be a big win for one individual, but the win comes with the "enforcement of public norms."
Some have argued that for small amounts such as bank fees there should be a government agency to look into it instead of putting it into the hands of lawyers representing a large group of people, many of whom may not even know if they've been wronged. But that hasn't been done, Main said. So, for now, the class action, or other group representation, is the main option for the allegedly wronged consumer.
"If the lawyers aren't getting paid, how is the law being enforced?" he said.
A 'true' class action
Gaining class-action status can be tricky, even with more than 100 people making similar claims. When evaluating whether a case can move forward as a class action, some consistencies are required.
Dennis Kennedy, a shareholder with the firm Bailey Kennedy in Las Vegas, has practiced commercial litigation in Las Vegas since 1975 and has represented both defendants and plaintiffs of class-action suits. One notable case he brought against a supplement company marketing a weight-loss pill the company said contained the South African cactus plant, hoodia, is what he referred to as a "perfect class action."
After further evaluation, the product did not contain the ingredient stated and it was found the ingredients in the supplement could not possibly do what the labels on the bottle claimed, Kennedy said.
One reason the case easily fell in line with class-action rules was because of the consistency in the reason the buyers purchased the product. And they were all buying it hoping for a benefit the product was proven to not deliver. If there were numerous different reasons for buying the product and differences in results, the case could have been on shaky ground as a class action.
"Basically the federal court judge said there's only one reason to buy this drug and not because it tastes good," Kennedy said. "It was a perfect class action because everyone was injured in the same way."
But Kennedy said some situations are far less cut and dry. He said suits against tobacco companies, although referred to as class action, ultimately never were class actions, partly because people started smoking for an infinite number of reasons.
Then to complicate matters, some defendants worked in shipyards with asbestos, widening the potential sources of harm. Ultimately, the $365 billion settlement released the tobacco companies from class-action suits.
Kennedy also spoke about a Wal-Mart case years ago involving a dog food that claimed to be made in the U.S. only to be found it was not. Kennedy said people were deceived but no one was really harmed, making it a difficult case to pursue.
Coffing is known locally for his recent representation of condo buyers at The Cosmopolitan of Las Vegas, originally envisioned as a condominium tower. Coffing's team was able to get refunds for the majority of the deposits on the project.
"When it became fairly well known of what we did at The Cosmopolitan, many people sent me something about wanting to get out of a condo contract," he said.
But Coffing, who sees a large number of potential class-action cases come across his desk, said many of the sales contracts he saw at other condo projects had language that prevented buyers from pursuing damages.
With the public getting a seemingly increased exposure to class-action cases via the mailbox, Coffing said that by the time a notice makes it there, a settlement has usually been agreed upon and the case has been officially certified by a court, a necessary step for it to proceed as a class action. Main describes the certifying hearing as a "crescendo moment" that usually seals the fate of a case.
But up until the certification step in the process, a legal team can spend thousands of dollars on research. Then after certification, notifying other potential plaintiffs is another added cost.
"You can do the math. You have to send notices to 1 million people and put a stamp on each one of them. It gets expensive," Main said.
Up-front costs are the main reason Coffing passes on most class actions presented to him.
"I get proposed a lot of them. But I select relatively few," he added.
Insurance, business, labor
The practical advice to businesses is to run a clean enterprise that doesn't defraud others, Coffing said.
"About 99 percent of the businesses out there are doing it right," he adds.
Kennedy also said larger retailers are much more likely to require suppliers to carry insurance to cover any potential lawsuits if there are problems with a product. When Kennedy is representing a defendant, checking for supplier insurance is one of the first conversations, he said. The size of the retailer also depends on whether a business may demand insurance.
"Someone like Wal-Mart has the power to require that. But some of the smaller guys it's tougher," Kennedy added.
Although product defects are a hotbed for class-action activity, race and age class actions could be on the rise, particularly in California, Kennedy said. These issues are not so much about the money, but to change behavior, he said.
Both Coffing and Kennedy acknowledge these types of cases are much more difficult to prove for plaintiffs. But Coffing doesn't deny that in a recession, there is certainly some merit to them.
"Where there are no readily available jobs to go to, employers may see an increase in questionable practice," he said.
But although these cases appear to be on the rise, that could change because of Dukes v. Wal-Mart where more than 1 million of the company's female employees made claims alleging gender discrimination in pay and policies. Initially, the case was certified as a class action by a district court, but the class action was then rejected by the U.S. Supreme Court. The case is under appeal.