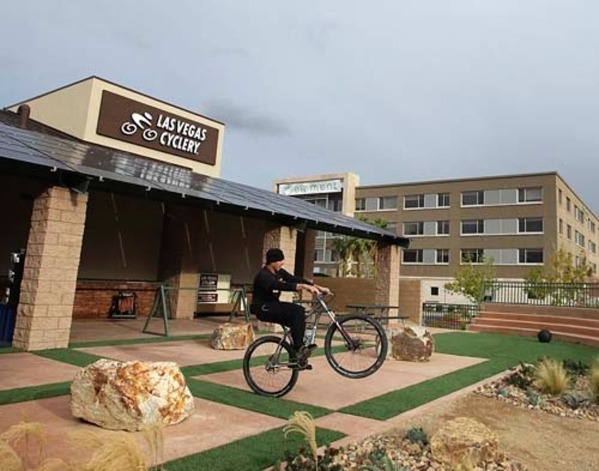 As a child, Jared Fisher loved riding his bicycle. As an adult, he's on it nearly every day.
"I just love being on two wheels and exploring," he said. "Ever since I was, like, 10."
Now, the Blue Diamond resident is set to be a competitor in the CLIF Bar CrossVegas event, scheduled for Sept. 16 at Desert Breeze Park, 8275 Spring Mountain Road. CLIF Bar CrossVegas is the largest cyclocross race outside of Europe. Roughly 10,000 spectators are expected, with millions more tuning in for the action on TV.
Fisher is no stranger to bicycle races. His longest one was the HooDoo 500 Ultramarathon Bicycle Race, which covers three national parks, three monuments and various Utah state parks. The 500-mile race begins and ends in St. George, Utah. He's done it three times, finishing second each time. It took him 38 hours to finish.
What drew Fisher to enter this month's event?
"I like it because you go super fast around the course," he said. "It's a different mindset. You're focused on going all out, as fast as you can go, instead of being out in nature, looking at the scenery."
Racers aren't just going full speed ahead; they face obstacles and hills, some that require them to dismount and carry their bicycles.
Mike Hileman, an optician and owner of Eye Gear Sport Optics in Henderson, also expects to enter the race. He and Fisher — friends for about 10 years — ride together on occasion, and both enter races. This will be Hileman's third year at the event. He said the most exciting part is the crowds.
"We get more participation from spectators at that event than probably any event I do all year," he said. "And the fact that it's here in town makes it extra special. It's nice for the racers who live here because we usually have to travel to events. So, it's nice to have that level of event here in town."
Fisher normally rides his bicycle 10 to 17 miles a day, preferring nature's uneven dirt to pavement, an experience that should help him in the race. He's entered in the CrossVegas Wheelers & Dealers portion, geared toward individuals who work in cycling. He and his wife, Heather, own Las Vegas Cyclery, 10575 Discovery Drive.
This is his third consecutive year participating in CrossVegas. He said his first race taught him that you have to go "really, really fast."
"It's an all-out sprint," he said. "Last year, I crashed. I got (boxed) into a corner. It happens when you've got 100 people racing as fast as they can. It's pretty wild."
Fisher trains daily for the event, taking his bicycle through the desert. At 45, he's been cycling in the Las Vegas desert for 25 years. He plans to ride a Moots Cyclocross bicycle in the race.
For the Wheelers & Dealers event, spectators can hand racers food or money during the race. Sometimes the riders accept the offering, and sometimes they're too busy — or going too fast — and don't.
"I like to do really long endurance races," Fisher said, "so I know I'm not going to die in a one-hour race. But this is a different kind of (event). It's like you're sprinting for one hour as opposed to just setting a pace. … Some people are more of a road cyclist, and then they get into this sport, and it's more difficult for them because they don't have the skills. But for a mountain biker, it comes naturally."
Spectators at the Las Vegas event have an advantage: In some cycling events, spectators may catch sight of the racers for only 30 seconds, but at CrossVegas, they're participating on a track that they circle five or six times during the 45-minute event.
CrossVegas attracts big-name cycling athletes from more than 15 countries (Lance Armstrong competed in 2008), including Belgium, France and Great Britain, as well as the U.S.
Launched in 2007 to coincide with Interbike, the largest bicycle trade show in North America, the race kicks off the World Cup Cyclocross Series.
Visit crossvegas.com or call 303-684-9170.
— To reach Summerlin Area View reporter Jan Hogan, email jhogan@viewnews.com or call 702-387-2949.
CLIF Bar CrossVegas
<
<
A Meet the Pros event is planned from 6 to 8 p.m. Sept. 15 inside The Pub at the Monte Carlo, 3770 Las Vegas Blvd. South. The event is free and open to the public and allows attendees a chance to take photos and get autographs from cyclocross racers.<
<
Visit
crossvegas.com
or call 303-684-9170.