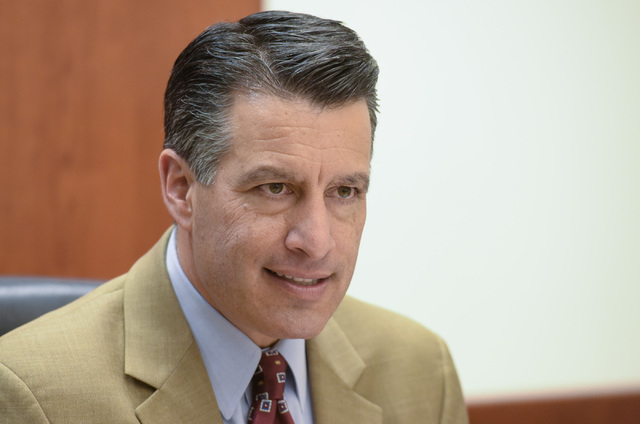 CARSON CITY — A controversial bill that would extend a bond rollover program to address pressing school construction needs was signed into law Wednesday by Gov. Brian Sandoval after the bill won approval in the Assembly on a bipartisan vote.
"It took some courage to get here," he said. "It took leadership."
The law will result in construction beginning on seven new "shovel ready" schools in the Clark County School District before the end of the session to open in the fall of 2017. Five more new schools will be built to open in 2018.
"Thirty-two new schools in the Clark County School District could be built today and immediately filled with students," Sandoval said. "We had to do something and we had the sense of urgency, and as I said, you have all answered the call."
Sen. Debbie Smith, D-Sparks, who is recovering from surgery to remove a brain tumor and who was a strong advocate of the bond rollover, participated in the signing at a local school via smartphone. Other lawmakers attended in person.
The Assembly had earlier taken favorable action on Senate Bill 207, which does not include provisions to restrict the use of prevailing wage in the school construction projects. The Senate passed the bill on a 15-4 vote Tuesday.
All 17 Assembly Democrats and 10 Republicans supported the measure. Assemblywoman Michele Fiore, R-Las Vegas, was excused and did not vote on the bill.
Republicans had tried to win votes for a competing measure, Senate Bill 119, with the exemption to the prevailing wage requirement, but were unable to come to agreement.
The action Wednesday does not mean the battle over exempting the school construction projects from the prevailing wage is over. SB119 remains alive in the Assembly. Assembly Majority Leader Paul Anderson, R-Las Vegas, said he will pass the exemption provisions if he can muster 22 GOP votes in the Assembly to do so. He did not have the votes Wednesday.
Most Republicans voting against the bill said they did so because it extends the bonding authority without a vote of the people. Voters in Clark County rejected a pay-as-you-go school construction tax increase in 2012.
The bill will allow school districts to roll over bonding authority for 10 years without a vote. The rollover will allow districts to use the authority to build new schools and rehabilitate others.
Property owners will not see a tax increase under the measure, but their property tax will not drop as it otherwise would have.
The passage of SB207 was a victory for Democrats, who opposed the prevailing wage exemption. All 25 Democrats in the Legislature voted for the bill.
Joyce Haldeman, who testified for the rollover on behalf of the Clark County School District, said the district will break ground on seven new schools before the end of the session as a result of the passage of the bill. The district plans to have the schools open by the fall of 2017.
"This is a victory for the kids," she said.
In earlier testimony in favor of the bond rollover, Jim McIntosh, chief financial officer for the Clark County School District, said it would allow the district to quickly raise $850 million to address school construction and renovation needs. Over 10 years, the measure would generate $3.6 billion, just over half of the $7 billion in estimated need, he said.
The district would begin by building 12 new schools to open by 2017 and 2018, adding capacity to 40 existing schools and replacing two of the oldest elementary schools, Bell and Lincoln, McIntosh said. Many other renovations and technology needs would be addressed as well, he said.
The first seven schools to be built are located at East Galleria Drive and Dave Wood Circle in Henderson, Lamb Boulevard and Kell Lane, Chartan Avenue and Pioneer Way, Arville Street and Mesa Verde Lane, Quail Avenue and Grand Canyon Drive, and Dean Martin Drive and Interstate 15, all in Clark County, and on Antelope Ridge Drive west of the 215 Beltway in Las Vegas.
Senate Majority Leader Michael Roberson, R-Henderson, said of SB207's approval: "I'm very happy. It's a big deal. We're going to start building schools again."
Senate Minority Leader Aaron Ford, D-Las Vegas, said SB207 is a good bill that "doesn't pit students against their parents by cutting the salaries of Nevada's construction workers."
"After five weeks of Republican dysfunction, we're pleased to see their leadership finally move a piece of education legislation that benefits our kids," he said.
Review-Journal writer Francis McCabe contributed to this report. Contact Sean Whaley at swhaley@reviewjournal.com or 775-687-3900. Find him on Twitter: @seanw801

RELATED STORIES
Bill would repeal Adam Walsh sex-offender act in Nevada
Nevada assemblyman arrested on DUI charge
North Las Vegas leads charge to empower cities
Bill introduced to change Nevada overtime law
Nevada bill to change vehicle smog-testing draws opposition
Sandoval signs bill to reform Nevada construction defect law
Nevada legislators will not take up same-sex marriages, citing court rulings
See all of our coverage: 2015 Nevada Legislature.

RELATED STORIES
Officials seek more funds for UNLV medical school
Senate bill would require PE at Nevada schools
'Students' rights' bill debated in Legislature
Can Democrats compromise to get schools built?
Sandoval's school choice scholarship bill stirs emotions at hearing
See all of our coverage: 2015 Nevada Legislature.