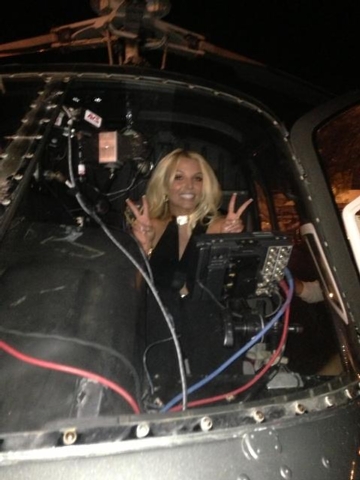 The dawning of Britney Spears' Las Vegas headliner residency got off to a queasy start.
She got airsick during a sunrise helicopter flight Tuesday to a desert location near Jean for an appearance on ABC's "Good Morning America."
That might explain why her helicopter hovered for 15 to 20 minutes over the dry lake bed before landing for a live interview with ABC's Sam Champion.
As the helicopter hovered, the pop princess, who earlier confirmed her two-year "Britney: Piece of Me" residency at Planet Hollywood, was surprised by a flip-card salute by 1,330 greeters, most of them young women dressed as schoolgirls. It was a nod to Spears' schoolgirl look in the video of her hit song, "Baby One More Time."
Her manager, Larry Rudolph, said she got ill during the short flight. "Her security guy got sick too, and he's ex-Israeli special forces."
At one point during the flip-card reveal, while Spears was still in the air, Champion tried to engage her but got no response. She might have been a little busy.
Two hours after her brief 5:30 a.m. appearance at the same desert site where The Killers shot one of their videos, Spears was "feeling much better," Rudolph said.
Spears, who wore sunglasses during her interview with Champion, called the flip-card stunt "such a sweet thing to do." Organizers said the 1,330 card flippers created two images of Spears 10 stories long and seven stories across.
It took 28 buses to transport the flip-card participants and friends and family to the site.
Earlier on "GMA," Spears unveiled her new single, "Work Bitch."
Set to a thumping club beat, the song features Spears delivering the lyrics in a sort-of British accent:
"You want a hot body? You want a Bugatti? You want a Maserati? You better work bitch.
"You want a Lamborghini? Sippin' Martinis? Look hot in a bikini? You better work bitch."
The single is from her new, untitled album, her eighth. It comes out Dec. 3, a day after her 32nd birthday.
She starts her 96-show run at Planet Hollywood on Dec. 27. Tickets, from $66.50 to $194, go on sale at 10 a.m. Friday.
SIGHTINGS
Nick and Joe Jonas of the Jonas Brothers, dining with friends Monday at Allegro restaurant at Wynn. It was a continuation of Nick's 21st birthday celebration. He was with his girlfriend, Miss USA 2012 Olivia Culpo, during the festivities. … Pro Football Hall of Famer Don Shula, the only coach to guide a team through an unbeaten season (Miami Dolphins, 1972-73 season), dining at Carmine's (Forum Shops at Caesars) on Sunday with his grandson.
THE PUNCH LINE
"Saturday night was the big fight in Las Vegas between Floyd Mayweather and Canelo Alvarez. Justin Bieber and Lil Wayne actually walked Floyd Mayweather to the ring. It really psyched out Alvarez. When he saw the three of them together, he was like, 'I don't know who to hit first.' " — Jimmy Fallon
Norm Clarke can be reached at 702-383-0244 or norm@reviewjournal.com. Find additional sightings and more online at www.normclarke.com. Follow Norm on Twitter @Norm_Clarke.