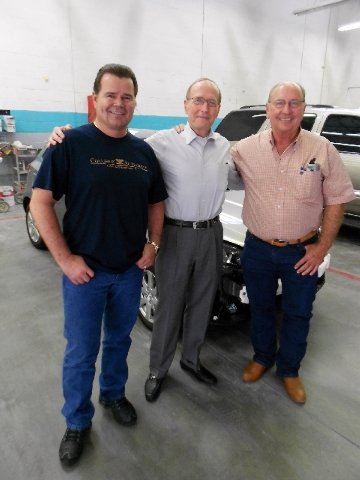 A recent gathering of members of Southern Nevada's automotive market at Collision Authority's 41,000-square-foot, state-of-the-art facility at 700 N. Gibson Road, Henderson, drew an interesting collection of people.
What began as a way to show off the facility transformed into what might have seemed like a gathering of historians. Collision Authority co-owner Michael Spears, former U.S. Sen. Richard Bryan and businessman Bobby Ellis have a combined total of more than 160 years in Southern Nevada.
Bryan is remembered as one of the most popular politicians in the Silver State's history. The former Nevada governor is a Las Vegas High School graduate and a 72-year Southern Nevada resident.
Ellis has been in Southern Nevada for roughly 54 years; Spears arrived here in 1991 before becoming a partner with Collision Authority in 1999.
The three talked about the old days in Southern Nevada; Bryan and Ellis led the way with countless memories. All agreed that longtime businesses in Southern Nevada not only symbolize a high level of stability but also a continued dedication to the state, especially during tough economic times.
"I love what Collision Authority is doing in Southern Nevada," Ellis said. "Over the years, we have seen so many businesses arrive during the boom only to leave when there's a bust. Like so many of us, Collision Authority has lived through the good and the bad. People who count on the collision business experience their own challenges after an accident, and it's good to know that Collision Authority will be there long after the repairs have been made."
Spears, who moved to Southern Nevada from Odessa, Texas, agreed that business stability is vital, especially for body shops.
"When we have gatherings like this, it's humbling to see some of those who take time out of their day to stop by. People like Bobby Ellis and Sen. Bryan have busy schedules, and we really appreciate their being here," he said.
Las Vegan Robin Reddle was among the gathering's attendees.
"I have been in this valley my entire life and have experienced the feeling of knowing that a business has left when I needed it the most," Reddle said. "This company is well-established, and the people here fixed my car three years ago. I was extremely happy with them. They stand behind their lifetime warranty, and their reputation is impeccable. I have referred my children, family and friends without hesitation," she said.
"Collision Authority is locally owned and family-operated, and it invests back into Southern Nevada," Reddle said.
The gathering included employees from surrounding automobile dealerships and insurance businesses.
"We all have jobs to do as it relates to protecting the public," said Spears, who experienced firsthand in 2004 what it's like to be involved in car wreck. "Anyone who has had a traumatic experience during their life always remembers those people who helped get them back on their feet. We want people to remember us for our compassion and professionalism during, and we want them to know that we'll be there when they need us."
With the recent opening of its North Las Vegas location just off Craig Road and Interstate 15, Collision Authority now has six shops in Southern Nevada. For more information, visit www.collisionauthority.com.