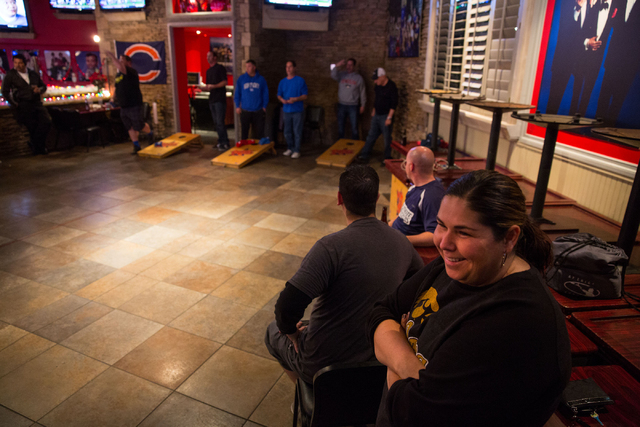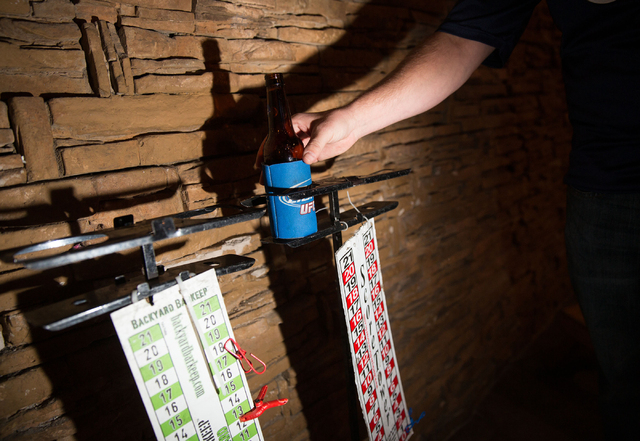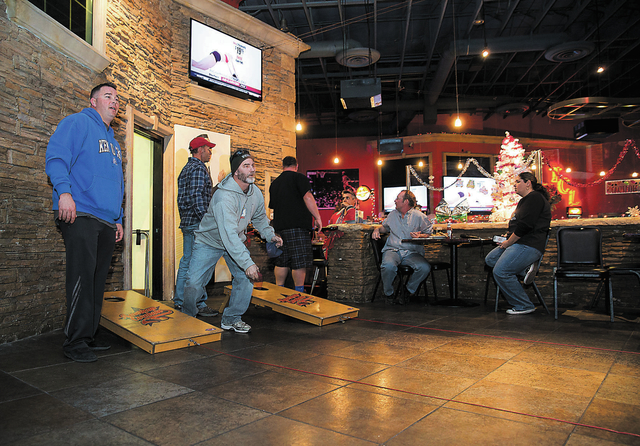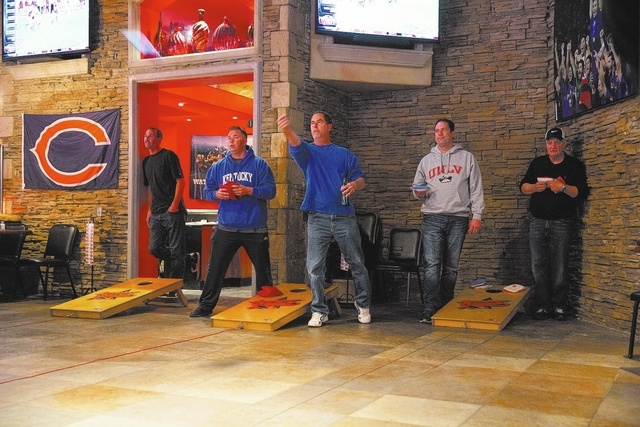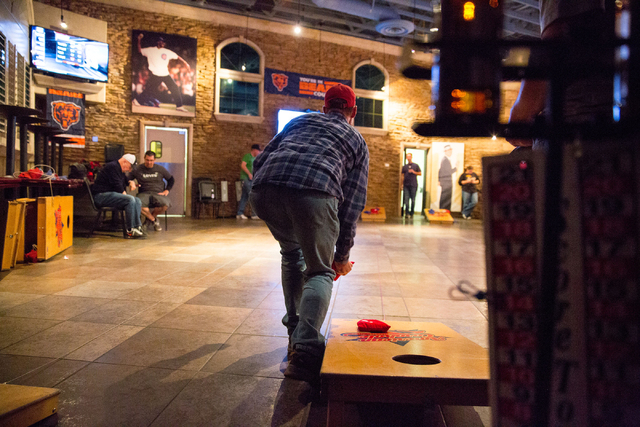 Cornhole could probably use a little rebranding.
That's about all that stands in the way of the sport's widespread popularity, according to Las Vegas Cornhole President Damon Cochran.
The game itself is attractively simple: Two teams of two throw a 6-inch, 1 pound bean bag at a 9-inch hole in a raised board 27 feet away from the thrower.
Players are awarded three points for every bag that lands in the hole and one point for every bag left on the board at the end of each round. The first to 21 wins.
It's a lot like horsehoes, or a more beer-friendly form of basketball, but with a name that has a "negative connotation."
"People know about it, but they don't come out to play it," Cochran said. "That's why I'm moving it to (Centennial Hills), to sort of get it out there."
Cochran held weekly games at La Piazza, 1000 N. Main St., for eight years before deciding to move the sport away from downtown this month.
Around half of his group's 50 members showed up for Las Vegas Cornhole's indoor debut at the Double Yoke, 6050 Sky Pointe Drive.
The idea, Cochran said, is take the sport to locals, to turn an already accessible game — one played by both coeds and seniors at bars throughout the South and Midwest — into one played at bars around the city and eventually, the entire West Coast.
"We can't cater to tourists; we want to cater to people who live here," he said. "From here, I think, we can get it to spread to other places around town."
Cornhole already has plenty of local fans — Cochran's group has almost tripled in size over the past five years — and nearly as many aliases.
Some of the nearly two dozen in attendance at the Double Yoke this month called the game bean bag or corn toss. Those from the Midwest, a sizable chunk of the group's founding membership, call it bags or baggo.
Tim Malte, a groundskeeper at Shadow Creek Golf Course, doesn't really care what they call it so long as they tell their friends.
Malte, one of the group's top competitive players, said Las Vegas' cornholers acquitted themselves nicely at last year's group-hosted Wild West Shootout tournament against Arizona's top teams.
He hopes they can keep it up.
"When we play Arizona, we usually have 50 (players), and they usually have the same," he said. "It's very competitive. I think that shows that there's enough interest to have a league and move to different places, and I think the move (to Centennial Hills) will help. "
Malte has been playing for four years and is, by his own admission, pretty good, but Shadow Creek co-worker Brad Harper is "the man."
Harper, 48, bristles at the thought.
It's true he's won as much as $1,200 in regional and even national competitions, though other group members have reportedly stacked up some $40,000 in tournament winnings.
One, according to Cochran, even has his own baseball card.
That's why Harper likes to keep things in perspective.
"The guys I first started playing with seven or eight years ago, we never thought we would end up playing in (national tournaments)," he said. "For us, it's just a good excuse to get together and have a beer."
For more information on Las Vegas Cornhole, contact Cochran at 702-523-8045.
Contact Centennial and North Las Vegas View reporter James DeHaven at jdehaven@viewnews.com or 702-477-3839.