Dining Pick of the Week: Shish Kabob House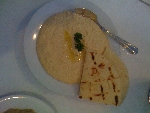 PICK OF THE WEEK:
SHISH KABOB HOUSE
6620 W. Flamingo Road, 643-5454
Summer usually means lighter eating, and one way to achieve this is through Mediterranean cuisine. Shish kabobs, which are grilled, are a good choice when served with rice and green salad. This is what you'll find at Shish Kabob House. Among the kabobs are those made with lamb, beef, salmon, chicken, pork or shrimp, or you can order a combo. Other entrees are beef short ribs, lamb chops, beef and lamb gyro and cheeseburgers with fries (maybe not a Mediterranean dish, but these cheeseburgers are good). Popular appetizers, many vegetarian or vegan, are hummus (garbanzo bean dip), cucumber yogurt, baba ganoush (similar to hummus but made with eggplant), dolmas (stuffed grape leaves), eggplant caviar and tabuleh, where fresh veggies are mixed with olive oil and spices and scooped onto pita bread or eaten traditionally with a fork. In fact, there is a salad platter ($24.95) that has all of the above appetizers along with Armenian salad. A 10-item kabob platter is on the menu for $54.95. Desserts are baklava, cheesecake and chocolate cake. Kabobs begin at $7.95 and appetizers at $3.95. Shish Kabob House is open from 10 a.m. to 9:30 p.m. daily.
— Jack Bulavsky