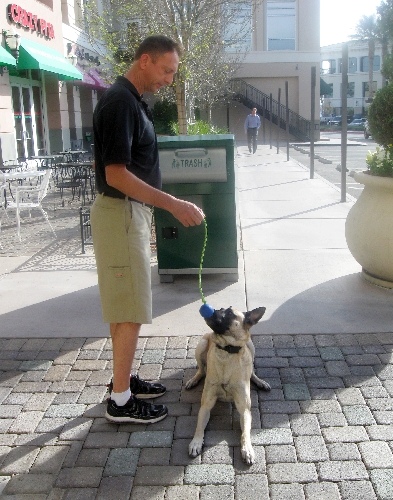 As he sits next to his owner, Richard Damico, Ace, a Belgian malinois shepherd dog, pants, patiently waiting for his next command.
Ace is one of many dogs who has received obedience training at Sin City K-9, founded by Damico.
Sin City K-9 was born out of another business, Damico said.
"I had a lawn-mowing business when I first moved to Vegas," Damico said. "I wanted to get a dog to go with me."
The dog, a Brazilian mastiff, turned out to be a distraction that Damico would have to chase through different yards.
Damico, a Henderson resident, decided to get his dog trained and began learning the tricks of the trade for canine obedience. From there, dog training became a hobby.
After friends saw Damico and his dog interact, they began asking him to train their dogs.
He eventually got rid of the lawn-mowing business to run Sin City K-9. Along the way, Damico has taken many classes to learn how to train service dogs, police dogs and bomb-sniffing dogs.
"There is no certification to become a trainer, really," Damico said.
But unlike someone who could simply claim to be a trainer on the Internet, Damico is a member of the International Association of Canine Professionals.
Additionally, Damico said, he has secured recommendations from local veterinarians.
Regardless, Damico tells people that if they hire a trainer, ask to meet their dog.
"Anybody can just hand you a flier with their prices on it," Damico said.
Sin City K-9 has different programs depending on the dog.
"Most trainers have a set methodology," said Joseph Lily, who works at Sin City K-9. "Rich changes (his methodology) based on his interactions with the dog."
For some dogs, Damico might take them home with him and do an in-home training for a set time.
Depending on the dog, Damico might do the training inside the owner's home until it is comfortable.
At some point, dogs can become a part of a group class in the park, which is offered in a Henderson park. It is not just the dog that needs to be trained. Damico also works with the owners so they know how to work with the dog.
When Damico goes out with Ace, he said, he gets at least one comment about how well-behaved the dog is.
While sitting at The District at Green Valley Ranch, people come up just to ask about the dog, he said. Then, after watching Ace adhere to every command, whether it is sit, heel or lie, people ask how to contact Sin City K-9.
Sin City K-9 also works with dogs who have behavioral issues.
When he is giving obedience training, Damico approaches the canine depending on the issue at hand.
"Some are skittish or nervous around people that just need to be eased into a situation," Damico said. "Some are aggressive and lash out because they feel it is better for them in the long run."
Damico said other training services that are strictly obedience-driven have referred customers to Sin City K-9.
"Rich is saving dogs," Lily said. "It is one thing to help a puppy that was born with good attributes. But we are giving dogs with behavioral problems a second chance. Some are close to being put down (because of behavior problems). We are saving them."
Along with training dogs, Damico participates in competitions and has won several awards.
"It's like someone who is a sharpshooter," Damico said. "They don't just have awards from 30 years ago and hope they are still good at it. I keep training and learning new skills."
One competition Damico has taken part in is mondioring, a sport for dogs that tests the dog's ability to protect himself and his handler.
He plans to compete at the United States Mondioring Association's national championship in San Diego in September. He just placed first at the Sin City Mondioring trials in February.
If he wins, he would be ranked No. 1 in the country and would be eligible to compete at the world competition in Paris.
Ace and Damico have been together for about three years since Damico's last dog died. Ace had been left in a foreclosed home and was about to be put down when Damico saved him.
"Ace was about five minutes from dying," Damico said.
He said the bond was instantaneous.
Ace isn't just proof of Damico's skills as a trainer or his talents as a competitor. Ace is Damico's friend.
"He sleeps on the bed with me," Damico said.
Damico continues to take Ace everywhere from The District at Green Valley Ranch to the airport.
Once, Ace, sitting next to the brigade of limo drivers waiting for clients, held a sign in the passenger pickup to greet a friend of Damico.
"The limo drivers said he was going put them out of business," Damico said. "(Ace) doesn't drive that well. At least not yet."
For more information, visit sincityk9.com or call 260-6586.
Contact Henderson/Anthem View reporter Michael Lyle at mlyle@viewnews.com or 387-5201.