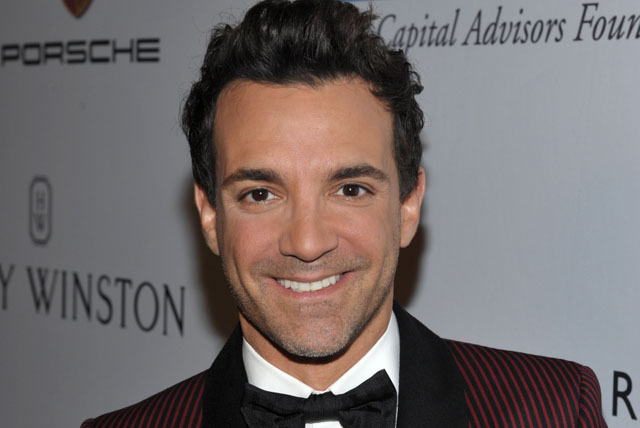 Sometimes the "Fashion Police" get called on the carpet.
George Kotsiopoulos, who co-hosts the popular E! Entertainment show with Joan Rivers, Giuliana Rancic and Kelly Osbourne, got busted for his Oscar red carpet commentary.
"The only one who did it was Cameron Diaz, after I made comments about her having man arms," said Kotsiopoulos, who is emceeing "Fashion Gives Back" on Thursday at The Shops at Crystals.
Kotsiopoulos said he gulped when he saw Diaz flying at him like Puffy the rabid dog in "Something About Mary."
"Actually," said Kotsiopoulos, "she was great. She said something like she had been in show business for 20 years and 'if I let something like that bother me'…and 'I know you totally regretted saying it.'
"Then she said, 'Watch it. What goes around, comes round.' "
Kotsiopoulos will be sharing the latest fashions, mostly spring fashion, while introducing the collections. The show runs from 6-10 p.m. Proceeds go to 10 charities.
The style editor at large for C magazine and former fashion associate at the New York Times said he's amazed at how popular the show has become.
"Just in the last week I've had six straight guys come up to me and say 'my wife has me watching the show and I love it.' All these straight men are addicted to the show. They love it. There's no other show like it," said Kotsiopoulos, who turned 45 on Monday.
He's seeing signs that Las Vegas is returning to the "super glamorous days of the 1970s. It kind of slid there for a while hopefully it's coming back with the help of a lot of these luxury retailers."
Which trends would he like to see die a quick death?
At the top of his fashion disaster list is, "and maybe it's been fixed, is what I call LBC, lower butt cleavage.
"Now, I mean fine, if they're at the beach, at the pool, whatever. But not at night. if you have to be pulling your dress down to cover your butt, that's the wrong dress for you. Don't look like a prostitute."
Then there's the ladies carrying their shoes around "halfway into the night." Las Vegas is not a walking town, he said, and it's not a good look.
His red carpet fashion queens are, in order: Rihanna ("Incredible style. Fabulous."); Jennifer Lopez ("She always looks good"); Sandra Bullock ("She's amazing. Forty-nine. She's had a fashion comeback") and Kerry Washington ("Always the whole package").
I asked him whether he's in Miley Cyrus' camp, fashion-wise, on the fence or outraged.
"If she didn't have the talent to back it up, I wouldn't be in her camp. Talent always trumps. We're getting away from the Britney Spears' genre because it's pretty much understood she can't sing. Did I just slam Britney Spears?"
As for Kim Kardashian, "whatever she's doing, she's doing it very well."
THE SCENE AND HEARD
Marvel Comics legend and creator Stan Lee will have honors at the rope-cutting ceremonies today at the unveiling of a Marvel 4D theater at Madame Tussauds Las Vegas. The event starts at 11:30 a.m. … Sign of the season: The Boulevard Pool at The Cosmopolitan has been transformed into a 3,500-square-foot ice skating rink reminiscent of Central Park. It's open to the public at 3 p.m. Friday after tonight's media party.
SIGHTINGS
Entertainment legends Steve Lawrence and Michael Feinstein, dining at Sinatra (Wynn) on Friday. Feinstein was in town for an engagement at the Smith Center for the Performing Arts.
THE PUNCH LINE
"The No. 1 movie in the world now is 'Thor.' It's all about a guy named Thor who saves the world with his giant hammer. He also has a medium-sized hammer he uses to tenderize veal. And he has a tiny hammer to test your reflexes." — David Letterman
Norm Clarke's column appears Sunday, Monday, Wednesday and Friday. Reach him at 702-383-0244 or norm@reviewjournal.com. Find more at normclarke.com. Follow @Norm_Clarke on Twitter. "Norm Clarke's Vegas" airs Thursdays on the "Morning Blend" on KTNV-TV, Channel 13.