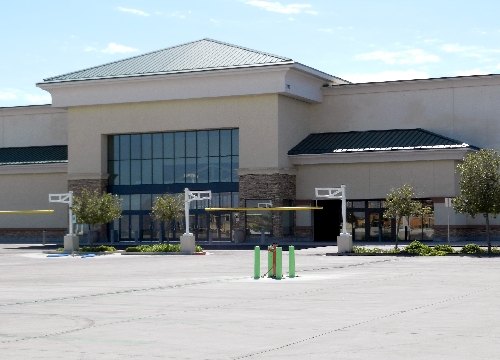 The building at the northern edge of Boca Park has sat empty for three years. It won't be empty much longer. Fry's Electronics is on its way.
Manuel Valerio, Fry's community relations manager, said the company looks at demographics to help determine a new location. He said the large number of professionals in the Summerlin area was appealing. Fry's other criteria include a building with a large footprint, good location for traffic ingress and egress and ample parking.
"We thought this was a perfect fit," Valerio said.
Valerio indicated the building's interior needed to be refurbished, with the plan being to open it in 2012. Court filings indicate Fry's plans to spend between $3 million and $5 million on the interior to bring it up to its specifications.
Bring comfortable shoes when the store opens, as it will be huge —- nearly 140,000 square feet —- in keeping with the Fry's philosophy. Fry's sells software, consumer electronics, computer hardware and household appliances. It owns nearly three dozen big box-style stores in nine states.
The Boca Park one will have a cafe feature. It will not have slot machines. Fry's has been known to give its stores themes, as will be the case with this new one. The San Jose, Calif.-based company, however, was tight-lipped about the specifics.
"It will be evident when the store is ready to open," Valerio said. "That's part of the anticipation."
Speaking of anticipation, Eric Larsen, outreach specialist for REI, said his employer, the store next door to where Fry's will open, has been waiting for the spot to get a new owner. The spot was formerly occupied by The Great Indoors, an upscale home decor and design center showroom, under the Sears Roebuck umbrella. It closed its doors in December 2008.
Larsen anticipates the electronics store will bring a cross section of customers into Boca Park. REI shoppers likely will find items of interest, too.
"Fry's has a huge range of things, not just computers, but cameras, tripods, camcorders," he said, "things people who appreciate the outdoors use."
Ward 2 Las Vegas City Councilman Steve Wolfson said he heard from Triple Five, developer of Boca Park, in the spring that the Fry's deal might be in the works.
"I was very encouraged," he said. "I think it'll be a huge boost. That area, this side of town, needs a boost. Once Renaissance comes in, that whole corner will be marvelous."
Jeremy Aguero, principal analyst with Applied Analysis, said the Fry's addition to Boca Park likely will result in an uptick in business traffic for other vendors in the center.
"Fry's is a destination brand. People go there specifically to buy their electronics … that drives more people there (to the center)," he said. "As a result, restaurants and retailers will see increased numbers."
Boca Park occupies 55 acres at Charleston and Rampart boulevards. The Fry's site is just south of Tivoli Village. Fry's first store in Las Vegas is at 6845 Las Vegas Blvd. South, near Town Square Las Vegas. It opened in 2002.
"If it does the business that (the first location) does, that's huge," Wolfson said.
Contact Summerlin/Summerlin South View reporter Jan Hogan at jhogan@viewnews.com or 387-2949.