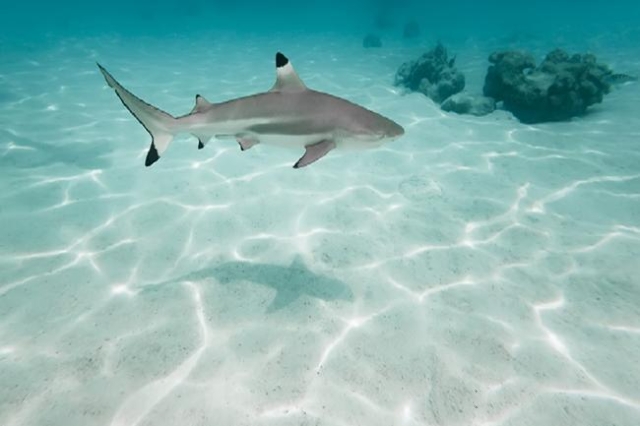 A five-foot black-tip shark with hooks in its mouth was found the week before last in the swimming pool of a Florida condominium complex.
According to Nicole Bonk, the woman who reported the incident and tried to save the shark while visiting friends, she saw two boys dump the shark into the community pool about 11 p.m.
"These two kids, they came back from fishing and threw this half-dead creature into the pool as a prank," she said.
Bonk and her husband pulled the shark out of the pool and carried it to the Intracoastal Waterway, according to the Sun Sentinel.
At the waterway, Bonk's husband held the shark by its tail so it could try to flush out the chlorinated pool water and then released it into the water.
"We tried to revive him but he mostly likely did not live," Bonk said. "He was barely moving after the trauma. We did our best to try to save this creature."
Although Bonk reported the incident to the Florida Fish and Wilflife Conservation Commission, an officer did not arrive until the next morning.
"They left the shark in the pool to die. I think they're terrible children because it's animal cruelty," Bonk said.
The Florida Wildlife Commission is investigating the incident and is searching for video footage from security cameras around the pool.
Contact Caitlin Lilly at clilly@reviewjournal.com. Find her on Twitter: @caitiesmith