Las Vegas resident Gordon Margulis, one of the only real friends Howard Hughes had in the final years of his eccentric life, is nearing the end in a hospice on the west end of the valley, reliable sources have confirmed.
Gordie has been one of the truly refreshing characters I've had the pleasure to know over the years. The story of his relationship with Hughes, to whom he served as a personal aide and bodyguard, is told well by James Phelan in "Howard Hughes: The Hidden Years."
I've heard countless Hughes stories over the years, but I've never, ever heard anyone say a bad word about Gordie.
---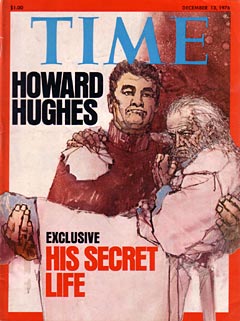 "Pictured left is the December 13, 1976 issue of TIME magazine. On the cover is Gordon Margulis carrying Howard Hughes." more…