Hummingbird nest captures interest of resident's neighbors and Facebook friends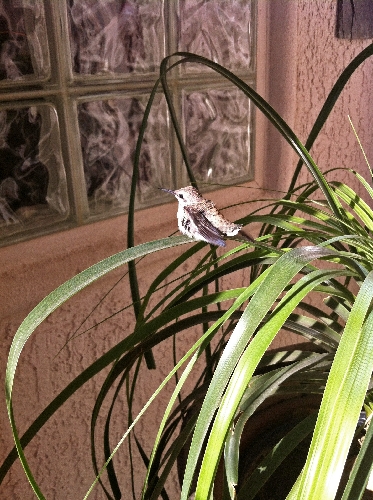 A 1-inch nest anchored to wind chimes and its three hummingbird inhabitants have captivated audiences on Rosanne Berkey's front step and abroad.
The Centennial Hills resident first noticed a female hummingbird constructing a nest on a set of low-hanging wind chimes outside her front door June 8.
"I thought it was just debris from the last windstorm," Berkey said. "As I looked closer, I saw that it was a tiny nest with one Jelly Belly-sized egg inside. A little bit later, I noticed the second egg."
The discovery launched a daily ritual in which Berkey took photos and videos and updated neighbors and Facebook friends. The hummingbird's faithful followers rejoiced June 16 when the first baby hatched. Its sibling followed suit the next day.
Berkey's friend named the pair Humm and Dinger, she said.
Their mother, dubbed Momma Humm, wowed Berkey with her two fold ingenuity.
"First, the nest was woven around two of the strings of the chime so they're actually inside the walls of the nest," Berkey said. "Next, she positioned a twig to the shepherd's hook from which the nest hangs, thus stabilizing the nest . Even though this tiny inch-and-a-half-wide nest sits atop a chime, it's very secure and stable.
"The chimes rock the babies and lull them to sleep with their soft music."
Berkey set out a bird feeder, and the mother hummingbird dives at any other bird that tries to grab a bite, she said.
The shaded nest is also protected from weather and wind, Berkey said.
Berkey said she has devoted hours to observing the birds' patterns. The mother bird stayed close to the nest for the first week of the babies' lives. Now she searches for food and feeds the pair about every 20 minutes, Berkey said.
Hummingbirds have been known to hover near Berkey's koi pond or rose bushes, but never has she been able to develop a relationship with them, Berkey said.
Berkey didn't retreat when the mother bird tried to chase her away, she said. Now she comes up to lick Berkey's finger and hovers near her head.
She has petted the babies and noticed that their eyes and heads follow her, Berkey said.
"I get really close," she said. "It's really interesting."
Berkey suspects they are broad-tail hummingbirds . The species is native to Mount Charleston, said Christiana Manville, program director for the U.S. Fish and Wildlife Service.
Berkey knows the babies may leave the nest for good when they are around one month old, she said. Humm left the nest July 6, and Dinger has been testing its wings, she said.
Berkey wakes up at 5:30 a.m. so she won't miss the departure.
"I'll be so sad to see them go," she said. "It's absolutely amazing to watch them grow."
Berkey isn't their only fan.
The nest grew such interest and a large following of well-wishers that Berkey placed two chairs on her front porch for neighbors and updates Facebook daily, she said.
"I feel really blessed to have had this opportunity to watch something like this," she said.
Contact Centennial and North Las Vegas View reporter Maggie Lillis at mlillis@viewnews.com or 477-3839.