Is it me, or a Florida thing?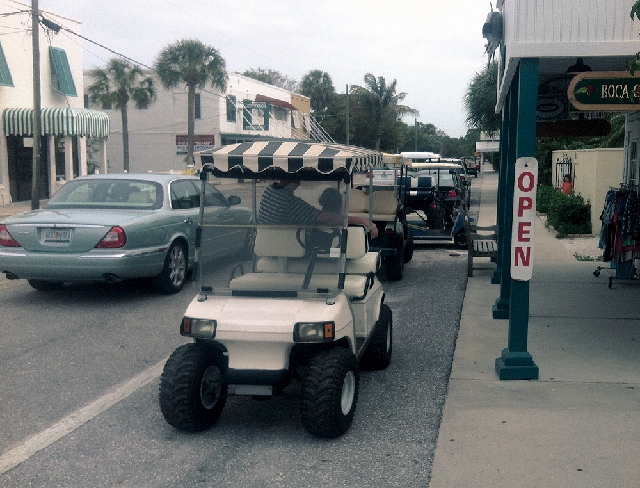 Florida is lovely in the spring. It's not too hot yet, which makes outdoor activities pleasant, which also means that it's convertible weather. Or just driving weather in general.
Following the winding A1A coastal route isn't the quickest way to get anywhere on the extreme right coast. Speed limits range from 25 mph to 45 mph and there seem to be stop signs and pedestrian crosswalks every 10 feet. But there's plenty to see. Beaches, surfers and really friendly and polite people who have no problem randomly striking up idle chitchat.
I haven't been on this kind of relaxing road trip for a while, right now between the ritzy and spotless Palm Beach and the party-in-the-streets that is Fort Lauderdale. But it takes a driving trip like this to clue you in about how driving just hasn't got any better despite repeated warnings, stories and crash statistics.
It might even be worse. It's certainly worse than I last recall.
Mr. Johnson from Ocala, Fla., which is north of Orlando, recently wrote in with a lengthy laundry list of the driving problems that plague his fair state, ending with the comment, " … and yes, we have the worst drivers from every state in the nation driving here!"
He minced no words about the quality of drivers tooling around Florida. And although every person who writes in about bad driving tells us that his state is, by far, the worst, I might have to side with Mr. Johnson on this one.
"Just one more peeve are the folks in the left lane who take forever to pass and move over."
Mr. Johnson, I could live with this if they would move over at all. I used to think that Nevada had the crown for blocking and loitering in the passing lanes, but Floridians take the cake. Unless, of course, there's a bunch of Nevadans visiting the Sunshine State at the same time and hogging all the passing lanes.
What's more frustrating than 1,000 cars following two others traveling side by side with five miles of open road in front of them both? Ummm, not much, I reckon, other than I'm beginning to wonder if the cars here were built with working signal lights.
Slam on the brakes and crank the steering wheel seems to be preferred move from what appears to be droves of clueless vacationers who have no idea where they're going.
Other terrible habits include running through crosswalks with people in them — even disabled and elderly folks with walkers — and driving down the road with the car drifting all the way into the narrow bike lanes that allow two-abreast riding. Nothing like getting a Bentley in the back of the head when you're out for a spin, I guess.
And, what are many of these drivers doing while committing Mr. Johnson's list of driving sins? Gabbing on a mobile phone or texting. Oh, but how do we all know they're texting? I hope you're kidding: looking down, looking up, looking down, looking up, looking down, looking up, slamming on the brakes and cranking the steering wheel.
Mr. Johnson thinks people just don't take driving seriously. To that I would add that they have no clue about what's going on around them. Or maybe they really trust that other drivers won't smash into them. Maybe they think they're invincible. And maybe Florida is just used to it. After all, the signs at freeway on-ramps direct you to move your crashed car out of the traveling lanes. Finally, some courtesy.
You can message Wheeler by logging on to www.shiftweekly.com and clicking the contact link. Wheelbase Media is a worldwide provider of automotive news and feature stories.