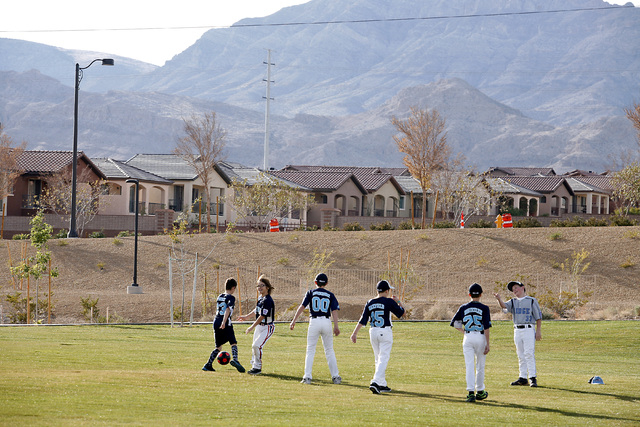 Inside Providence Master Planned Community, a park's namesake was inspired by an American historical icon to promote literacy and capture the spirit of small-town America.
Knickerbocker Park, 10695 Dorrell Lane, was named for Washington Irving, whose "Knickerbocker Tales," a collection of stories from 19th-century upstate New York, includes "Rip Van Winkle," "The Headless Horseman" and others.
"The community was inspired by historical icons and tied with Irving's tales," said Lynn Purdue, who manages the marketing co-op for Providence. "People who have bought homes here are truly invested in brand of small- town America."
Irving was an author, essayist, biographer and historian.
He was born on April 3, 1783, in New York. He was one of 11 children born to Scottish-English immigrant parents, William Irving Sr. and Sarah.
In keeping with the theme of literacy, Providence adopted Spread the Word Nevada, an organization dedicated to advancing early childhood literacy by placing books into the hands and homes of children within Southern Nevada's at-risk, low-income communities.
Knickerbocker was chosen to reinforce the neighborhood's dedication to the literary arts and the promotion of reading, according to Purdue.
The name Knickerbocker came from Irving's use of the pseudonym Diedrich Knickerbocker, which he also used as a hoax to place a series of missing person advertisements in New York newspapers seeking information on Knickerbocker, a man described as a "crusty Dutch historian who had allegedly gone missing from his hotel in New York City," according to the University of North Carolina Press.
Irving's creativity and popular children's stories also promoted the sense of a family-friendly community that Providence attracts said Tom Puckett, head of Thomas Puckett Advertising.
"I feel that the name keeps up with the theme, which is that of more neighborly times," Puckett said. "A lot of families live in Providence, and there is a big connection with the community and childhood literacy."
Purdue added that the community has become a place where people can connect with one another, and the park has become a popular location to hold neighborhood events and celebrations.
The $2.2 million, 15-acre park opened in December 2011 and features a splash pad, play area for 2- to 12-year-olds, a dog park, a youth baseball field and jogging paths with exercise stations.
The park is scheduled to host Smokin' Notes from 11 a.m. to 3 p.m. April 19. The free public event is set to have barbecue and jazz music. The Southern Nevada Traffic Safety Coalition is also planning a safety fair.
"Providence was built around the small-town Americana theme," Purdue said. "We wanted the community to become something distinctly different. The name of the park fell in with the branding of the community."
Contact North View reporter Sandy Lopez at slopez@viewnews.com or 702-383-4686.