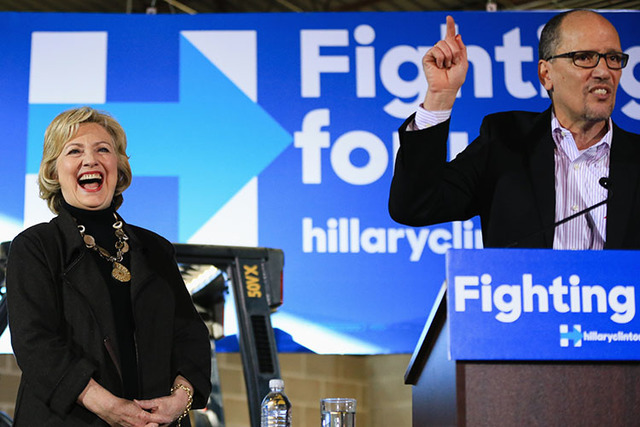 CARSON CITY — U.S. Secretary of Labor Tom Perez will campaign in Reno for Democratic presidential nominee Hillary Clinton at the 60th Nevada State AFL-CIO Constitutional Convention on Wednesday.
He will discuss Clinton's "plans to create an economy that works for everyone, not just those at the top."
After his remarks, Perez will stop by a phone bank where he will "highlight (Republican presidential nominee) Donald Trump's record of looking out for himself while stiffing businesses that worked for him," according to an announcement from the Clinton campaign.
Perez was in contention as Clinton's vice presidential pick prior to the convention in July. He has advocated for raising the minimum wage to $15 an hour.
Perez endorsed Clinton in December and speaks fluent Spanish.
The AFL-CIO is pulling out all the stops to campaign for Clinton. Nevada is one of six battleground states that the powerful AFL-CIO has made a priority. The other five are Florida, Missouri, Ohio, Pennsylvania and Wisconsin. In Nevada, the effort has more than 6,000 volunteers and 125 full-time staff.
Charles Muñoz, Nevada state director of the Donald J. Trump for President campaign, said Perez should take the opportunity while in Nevada of calling for a special prosecutor to investigate new details on "Hillary Clinton's corrupt pay-to-play scheme that traded State Department access for donations to the Clinton Foundation and lavish speaking fees."
Contact Sean Whaley at swhaley@reviewjournal.com or 775-461-3820. Find @seanw801 on Twitter.