Las Vegas has one of the biggest populations of 'sugar daddies'
October 5, 2015 - 12:24 pm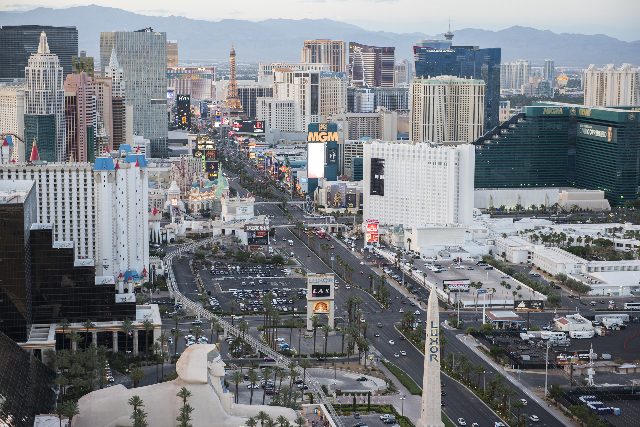 One in every 52 Las Vegas men are "sugar daddies," ranking Nevada's largest city third on the popular dating website's list of most sugar daddies per capita in North America.
With over 5 million users, SeekingArrangement.com is the continent's largest website for wealthy benefactors seeking "mutually beneficial relationships," a spokesperson said Monday. Nearly 48,000 of the site's users live in Las Vegas, which ranked just behind Austin, Texas and Atlanta for sugar daddies per capita.
"People here are just a little more open to the sugar daddy lifestyle," said Brook Urick, who represents the site in the Las Vegas valley. "It's more relevant with all of high-rollers and wealthy Vegas men that might not have as much time for a traditional relationship."
Sugar daddies, over 98 percent men, typically "enjoy attractive company by their side," a description from the website said. "Money isn't an issue," so sugar daddies can be "generous" when it comes to supporting their sugar babies, the site said.
Their beneficiaries, described as people "looking for the finer things in life," also appreciate "exotic trips and gifts," the site said. But Urick swore she's not representing an online prostitution site or escort service. She called it a "more convenient, transactional relationship."
An interviewed Las Vegas sugar daddy agreed. "D," 67, is a retired insurance salesman. He divorced five years ago, and has since invested in "straight-up, mutual relationships" on Craigslist and "a couple other sites."
At his peak, D said he had up to 10 "sugar babies" on his payroll at once. Gifts to D's sugar babies included cars and cell phones.
"I had my choice, I had a pool of them," he said. "I tried to take care of their needs, and they helped me out."
Las Vegas also ranks third, behind only New York and Los Angeles, for highest sugar baby allowances. Sugar babies in Sin City make an average monthly allowance of $4,987. D said he paid his sugar babies "a few thousand" per month between cash, cars, cell phones, rent bills and unexpected costs, like lost phones, medical bills, and traffic tickets.
"I made separate deals with all of them, depending how much I see them," he explained. D said he acknowledges society's negative perception toward sugar daddies. But for him, the experience was "mostly enriching," and helped fill a void left by his divorce.
"It's not just a sex-transaction type-thing," he said. "There's so much more to it."
Sites like SeekingArrangement and competitors like SugarDaddie.com and even OK Cupid reported skyrocking growth of up to 64 percent more sugar daddies using the sites than 12 months ago.
Katherine Hertlein, director of UNLV's Marriage and Family program, suggested the increase was a result of changing views toward internet and technology use for finding romance.
The sugar daddy and sugar baby relationship is nothing new, said Hertlein, who teaches classes on topics from personal growth to sex therapy. But sugar daddy websites have made the practice more visible and has allowed users to be explicit with their relationship goals.
"We've always been conditioned to believe the man is the protector and provider in a relationship, and that the woman benefits from that role," Hertlein said. "People are just more open about it at this point."
Las Vegas will likely always be a hotbed for sugar daddies, Hertlein said, thanks to valley residents' general expectation for a high quality of life.
"Part of it is the idea that people expect the finer things in Las Vegas, and they expect to find young pretty women here," she said.
As internet dating sites become more universally acceptable, the professor expects sugar daddies' online presence to continue growing. And that's not a bad thing, as long as users are accurate in how they represent themselves, Hertlein said.
"People have just found more convenient ways to meet each other," Hertlein said, "and I don't think that's going to disappear."
Contact Chris Kudialis at ckudialis@reviewjournal.com or 702-380-4593. Find him on Twitter: @kudialisrj