Las Vegas Justice of the Peace Department 14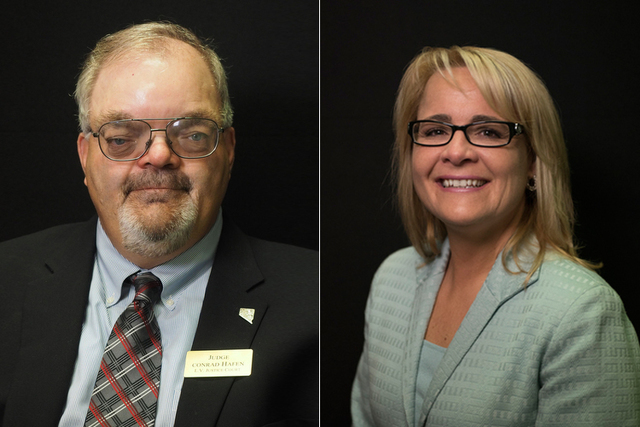 A former prosecutor turned criminal defense attorney is challenging a first-term Las Vegas justice of the peace. Both the incumbent for Department 14, Conrad Hafen, and one of his challengers, Amy "JoAnne" Chelini, cited years of experience in the legal field as qualifications.
A third candidate, Phung Horton Jefferson, did not return phone calls seeking comment for this story.
"We want our judges to have experience," Hafen said. "We want our judges to know the law. We want our judges to balance justice and mercy. And I possess those three qualities."
Chelini, who worked for the Clark County district attorney's office before starting her own practice, pointed to "overwhelming support in the community" and backing from 26 different organizations, including police, unions, fire and veterans groups. She said she can do a better job than Hafen. She said her opponent is often too quick to throw people behind bars.
"I think that department is lacking in common sense," Chelini said. "And that's something I can definitely bring to the bench. If you don't have common sense, it's real easy if you just throw everybody in jail."
Hafen, who was elected to the seat in 2010, disagrees. "Over the last six years, I have been tough on crime, but very, very fair," he said. "When individuals don't do their requirements and don't stay out of trouble, I'm going to send them to jail. If someone is making an honest effort, I'm going to give them an opportunity to make good on that."
"I prefer to keep the jail for the violent criminals, not the petty offender who is short on community service," she said. "It's just a difference in philosophy. … Don't make me seem light on crime. Because I'm not. Bad guys, they're staying in."
Hafen proudly touts one campaign pledge: "I'm the only judge who refuses to take money from lawyers."
Jefferson's campaign website states that she "intends to serve the people of Clark County with pride" and is "highly regarded for her honesty, integrity, and ability to weigh both sides of an issue with fairness"
She served three years as a small claims referee for the Las Vegas Justice Court, the site states.
Under a contract with the city of Las Vegas, she represented participants in a Women In Need specialty court program.
Contact David Ferrara at dferrara@reviewjournal.com or 702-380-1039. Find @randompoker on Twitter.
Conrad Hafen *
Party: Nonpartisan
Age: 57
Occupation: Justice of the peace
Amy "JoAnne" Chelini
Party: Nonpartisan
Age: 44
Occupation: Attorney
Phung Horton Jefferson
Party: Nonpartisan
Age: 46
Occupation: Attorney