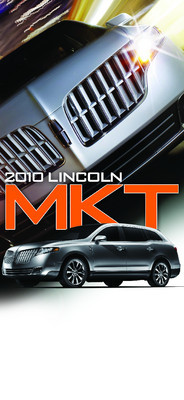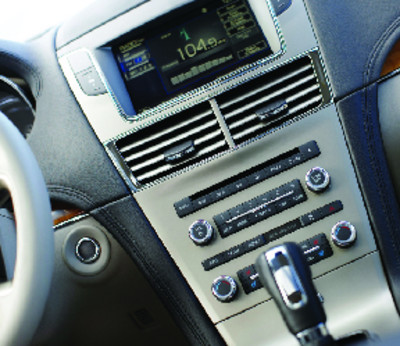 In danger of falling behind the times in the large-and-in-charge department, Lincoln has decided to literally "go big" instead of "staying home."
Oh, how times change and in a hurry. Among the out-to-pasture Lincoln models from the last few years is the LS entry-luxury sedan, the Ford-Explorer-based Aviator sport utility vehicle and the premium Mark LT pickup. And then there's the fossilized big-rig Town Car that's currently on fleet-duty life support and is in need of a total makeover. Obviously something had to be done.
So, there's a beautiful new MKS sedan and now the all-new MKT tall wagon that's due to go on sale in late summer. It's the sort of multipurpose luxury-transporter that complements Lincoln's current product mix and one that could easily pick up much of the slack.
Make no mistake, the MKT is a large wagon … 4,500-pounds big. It uses the same platform as the full-size Ford Flex, but is nearly 6 inches longer and 4 inches wider. It's just a touch smaller (less than an inch, actually) than the regular-length Lincoln Navigator full-size sport ute.
Instead of mimicking the Flex's bricklike shape, the MKT's stylists took a more rounded approach that includes a massive Lincoln-esque grille, a distinctive pinch in the beltline toward the rear (called a "beveled chamfer" in Lincoln-speak) and a curved liftgate accentuated by a prominent horizontal light bar extending across the width of the vehicle. Some might not find the design to be stunning, but it's original enough to warrant praise as a unique execution on a popular theme.
The MKT's four extra-wide doors lead to a handsome cabin with room for as many as seven passengers (six, if the third-row bucket seats are selected) plus stowage space that's within the Navigator range. As expected, interior appointments are in keeping with Lincoln's live-large luxury heritage and both the dashboard and control panel are straightforward and will be easily mastered.
MKT buyers can choose between a 268-horsepower 3.7-liter V-6 and the optional 355-horsepower 3.5-liter turbocharged "Ecoboost" V-6 that will also see service in the upcoming Ford Taurus SHO.
Both engines can run on regular gas and both are connected to six-speed automatic transmissions with steering-wheel-mounted paddle-shift controls. The base models are front-wheel-drive while all-wheel-drive is standard with the twin-turbo powerplant.
Lincoln is loading up the base model with tri-zone climate controls (driver, passenger and rear seat), an oversized fixed-glass sunroof, premium leather seat coverings for the first two rows, adaptive headlamps that pivot as the vehicle turns, Lincoln Sync voice-activated communications and entertainment system and a touch screen for the audio and climate controls. A reverse camera system is also included as is a power liftgate, climate-controlled front seats, 10-speaker audio package and 19-inch wheels.
An intriguing list of options will also be offered, fronted by a power-opening panoramic glass roof, heated and cooled second-row seats, twin-screen DVD entertainment unit, refrigerated console and a voice-activated navigation system.
On the high-tech front, there's available blind-spot warning with cross-traffic alert that signals when another vehicle is approaching from either side on the highway or crossing from behind, such as in a parking lot. There's also adaptive cruise control with collision warning that maintains a safe distance from the vehicle in front. It will go so far as to project a warning light onto the windshield if it detects slower traffic ahead.
Many of these features are optional on the base MKT, but included with the Elite Package that can be added with both engines.
With a base price in the mid-$40,000 range, the MKT costs slightly less than the moribund Lincoln Town Car but delivers more style and offers optional all-wheel-drive sure-footedness, more seating and storage applications and is designed to deliver decent fuel economy.
Those are the kind of moves that will help bring Lincoln along as a modern player in a leaner and greener world.