Many challenges remain for housing authority, even without Hill
November 28, 2015 - 10:39 pm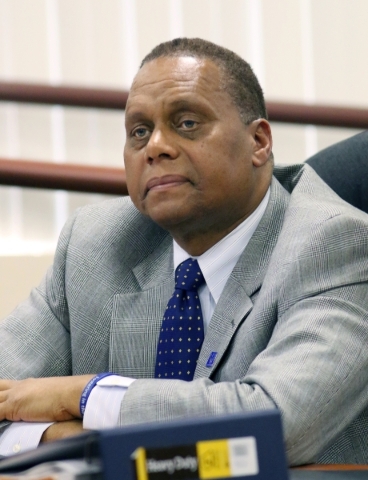 Not many years ago, the well-meaning officials behind the beleaguered Southern Nevada Regional Housing Authority couldn't wait to bring John Hill on board as executive director.
Hill was experienced, and he was known as a taskmaster thought to be capable of getting the lackluster local housing authority in fiscal and bureaucratic shape. Hill liked to say he learned from a strong leader during his five-year tenure at the Philadelphia Housing Authority under Executive Director Carl Greene, and for four years before that, Hill held an executive position at the New Haven Housing Authority in Connecticut. Add to that his experience in the mental health field in Connecticut, and he appeared to bring the skills necessary to bring the Southern Nevada agency, responsible for housing the poor and elderly and shepherding a multimillion-dollar annual budget funded through the Department of Housing and Urban Development.
Just five years after the housing board welcomed Hill to town, it's handing him his hat and asking him to take a hike. Battered by a growing list of concerns about his personal administrative style and professional performance, Hill recently learned he will be exiting his top position more than two years early after a flurry of critical Review-Journal stories and a vote of the board.
Hill has been accused of gender discrimination including being condescending and abusive to some female employees, several of whom have filed complaints with the Equal Employment Opportunity Commission. Authority insiders say its operation has been so sluggish and unprofessional it has failed to receive full funding for essential services. From the questionable hiring of a human resources consultant to a $47,000 fine levied by OSHA over allegations of safety violations, Hill's performance has fallen short by many reasonable measures. Perhaps as importantly, he also has failed to improve relationships with board members and hasn't maintained a working relationship with the union that represents most of the authority's employees.
There probably will be plenty of qualified applicants vying to replace Hill and receive his six-figure salary and benefits. Whether they can be more successful than at negotiating the petty politics and cracker box palace intrigue that has been the trademark of the of the authority — and one of its greatest flaws — remains uncertain.
Here's what's obscured by the politics: The housing authority faces very real challenges in the areas of the safety and health of its clients. In recent weeks I've interviewed residents of several complexes whose common experiences include witnessing drug dealing on the premises, a lack of safety in common areas and maintenance so poor it poses a health hazard. One elderly resident interviewed found a bullet hole in her automobile and signs of gunfire in the area.
And then, residents complain, there's the significant challenge of finding any manager available on weekends to assist with emergency breakdowns in heating, broken toilets and plumbing repairs. That's an upper management problem.
It's almost comical, really. A recent national news story reported a possible change that could make it against the rules to smoke cigarettes in public housing projects. What a scream.
Maybe it's time officials aimed a little higher.
Many of the problems in local housing projects existed long before Hill arrived on the scene. But if he failed to keep his own office in order, how could anyone expect him to address the difficult issues?
Whoever eventually replaces Hill should be welcomed to the housing authority with a vow for unprecedented transparency. Even Hill's legal allies have admitted the agency violated the Nevada Open Meeting Law in June 2014 "by holding a a closed session with legal counsel to discuss potential litigation without recording the closed session by audio recording."
The greatest challenge for the local housing authority, as ever, will be in setting aside petty politics and finding a way to serve and protect the people who need its help the most.
— John L. Smith's column appears Sunday, Tuesday, Wednesday, Friday, and Saturday. Contact him at 702 383-0295, or jsmith@reviewjournal.com. On Twitter: @jlnevadasmith.