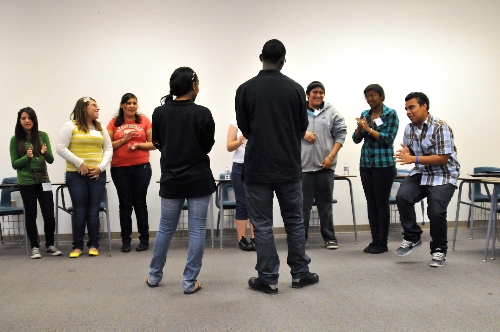 Most eighth-graders are busy preparing for the transition to high school, but some are being prepped for college, thanks to the University of Nevada, Las Vegas ' GEAR UP program.
GEAR UP (Gaining Early Awareness and Readiness for Undergraduate Programs) is a federal grant program designed to help prepare low-income students to succeed in postsecondary education. The Center for Academic Enrichment and Outreach at UNLV runs the program in Las Vegas, where it is headed by director Jill Triplett-Owens. The program encompasses six middle schools and nine high schools in the North Las Vegas area.
About 150 students met during spring break at Mojave High School, 5302 Goldfield St., to take part in workshops led by counselors, teachers and high school students.
Seventh- and eighth-graders were bussed to Mojave and given breakfast . Life coach Jimmy Wilson then talked to the group about the importance of education.
Wilson began by asking every student to stand up, which they did.
"Anyone who wants to be successful can sit down," he said.
They all did.
Wilson told the kids about his humble beginnings in an 800-square-foot house in rural Arkansas and how he used to be self-conscious about his crooked teeth, which are now being aligned by braces. He also used to get picked on for making good grades.
Wilson stressed the importance of ignoring the naysayers and that students should read as many books as they can on their interests.
"Education is the only thing you have that can't be taken away from you," Wilson told them. "This is the best opportunity you're going to have. Knowledge should be something you're excited about.
"You can achieve your goals; you just have to set them," he said. "You don't go on vacation without a destination. Figure out what you're good at and isolate those skills."
Students broke in to six groups and attended half-hour workshops in Mojave classrooms. Lisa McNeil, guidance counselor at Mojave, presented a class called Making High School Count to each group.
McNeil told students Algebra I is the most failed class in the school district and students should take advantage of tutoring opportunities to make sure they stay on track to graduate. She also told them about the importance of taking seriously the proficiency exams, which are taken first by every 10th-grader.
In another classroom, Cheyenne High School teacher Gerard Medlock taught a class, Peace Beyond the Streets, and discussed the importance of conflict resolution and staying out of trouble.
Medlock, who attended high school in Las Vegas and played college basketball in Alabama, reiterated that high school will be a peer pressure-driven environment and that what happens in their lives outside of the classroom will affect them inside, too.
One student asked Medlock why he didn't go to the NBA.
"Because I wasn't focused on that," he said. "But a better question would've been, 'Did you graduate from college?' And yes, I did."
He told them that being a professional athlete is an unrealistic goal and they should rely on their brain instead.
Four Canyon Springs High School student ambassadors volunteered to talk with groups of students, too. They are all active participants in the GEAR UP program at their school, 350 E. Alexander Road.
"It's a different experience," Daqwann Sells said. "It's stuff they don't teach you in high school. It helped us make solid decisions about college."
Seventh-grader Alexa Sandlin of Gibson Middle School, 3900 W. Washington Ave., said she was bored at times during the six presentations, but she did learn some information about college, and the importance of saving money for college, that she didn't know before.
She and her friends were mainly focused on the free roller skating at Crystal Palace Skating Center.
For more information about GEAR UP, visit caeo.unlv.edu/gearup.
Contact View education reporter Jeff Mosier at jmosier@viewnews.com or 224-5524.