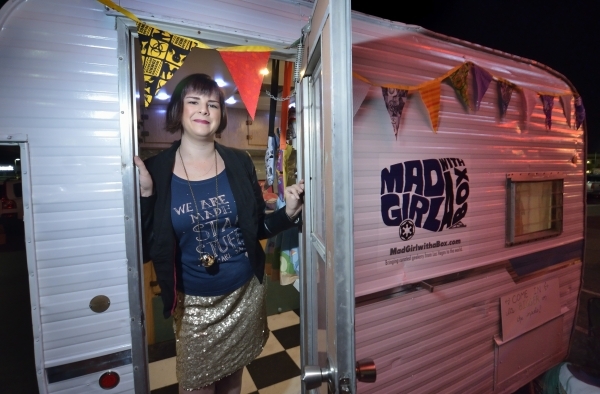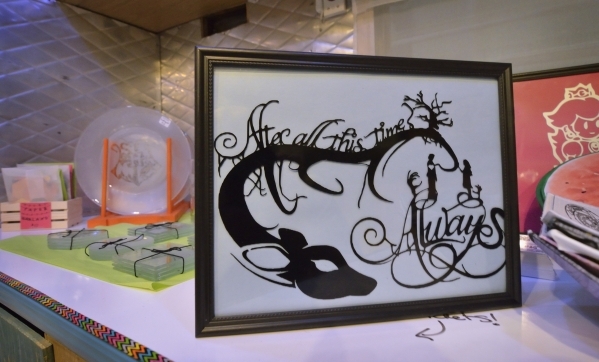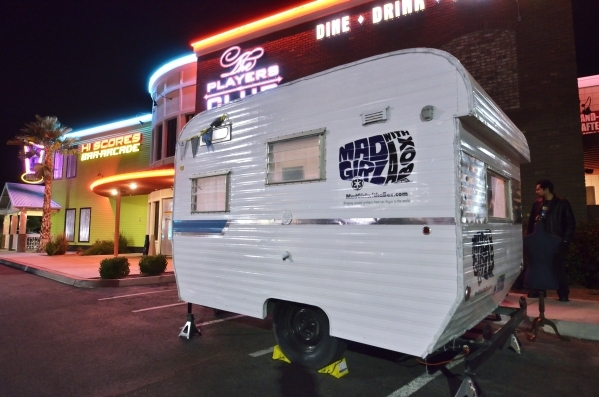 A fan of The Hunger Games adventure series, Melanie Davis of Henderson is now embarking on her own exploits.
Davis is taking her handcrafted Princess Cadence hats and My Little Pony scarves, skirts and bow ties on the road as part of her new mobile business, Mad Girl with a Box.
The 33-year-old won't be the only one whose products will be sold inside the 1965 teardrop trailer Davis purchased for the business. She also plans to sell other geek-themed items made by her friends and whoever else wants to offer their creations on consignment. Art prints, glassware, coasters, scarves, jewelry, purses and other items will be for sale.
Greg Sosniak is among those making merchandise for the business. Sosniak, 35, creates bow ties for children and adults with themes such as Star Wars, Doctor Who and Dr. Seuss. He and his 5-year-old son Erevis wear them.
"They're all basically nerdy themes," Sosniak said. "I'm trying to turn it into something I can make money off of. I actually started making them for me and my son, so we wear matching bow ties a lot."
Sosniak said he accepts special orders for the bow ties at emebowties@gmail.com.
Brittany Buta makes bow ties, too, and is selling those and other geek-themed fabric creations inside the Mad Girl trailer. She also makes skirts, aprons and accessories. Buta said she normally sells her merchandise at local and out-of-town conventions. She has an Etsy store called Rev'd Up Geek Designs at etsy.com/shop/revdupgeekdesigns.
Davis said she decided to open a mobile business after her sister Mitzi told her about a store she visited in Los Angeles that specialized in geek apparel.
"I thought that would be cool," said Davis, who works as a copy editor at Caesars Entertainment Corp.
Her mother, who works in real estate, told her that a bricks-and-mortar location would be too cost-prohibitive, so Davis decided to put her business on wheels.
The Las Vegas native, who also sells her products on an Etsy page called I Design Awesome, then purchased the teardrop trailer, spruced it up and filled it with merchandise. A launch party for the venture was held Nov. 3 at Hi Scores Bar-Arcade, 65 S. Stephanie St.
Davis is a self-described geek. She is a member of the group Very Awesome Girls Into Nerdy Activities, which holds geek-themed events at area comic book stores to raise money for charities. She also recalled attending the annual Age of Chivalry Renaissance Festival regularly as a child.
"So I was always interested in fantasy novels," she said.
Davis also participates in cosplay and creates costumes for it, including "Jupiter Ascending"-themed ones and getups inspired by Kaylee Frye from the "Firefly" TV series.
"I've also done all the Effie Trinket costumes (from The Hunger Games)," she said.
She collects Pop! vinyl figures that match the cosplay outfits she wears.
"I try to keep the collecting to a minimum," she joked.
Davis said she plans to park her trailer near local businesses and organizations in conjunction with their events. She planned to park outside a private residence at 1561 Turf Drive from 8 a.m. to 1 p.m. Dec. 5 during a holiday craft bazaar there. Her trailer also is slated to be at Backstage Bar & Billiards, 602 Fremont St., from 8 p.m. to midnight Nov. 19 during a Bombshell Bingo event.
For more information on the business, including scheduled stops for the Mad Girl trailer, visit madgirlwithaboxlv.wix.com/home.
— To reach Henderson View reporter Cassandra Keenan, email ckeenan@viewnews.com or call 702-383-0278. Find her on Twitter: @CassandraKNews.
Mad Girl with a Box
Schedule:
madgirlwithaboxlv.wix.com/home