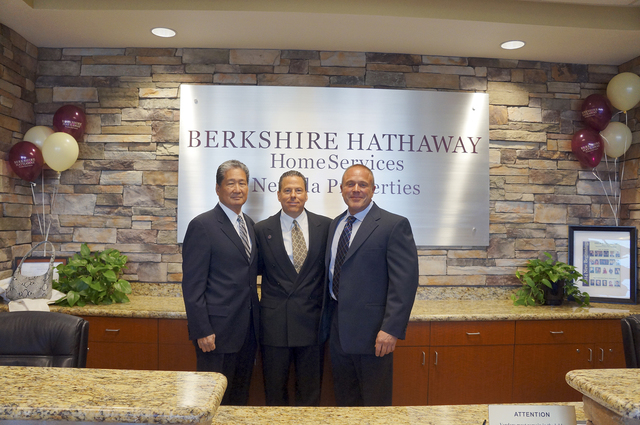 Prudential Americana Group, the third largest Prudential Real Estate franchise in North America, has officially joined the Berkshire Hathaway HomeServices network and is now known as Berkshire Hathaway HomeServices Nevada Properties.
The firm and all of its 1,200 local real estate sales executives have implemented the Berkshire Hathaway moniker in all of their corporate branding and identification.
Prudential Real Estate merged with Berkshire Hathaway HomeServices, whose parent company is HSF Affiliates, last year and the combined companies have been called the most powerful real estate brand in the world.
Headed by CEO Mark Stark and President Gordon Miles, the independently owned and operated firm serves nearly 2,000 real estate sales executives in 20 offices throughout Nevada and Arizona. Stark's Arizona franchise has become Berkshire Hathaway Arizona Properties.
"We have been looking forward to this transition since Prudential Real Estate announced its merger with Berkshire Hathaway last year," Stark said. "It is one of the top firms in North America and backed by Warren Buffett, the world's most successful investor. We now have the power of a trusted international real estate leader right here in Southern Nevada."
Berkshire Hathaway was named one of Fortune's Most Admired Companies in 2013. Its Global Relocation Services network is the second largest in the world, moving nearly 85,000 families to and from more than 125 countries each year.
Berkshire Hathaway Home Services' international network includes 80,000 real estate sales executives and 2,800 brokerage locations. The company operates in the U.S., Canada, Brazil, the United Kingdom, France, Singapore, China and India.
"It is the only company with such reach, reputation and resources in the real estate industry," Miles said.
Stark said the power behind the Berkshire Hathaway branding will help buyers and sellers from around the world find residential properties in Nevada and Arizona through his firm.
"In real estate, you want to work with firms you can trust and sales executives that have the expertise to market your property," he said. "Berkshire Hathaway gives us an additional global reach and the bandwidth of one of the world's most respected brands."
Stark is a well-respected leader in real estate, both locally and nationally. He became the owner of the franchise in 2004 and has been an executive with the company since 1985. It has been operating in Southern Nevada since 1979. This year Stark was listed in the Swanepoel Power 200 list of the Most Powerful People in Residential Real Estate. Stark was also named Prudential Real Estate/HSA Affiliates Broker of the Year in 2013. His firms sold $2.5 billion in real estate last year.
Both the Nevada and Arizona firms are involved with dozens of charitable endeavors including a national partnership with Move for Hunger and local work for organizations including The Sunshine Kids Foundation, Toys for Tots, Making Strides for Breast Cancer, Opportunity Village and Phoenix Children's Hospital.
The companies are home to some of the country's top-selling real estate professionals and have been recognized by JD Power and Associates multiple times for their commitment to customer service. The combined company was recognized by Inc 500/5000 as one of the fastest growing private companies in America in both 2012 and 2013.
Berkshire Hathaway HomeServices Nevada also houses a fully accredited real estate school with free continuing education classes every month.
Berkshire Hathaway HomeServices is based in Irvine, Calif. The network, is among the few organizations entrusted to use the world-renowned Berkshire Hathaway name.
Berkshire Hathaway HomeServices in early 2014 was named Real Estate Agency Brand of the Year by consumers in the 26th annual Harris Poll EquiTrend study of the largest real estate networks. Visit www.berkshirehathawayhs.com.
Irvine, Calif. based HSF Affiliates LLC is a joint venture of which HomeServices of America Inc., the nation's second-largest, full-service residential brokerage firm, is a majority owner. HomeServices of America is an affiliate of world-renowned Berkshire Hathaway Inc.
For more information, visit www.BHHSNV.com or www.BHHSAZ.com or call 702-796-7777.