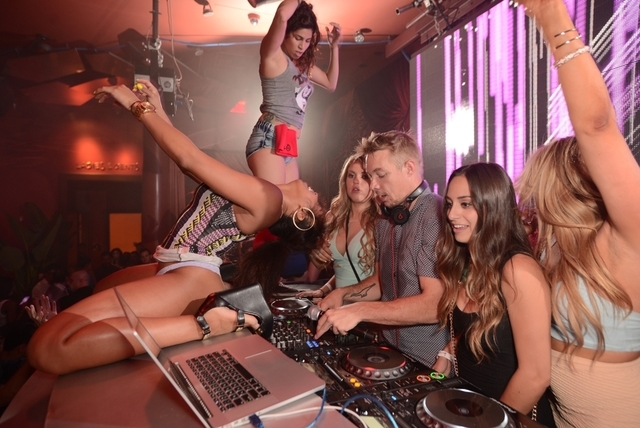 Planet Hollywood headliner Britney Spears must be a fan of New Order, because her new Vegas single, "Work B**ch" is reminiscent of that British band's 1983 classic song, "Blue Monday."
Internet radio started playing "Work B**ch" on Sunday. And it's easy to hear how the first 15 seconds sound like a legal homage to "Blue Monday."
Both Britney's and New Order's dance songs start with a lonely synth-drum for eight-beat loops; interlaced with 16th-note fills at the end of each loop; and both songs use a syncopated melody based on nearly the same beats per minute.
ABC News has been running promos suggesting Britney will appear Tuesday on "Good Morning America" to announce her performance residency at Planet Hollywood.
I somehow doubt anyone at "GMA" will care to ask Britney why the beginning of her new single sounds like a 30-year-old British standard.
"Work B**ch" (those are Britney's asterisks, not mine) was co-written by five people, and three have Vegas connections.
The writers are will.i.am (he DJs at Wynn clubs, but more notably he is the mastermind behind the Black Eyed Peas); Britney; Otto Knows (a resident DJ at Light nightclub in Mandalay Bay); Anthony Preston (a musician who works with DJs); and Ruth-Anne Cunningham (who has been on Ireland's "The Voice").
After Britney's tribute to "Blue Monday" wears off, "Work B**ch" becomes a workaday electronic dance tune. It makes me want to slam a hammer against metal for four minutes in any sci-fi Vin Diesel movie.
Hey look, they can't all be winners. Britney has sung some disappointing songs. I have written some disappointing columns. All we can do is try, then blame everybody else, right?
I do have a personal message for Britney: Welcome to Vegas. I honestly mean that. You will find we have sweet, talented people who work very hard.
But you might want to add a few "no" people to your "yes" brigade, because the editing job on the promo picture for "Work B**ch" makes your chest plate look like a hot plate.
Am I being too judge-y? I'm open to that possibility.
THICKE HANDS
RadarOnline.com kept track of Robin Thicke's hands while he was at the Palms on Friday to perform at the pool.
That's because Thicke was terrifically photographed the other week with a hand up the back of a fan's dress. So Radar kept eyes on his palms at the Palms:
"And after the butt-grab seen around the world following the VMAs and his now infamous performance with Miley Cyrus, the married dad was careful to keep his hands to himself the entire time."
Everyone is being way too judge-y about Thicke's marriage.
MOORE MORTON
Demi Moore is dating Hard Rock Hotel's creator Peter Morton, who she got to know through Pink Taco son Harry Morton when she used to date Harry, E! News says.
That leads us to Demi's headline of the day, via DListed.com: "Demi Moore Is Doing Her Ex-Boyfriend's Dad."
Kinda judge-y, but a good one.
'BUBBLE BUTT'
Kaskade was voted America's Best DJ by DJ Times magazine for the second time, beating fellow Top 10ers Diplo, Skrillex, Bassnectar, Porter Robinson, Steve Aoki, A-Trak, Wolfgang Gartner, Z-Trip and Vice — all of whom have regular gigs in Vegas clubs.
By the way, Diplo co-wrote the incredible song "Bubble Butt" with his DJ collective Major Lazer.
All apologies to Britney and Thicke and Kaskade and whomever, but "Bubble Butt" is the pop song of the year.
"Bubble Butt."
Say it. Judge it.
Doug Elfman's column appears Mondays, Tuesdays, Thursdays and Saturdays. He also writes for Neon on Fridays. Email him at delfman@reviewjournal.com.