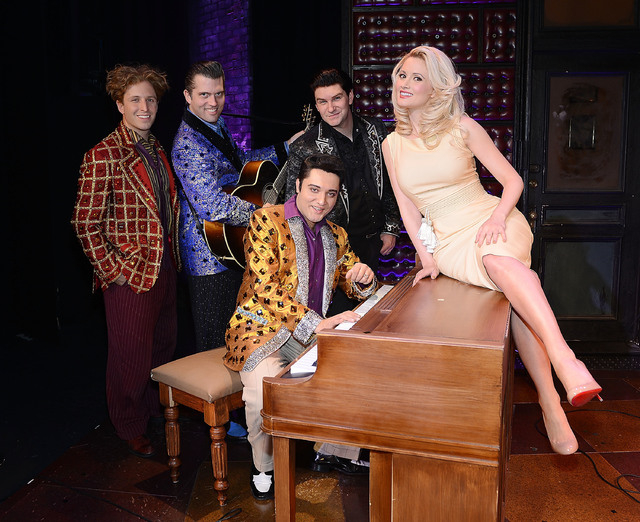 Holly Madison wants the best of both worlds: balancing motherhood with her love of entertainment.
The latter pulled her back on stage Wednesday when did a guest singing appearance in the "Million Dollar Quartet" at Harrah's.
She teamed up on a duet with Elvis tribute artist Justin Shandor. They recreated the "Viva Las Vegas" scene when Ann-Margret and Elvis steamed up the silver screen with "The Lady Loves Me."
Madison, whose 1.3 million Twitter followers makes her one of the most popular celebrities in town, made it clear she's planning to stay in entertainment past her headlining days.
"Something that might evolve into behind the scenes eventually," she said.
In this week's Q-and-A interview, Madison reveals how she was injured shortly before her September wedding. She also shared that she's in negotiations associated with an entertainment project, planning for another baby and recently shot a pilot.
She and her husband, Pasquale Rotella, founder of the remarkably successful Electric Daisy Carnival, plan to raise their 9-month-old daughter, Rainbow, in Las Vegas.
How did your guest appearance with the "Million Dollar Quartet" go?
Madison: "It went really well. I can never really tell when I'm up there on stage, but I got really good feedback and I had a lot of fun. That cast is amazing and they're really welcoming. I love that show. I saw it for the second time. I was definitely nervous but I had a really great time. Justin (Shandor) was super-welcoming, and everybody made me feel right at home."
You sang in "Peepshow" as well.
Madison: "I took singing lessons while in 'Peepshow' because I would love to do all kinds of things. I even took aerial silk classes to be an acrobat. I started this summer but injured a hamstring. I like the stimulation of learning something new."
When were you injured? Were you concerned it might be a problem on your wedding day?
Madison: "It was right before the wedding. I was fine though. It only flares up when I sit for long periods. I can't drive long distances anymore. It flares up more when I sit down."
What would you like to see happen in 2014, careerwise?
Madison: "I would like to get in involved in some project. Something that might evolve into behind the scenes eventually. I'm going to be having more babies but I definitely want to do something where I can be creative, keep a show going."
Have you got some irons in the fire?
Madison: "I do. We're still negotiating. Prospects are good. I shot a pilot last month that is separate from the stage possibilities."
Fans ask me if you are planning to make Las Vegas your home and why?
Madison: "I kind of insisted on it. I love Las Vegas. I feel like it's kind of my home here more than anywhere else. Pasquale works quite a bit in L.A. still, but he has a lot of his business here too, his biggest festival is here. It just made sense, and we want to raise Rainbow here. Despite what people might think I think the people in Vegas are pretty down to earth and I prefer that to how it is in L.A.
With the National Finals Rodeo in town, I have to ask if you've ever channeled your inner cowgirl?
Madison: "I did a photo shoot for my Las Vegas book and posed as a cowgirl. Actually, the house we have in L.A. is a horse ranch. That's the closest I get to being a cowgirl."
One of the midnight screenings at next month's Sundance Film Festival is a documentary, "Under the Electric Sky," on this year's Electric Daisy Carnival. Did you see the finished product?
Madison: "I have seen it. It follows a variety of people. It's really touching, all these kids with such great stories."
Does Rainbow make an appearance?
Madison: "No, I don't think she made the cut."
What were some of the reality show ideas pitched during your pregnancy?
"There were quite a few. Some weren't quite right. (For example) why don't you go back to Oregon and raise your baby there. Ever since I left 'Girls Next Door,' I decided (the project) has to be what I'm really doing."
She ended up doing a one-hour special titled "Holly Has a Baby" with E!, which aired on Mother's Day.
"It was something special for her to see when she's older," said Madison.
How does your average day play out?
Madison: "The baby's pretty good about sleeping. We're night owls. We go to bed at 2, get up at 10. The morning starts with making smoothies. I try to work out. I've traveled a lot with my husband, going to his concerts. It's definitely been a fun change."
What kind of music do you play for Rainbow?
Madison: "I play a lot of Disney. She really likes the 'Dumbo' soundtrack. She likes to play music. She plays a mean xylophone."
What have you missed most about show business?
Madison: "I miss feeling productive. Not that being a mom isn't productive. But I missed the feeling of being grounded in one place. I like to have routines."
Your favorite or craziest wedding story (when Rotella bought out Disneyland on a Tuesday for their big night)?
Madison: "Oh my God, it was just amazing. The most spectacular thing was the 'Fantasmic' show, when the pirate ships arrived and fired the cannons. That was a moment."
Where do you plan to spend Rainbow's first Christmas?
Madison: "We're going to be here in Vegas. We're still remodeling. I'm looking forward to Rainbow opening her first presents."
She had a Christmas request for her husband. "I said all I want for Christmas is a family day.''
What would be your New Year's resolution?
Madison: "I actually made all my resolutions at Burning Man (the annual Northern Nevada counterculture festival). I want to get organized. It's disorganization nation right now."
Five words to describe motherhood.
Madison: "Amazing. Beautiful. Wonderful. Tiring. Challenging."
Which of her mannerisms do you most adore?
"Oh, there are so many. Right now, she's starting to learn sign language. Some experts say babies get the motor skills to communicate before they get verbal skills. I started it and she started doing it back. Like when she wants the bottle or a diaper change. She's grasping the basics.
Do you hope to add another child to your family in the next three years?
Madison: "Definitely in the next couple years. We want Rainbow to have siblings relatively close in age to her."
Best tip for moms who want to get back into shape fast?
Madison: "I would say concentrate on diet before working out. Also, wear a corset. You spend nine months with the baby pushing out so it makes sense to have something pushing back in."
Who was your first celebrity role model?
Madison: "My first was Madonna. I loved her boldness and attitude and the way she just went out and took over. She was a really strong woman who went out and did what she wanted and that made an impression on me."
Have you ever worn a disguise, just to have some privacy?
"I am under the mistaken impression (that) if I go out without makeup, no one's going to recognize me. It doesn't work. I've never tried an elaborate disguise. I love meeting people."
Norm Clarke's column appears Sunday, Monday, Wednesday and Friday. Reach him at 702-383-0244 or norm@reviewjournal.com. Find more at normclarke.com. Follow @Norm_Clarke on Twitter. "Norm Clarke's Vegas" airs Thursdays on the "Morning Blend" on KTNV-TV, Channel 13.