Odyssey is out to please with tunes for any audience
October 10, 2011 - 11:19 pm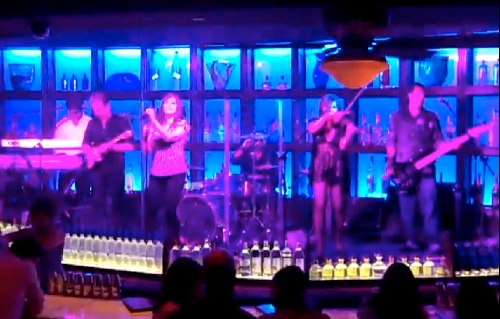 When local cover band Odyssey performs, you won't know what to expect. But if you let the band know what you like, expect to enjoy yourself.
"From the beginning we have always called the set on the fly," said lead singer Christine La Fond. "You've got to read your audience."
The band members play a wide variety of music. Their website claims the only thing they don't play is polka or death metal, but to hear La Fond talk about it, chances are they'd give it a shot if it came right down to it.
"Do I wake up every morning and say, 'I want to sing 'Brick House' and 'I Will Survive' today?' Heck, no," La Fond said. "We don't even put those on our official set list. But if someone requests it, we play it. We're here to entertain, and if it's that person's bachelorette party or whatever, and that's what they want, we want to make them happy. It's our obligation to the audience."
It's not that those two songs aren't enjoyable for La Fond to perform, it's that she feels generally that audiences have had their fill of them, and she and the band don't want to bore anyone, not when there are new songs to explore.
"Right now we do a really cool rendition of 'E.T.' by Katy Perry," La Fond said. "We made it a little more rocky, and I love that. But on the other hand, you can't go wrong with 'Separate Ways' by Journey. I just love the power behind that."
The band plays music from at least the last seven decades, including the standard "I'll be Around" that first hit the airwaves in the '40s, and hits by Lady Gaga and the Charlie Daniels Band.
"I love me some Beatles," La Fond said. "We do a female version of 'Come Together' that's a lot of fun."
La Fond not only sings in the band, she's also the band manager and books the gigs. Recently she has started billing her name to the front of the band, something she feels she probably should have done from the beginning.
"I think it's a good move, because it gives musical directors an opportunity to relate to an individual," she said. "People have been asking me why I didn't just call the band 'Christine La Fond,' but I wanted to get my feet wet and learn the ropes. Now it's time. I look on the name change as a sort of graduation."
La Fond has been a performer for a while now, but a few years ago she stepped away from the microphone for two years. When she came back she felt it was time to form her own band. She knew whom she wanted to work with and who was available. Although La Fond said that some of the positions have been transitional, she feels blessed to have good people working with her.
"I have a really, really supportive and immensely talented band," she said. "My violinist (Monique Olivas) has played with Beyoncé and performed for the president. For years my musical director (Jonathan Marquez) performed in a band that was played on MTV in Mexico and performed for audiences of 15,000 or 20,000."
The band has a busy October scheduled, and from there La Fond hopes things keep getting bigger and better. The only obstacle she sees is the shrinking of venues for lounge performers. La Fond bemoans the loss of several lounges on the Strip.
"A lot of the live music rooms are closing down," she said. "Bellagio's closed, The Mirage used to have a lounge, MGM, New York New York … There are very few that are keeping it going."
Christine La Fond and Odyssey are scheduled to perform at 7 p.m. Wednesday, Thursday and Sunday, 10:30 p.m. Friday and 8 p.m. Saturday at Marilyn's Lounge in the Eastside Cannery, 5255 Boulder Highway. The lounge is for adults 21 or older. Admission is free. For more information about the band, visit odysseytheband.com.
Contact Sunrise/Whitney View reporter F. Andrew Taylor at ataylor@viewnews.com or 380-4532.