Pardee supports women's, kids' charities
December 23, 2013 - 12:07 pm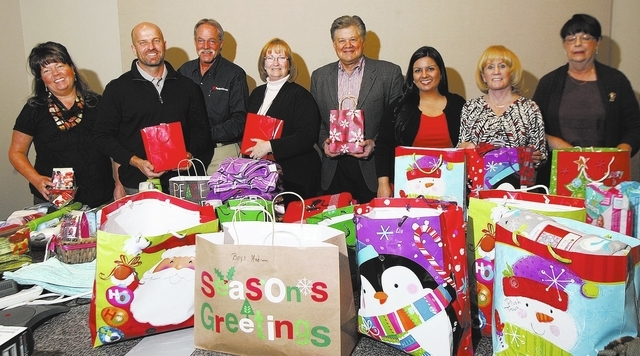 Pardee Homes is donating gifts and essential supplies valued at more than $3,000 to The Shade Tree Shelter for women and children in crisis and Nevada Partnership for Homeless Youth, an organization dedicated to eliminating homelessness among Nevada's youth.
That brings the total to more than $101,000 in support of The Shade Tree mission since 1994, according to Pardee Homes Southern Nevada Division President Klif Andrews.
"Giving back to communities in which we build is an enduring tradition at Pardee Homes," Andrews said. "By combining financial and volunteer resources, we are able to provide some comfort to our neighbors most in need."
Pardee Regional Sales Director Rob Tuvell is also heading up his own Shade Tree collection effort — "Build a Box of Caring" — at Pardee's six single-family home neighborhoods now open in Southern Nevada. Sales associates are connecting with neighbors to fill the boxes with items needed for the shelter, such as shampoo, diapers, paper goods, sheets and towels.
"Times are so tight right now and so much is needed," Tuvell said. "While it's hard to imagine that we can make a difference individually, we can certainly make a difference as a community. We all want to help."
The sales office drive ends this Sunday before 5 p.m. and boxes full of needed items will be delivered Monday in time for Christmas.
The Shade Tree's 364 beds provide more than 100,000 nights of shelter each year, according to Executive Director Marlene Richter, who credits companies such as Pardee for helping the shelter provide its services to women and children in crisis in Southern Nevada.
Located in downtown Las Vegas at the corner of Main Street and Owens Avenue, The Shade Tree is Clark County's only 24-hour accessible emergency shelter for women and mothers with children.
The largest shelter of its kind in the state, the 38,000-square foot facility offers services such as victim services center, job skills development, housing placement assistance, mental health coordination, free health clinic and children's activity center, in addition to Noah's Animal House for family pets from abusive households. Visit www.theshadetree.org to find out how you can help.
Nevada Partnership for Homeless Youth is the only youth service provider in Nevada with a continuum of care extending from street outreach and 24-hour crisis intervention services to a full-time drop-in center and an independent living program.
The William Fry Drop-In Center is at 4981 Shirley St., across from Thomas and Mack Center. Serving youths younger than 19, the center offers a fully stocked food pantry, clothing closet with new clothes, laundry room, kitchen, school supply closet, computers and printers and a personal business station — all free and confidential with no parental consent needed. Visit www.nphy.org for more information.
"This organization provides many resources to teens in need, in addition to great programs that help teens to continue to get their education and have a safe place to stay at night," said Customer Service Coordinator Jacqueline Valenzuela, who is organizing Pardee's holiday giving efforts this year. "Nevada Partnership for Homeless Youth equips teens to better themselves in life and hopefully not stay homeless forever."
"Pardee Homes has been in business in this community for more than six decades and we are very proud of our reputation for giving back to the community in both good times and bad," Andrews said. "Our hope is that 2014 will bring better times for everyone."
For more information, visit www.pardeehomes.com or find the builder on Facebook at www.fb.com/pardeehomeslasvegas.