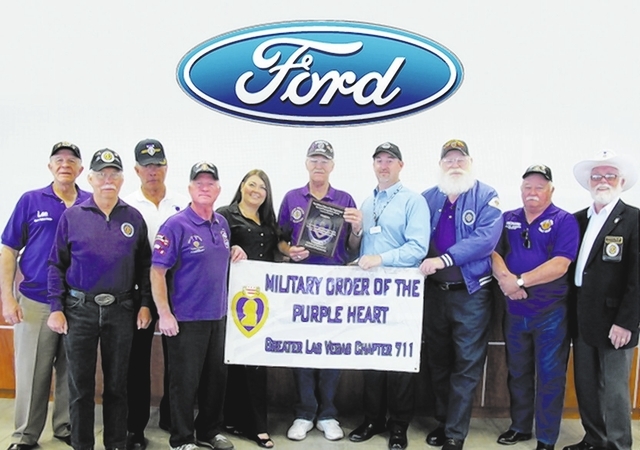 Members of the Greater Las Vegas Chapter 711 of The Military Order of the Purple Heart recently presented a plaque of appreciation to Friendly Ford for its many years of support to the organization, composed of Purple Heart recipients living in Southern Nevada.
The plaque was presented by the Patriot Members of the Military Order of the Purple Heart in appreciation of the dealership's vehicle donation, The vehicles were used for the order's participation in parades honoring Las Vegas war veterans wounded in combat, mainly parades on Memorial Day, Veterans Day and the Fourth of July.
Air Force Staff Sgt. John Waid, a Vietnam War veteran and commander of Chapter 711, has been a Friendly Ford customer for several years.
"My wife and I appreciate what Friendly Ford does for the order and our community so much. We've bought two vehicles here," he said.
"I believe this is the third generation of management that's arranged for us to participate in these parades in grand style, driving in new Mustang convertibles and also in new Ford F-150s," he said.
More than a dozen members of Chapter 711 were on hand for the presentation at Friendly Ford. The plaque was presented to Cheryl Thrun, new-car manager, and Steve Crevling, used-car manager. Each has been responsible for securing the vehicles for use by the veterans.
"We are happy to be able to do this for these brave men," Thrun said. "We appreciate the sacrifices they've made in fighting for our freedom, and it's truly an honor to be able to show our appreciation, even in such a small way."
Friendly Ford is at 660 N. Decatur Blvd., just north of U.S. Highway 95. It has served Las Vegas for 44 years and is a One Ford Elite winner and a 15-time Presidents Award Winner, Ford's highest honors for customer satisfaction and excellence.
For more information, call 702-870-7221 or visit www.friendlyfordlv.com.
The organization now known as the Military Order of the Purple Heart of the U.S.A. Inc. was formed in 1932 for the protection and mutual interest of all combat wounded veterans and active duty men and women who have received the decoration.
The order was chartered by Congress, and all members were wounded in combat, for which they received the Purple Heart.
Through veteran services, the order provides comfort and assistance to all veterans and their families, especially those requiring claims assistance with Veterans Affairs, those who are homeless and those requiring employment assistance.
Programs include VA volunteer service, First Responder Recognition, JROTC Leadership Award, scholarships, Americanism Program, Purple Heart Trail and Cities, Welfare, and numerous community service programs, all with the objective of service to veterans and their families.